Sharing is Caring:



Hey there, happy Monday!! I don't know where the month of July is going. I hate all the overtime I have had to put in at work lately and the month is flying by. But I am happy because this week is vacation, other than today working remotely, but then off until next Tuesday. I think there is a pattern in my vacations, I am usually off the grid so no one can reach me. I love it. Actually, you should check out Davida's recent post about digital detox. It is good for everyone. I am constantly on my phone and checking it. Part of it is because I connect with so many like minded people on social media which I love! Technology today is really amazing with how connected we all are. That brings me to one of my exciting things over the weekend, I got to meet Mary (@fourthehealthofit on Instagram). Mary and I have been following each other on Instagram since I started doing yoga challenges on there in March 2014. March 2014 was a major turning point in my life since I was laid off from my first job after college on Feb 28, 2014. I had joined Instagram in December 2013 after my sister begged me to because she didn't like my food pictures being on Facebook, she said Instagram was for that.
Then I discovered yoga challenges, my first one I heard about from Erin's blog. She led it with a couple other people. I believe Mary and I were both part of that challenge or another one that Kim (@kimberlyallanyoga) led. We have both since taken a bit of a step back from multiple challenges each month, but whenever I post a yoga photo or a selfie or something, we both check in on each other's pages. When I learned she was in Pennsylvania and then noticed her tags and she was near the same county that I live in, I asked if she would like to meet up. We found a park that was about half way for both of us to go to, only about a 30 min drive for me and met up there. We walked the trail twice and I think that was a bit over 4 miles per my fitbit guesstimate and just talked about our lives, everything from careers, colleges, family, and fitness. Time flew by and we were hot and sweaty after that, but Mary agreed to take a picture. I mean, it didn't happen unless there is a picture right?!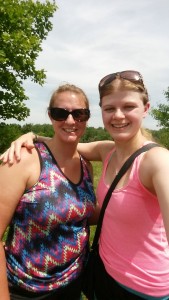 It was lunch time as I headed back and I was craving Panera. I didn't have much food at home since I wasn't going shopping this weekend and heading out of town. I got the strawberry chicken poppyseed salad and bacon turkey bravo and an iced tea because I was so hot.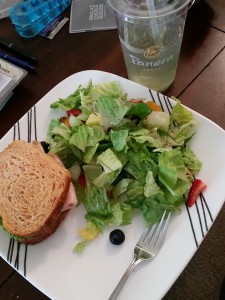 I got my food to go and when I got home, I set down my stuff and immediately took a cold shower. As hungry as I was, I needed to cool off first. Then I was ready to eat. I texted my friend to see if she was heading to the pool and she was waiting for her son to nap and then they were going to eat and head over. After I finished my lunch I met up with them and we headed to the pool.
We spent about 2 hours in the pool and spent a little while in the sand before the thunder started and they had to clear the pool. It rained a little bit but it was a quick passing storm. By the time I had taken my second shower when I got home, the sun was coming out again, but that was OK.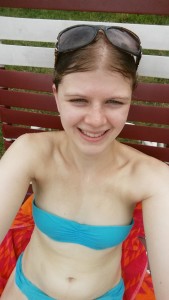 I made some dinner, mostly from my freezer stash, a turkey patty and I had some roasted veggies that I whipped up quickly in the morning.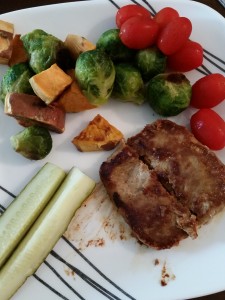 In the evening, I enjoyed much needed couch time relaxing and watching too many episodes of Life Unexpected, I actually finished the second and final season Sunday morning.
Sunday morning was quite laid back since I didn't have to do a bunch of meal prep. I spent the morning packing up everything and cleaning up the apartment. With the fridge being so empty I was finally able to wipe it down ( <– the things we get excited for as adults…) . I headed out to stop at Target for some snacks for the road and teach yoga and then it was time to drive.
Looking forward to a week away, time with Brian, his family and seeing a friend in Canada.
I will still have my usual Yoga Workshop Fridays post up this Friday, so be sure to come check it out. If you leave any comments or questions, I will get back to you in a week.
Hope you all have a great week!




Sharing is Caring: