Sharing is Caring:



Hey everyone!! How's your week going? We are almost at a holiday weekend, yay!! It's Thursday so it's time for some thinking out loud, random style.

I was excited to get my Fabletics package yesterday. I had ordered a dress earlier in the month but didn't like the fit so back it went. I decided to get store credit and finally placed my order last week which included a new top, underwear and socks ( <-super exciting right?!). Anyway I love my new top! It's my favorite color, aka matches my eyes and I think it's supposed to be a workout top but I really like it for an everyday top. In fact, I am planning to wear it to work today. We have a pretty casual office, jeans allowed EVERYDAY!! I usually wear jeans twice a week and tomorrow after work we are having a casual happy hour so I want to be wearing casual clothes.
OK guys I think it's summer now. Well I hope I didn't jinx that, but it was in the high 80s yesterday and I probably should have sunscreened my ears along with my face, arms and feet during lunch, but I will remember that next time. Sunscreen is an important part of my lunch in the summer. I love to soak up the sun in a safe way. Last year it only took like 3 months to get a tan with spf 50 and sitting by the pool every weekend…but it was seriously the most tan I have probably been and in a safe way. In other words, I want to stay looking young even if I currently get mistaken for an 18 year old at the moment. I know later in life I will wish to be younger.
I have mentioned before we have some homeless kitties around my apartment complex. They seem to do pretty well for being homeless. I buy some cat treats and when I see them in the evening, I give them to them. The black kitty will eat the treats but not let me pet him. The two others let me pet them. Actually the dark orange one is kinda an attention hog and the light one slapped him so he sat away from us for a bit. Then the dark orange one was following me until someone came out of the apartment and he ran. He is so friendly to everyone as long as you approach slowly. He was friendly to me before I started to buy treats. There are also 2 grey cats, but I didn't see them last night.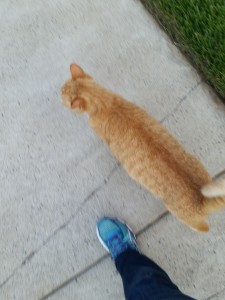 4. Let's have a little #throwbackThursday as this came up on my Timehop yesterday. 3 years ago when I went to explore Illinois Beach State Park. It was a bit of a chilly day but I was
having fun doing some yoga in shorts for a bit.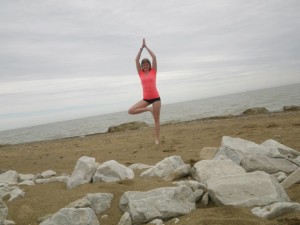 5. I finally got to sign up for Wanderlust 108 in Philadelphia. They just announced the date Oct 8, 2016 (I love how the date is 10/8 like 108) so if you are around Philadelphia, you should totally join. It will be tons of fun with a 5k that you can run or walk (I will probably be walking), yoga, meditation and more. Tickets were $33 for individual and I bought the picnic lunch as well because it sounded good and it's an experience so why not. Here is the link to buy tickets and let me know if you are coming.
6. I think that is all I have to share for now. Hope everyone has a wonderful and safe weekend!! I am thinking of going to see the new Alice movie and counting down to Finding Dory.
Are you looking forward to any movies coming out?
Do you have plans for memorial day?




Sharing is Caring: