Sharing is Caring:



Welcome back to Monday. I really can't believe that May is almost over already and memorial day is next weekend. I am looking forward to a 3 day weekend, though I don't really have any plans yet.
Back to this weekend, though, I was busy traveling and checking up with friends so there wasn't much down time, but I enjoyed it. Friday I worked at home until 3, which was a treat in itself. I am definitely more productive at home.
I then headed out to Binghamton for a quick overnight trip. It was 80 degrees on Friday!! I treated myself to a Starbucks iced tea at a rest stop.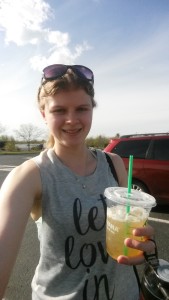 I arrived at 7pm just as Brian finished cooking steaks and brussel sprouts for dinner. It was delicious!! I was definitely hungry.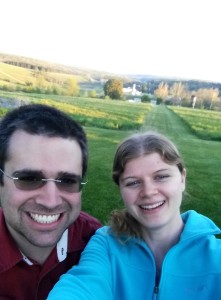 We then headed to his family friends house along with his brother and girlfriend. We hung out by the fire outside for a bit and then I helped with some cutting up of fruit for the bridal shower saturday. I was having such a fun time that 11pm came quickly and I wasn't even that tired. I think we got home around midnight but Brian and I were up talking until about 1am. That is the latest I have probably stayed up since New Years lol. Luckily we were able to sleep in until about 9am, the latest I have slept in, in a while too, but a good 8 hours of sleep.
I had breakfast and got ready for the bridal shower. The decorations at the shower were amazing. The theme was Kentucky Derby. Her sister put the shower together well, from the food display to the decorations. I LOVED that cupcake and cookie display (can you tell I am cupcake obsessed?!). I also love the mason jar glasses and writing our names with chalk. We also got to keep our glasses.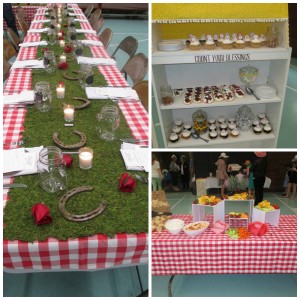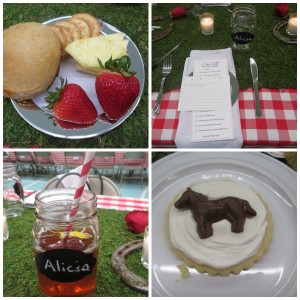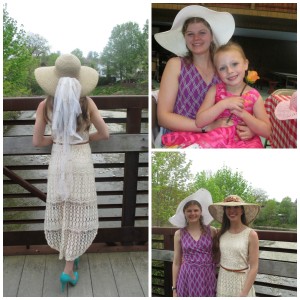 We had one game and mostly just enjoyed chatting and watching the bride-to-be and groom-to-be open presents. I had my friend (Courtney's Kustom Creations on Facebook) make some Mr and Mrs glasses .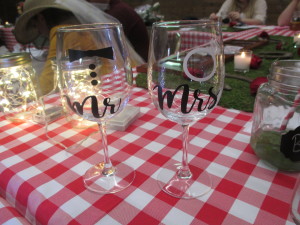 After the shower, I picked up my things in Binghamton (the shower was about 30 min from Binghamton) and then headed on the road around 3 Saturday. It was a quick trip but a wonderful time.
I made good time to get to Wegmans where I ate some dinner and then did my grocery shopping. Once I arrived home and unpacked, my sister wanted to Skype and while I wanted a quick call because I was tired, we ended up chatting until 11 or so. Even Skittles joined the call.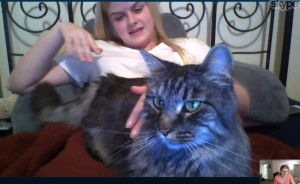 I was so ready for bed afterwards and slept until about 8am Sunday.
As soon as I got up on Sunday, it was time for meal prep, laundry and some down time before heading out to teach yoga. I made bacon wrapped chicken (thanks Lee), shredded chicken for salads in the crockpot, sweet potato fries and broccoli salad.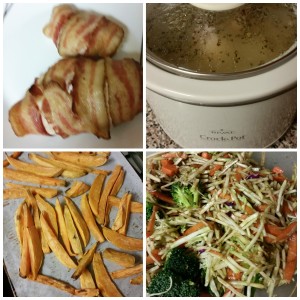 After yoga, I headed out to meet some of my fellow yoga teachers from my training and we had an early dinner. One of my friends just had a baby 2 months ago so it was great to finally meet him. He was very good at dinner. We wrapped up pretty quickly as the baby was getting tired towards the end and I took a walk down the block to a cupcake place I saw on the map. I actually decided on the smore's cookie sandwich since I was craving smores the other night when we had a fire going. I waited until I got home to eat it and only planned to eat half, but then ended up eating the whole thing. Funny story though I decided to heat up the first half and after only 20 seconds in the microwave it was a melty mess but delicious. I ate the other half as it was and I have to say I liked the melty marshmellow better even if it was messy and required a fork to eat it.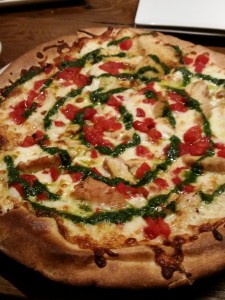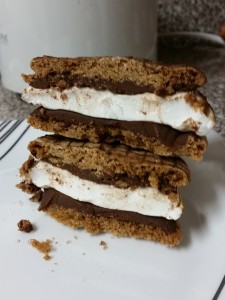 Finally I was home for the evening, chilling out on the couch and catching the new Food Network Star season.
Whew, what a busy weekend, but I enjoyed every minute of it. I wasn't bored once and I felt like it was a great 2 days. It almost felt longer than 2 days with all the travels. I needed some friend time for sure. Now I am refreshed for the work week.
How did you spend your weekend?
Do you crave smores when you sit by a fire?




Sharing is Caring: