Sharing is Caring:



Happy Thursday!! I am so happy we have made it to Thursday at least. Tomorrow I am working from home, so it will be slightly more relaxed as I won't have to commute and I am signing off early to headed to Binghamton for a bridal shower for a friend on Saturday. Then I come back on Saturday since I teach yoga Sunday. Yay for a 20 hr weekend vacation!!

As I type this I am full of energy after going to my first pole flow class. The first pole class I checked out was focused a lot on strength and pole basics of pulling yourself up. That was great and all but it was fun to do a little dancing with the pole last night. I really love the environment of the pole studio as everyone I have met is so friendly. One girl who it was only her second time at the place too, she filmed the video of my dancing at the end.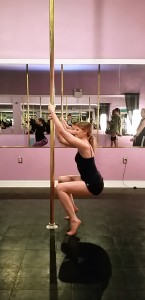 Speaking of videos, anyone know if you take a video upright on your phone how do you flip it so you don't have to turn your head sideways to watch it once it is on your computer?
I am so glad my confidence is building. I don't care how silly I look in pole, we are there simply to have fun, just like in a zumba class, only a bit sexier 😉 .
2. On another note, I have been on a dark chocolate kick, which I think I mentioned. I think Lily's dark chocolate is a new favorite of mine. Green and Black was also really good in some almond butter cookies I made.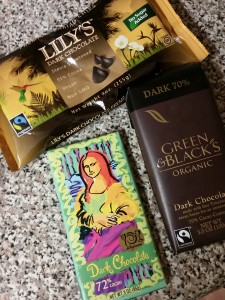 3. Before pole last night, I made an avocado protein smoothie. My go to before a workout. This time I added hemp seeds which I had never done before, but I loved it. I forgot to snap a photo though. Maybe I will post the recipe next time.
4. Between teaching yoga and attending fitness classes in the evenings, I don't have that much down time. In the little bit of extra time I have, even if 20 minutes, I have been reading Miracles Now or journaling. I think it is better to do a bit of reading instead of draining my brain on Netflix (plus I finished Gilmore Girls again and caught up on Young and Hungry and Baby Daddy and don't really feel like getting sucked into another show at the moment).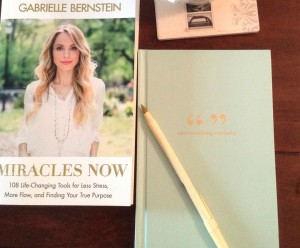 5. I taught a wonderful gentle (or slow flow) class on Tuesday night with the theme of grounding and the people loved it. I think I am finally figuring out what they like and hopefully everyone will continue to come back because they were talking about possibly canceling my Tuesday night class, but I hope it can stay. I actually had 10 people Tuesday night. Monday night I subbed and only had 1 person so they had a nice private class lol. Since May began, I feel like attendance has been lower, between graduations and such maybe.
6. I thought about taking a full rest day today as my right foot has been hurting a bit and I can't pinpoint where exactly. It mostly hurts when I wear shoes, otherwise I don't notice it which is interesting. I don't know what I did but I have been doing a lot of walking. I decided to still get to the gym this morning, focusing on seated exercises, warming up with the bike and then working my arms and abs. I plan to take a full rest day tomorrow and Saturday. Sunday I have to teach yoga but besides that it will be a weekend of rest and see how that goes. I know I have been working out quite a bit and so I believe my body is telling me to slow down and take a step back.
7. I got a new shirt from TBV apparel. Alisha Leytem has been doing videos on the chakras and it is defintiely getting me inspired. I am realizing how closed a lot of my chakras are and one I have been working on is my heart chakra. When I saw this shirt, I just wanted it so that when I wear it, it can be a reminder to "Let Love in".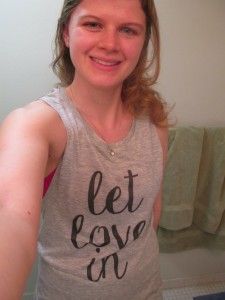 8. Since I don't like to end on odd numbers, hope you all have a wonderful day and remember to "Let Love In"
Hope everyone has a wonderful weekend and I will be back on Monday with my weekend recap.




Sharing is Caring: