Sharing is Caring:



On our Florida vacation, we spent two days at Disney World which you can read about here:
We also spent 2 days at Universal Studios Orlando. Our first day, there was a big rain storm headed our way so we actually left the park in the early afternoon, which is why I will recap both days in one post.
On Thursday (Feb 4), we were able to set our own schedule since we were heading to Universal Studios and we planned to take Uber to and from the park. Our condo had a bus time but only one and we wanted to get there earlier. It actually ended up being $2 cheaper round trip taking Uber and was much nicer to have our own schedule.
We arrived at universal shortly after opening and started at the Universal studios park. Brian hopped on a roller coaster twice as I studied the map of the park. The roller coaster only had a 5 min wait when we got in the park.
Brian checked out a couple more rides and we learned that so many of the rides aren't really roller coasters but just simulations which we also learned was worse for me and him when we rode on the Simpsons ride (slight motion sickness 🙁 ). Prior to that we enjoyed the ET ride. That was nice and slow at least.
By the time we finished the Simpsons ride, which had a short line that took forever, it was 11:30. We decided to get the giant Simpsons pink donut. I think it could feed at least 6 people and I wasn't feeling great after the ride so I didn't know how we would eat it but we took our time and somehow managed to finish it. I then drank tons of water to wash down the sugar but yes it was tasty. I actually felt better after eating it. My blood sugar must have been low or I was dehydrated which wouldn't be hard to believe.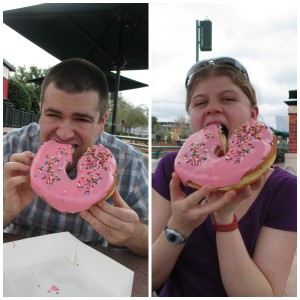 We finally made our way over to Diagon Alley in Harry Potter. Going behind that wall really did feel like I was in the movie and Harry for the first time seeing everything. We explored the wand shop taking a photo with a wand (because I didn't want to buy one).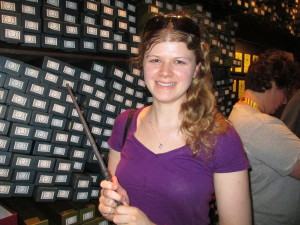 We decided to go to the Leaky Cauldron for fish and chips for lunch. Our cheapest lunch yet! Lol. It was definitely a fun experience. We tried to meet up with my friend from UB who happened to be in the park vacationing just like us but our timing didn't work out 🙁 .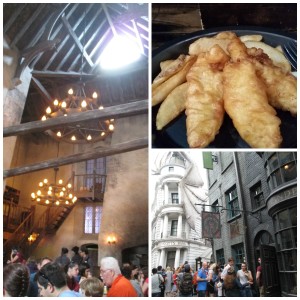 We took the Hogwarts Express over to the other park which I did enjoy.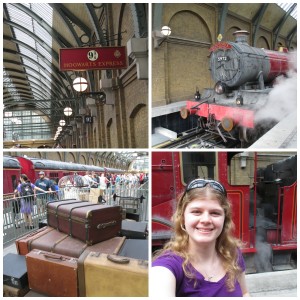 We decided to hit up the water rides before the rain came in. We started with Jurassic Park and didn't get too wet. Then we headed into Popeye land of some sort and that water ride got us soaking on the first go. Since there was no line we stayed for a second time. It was pretty awesome that there wasn't much of a line anywhere. Harry Potter, of course, was swarming with people but still overall wasn't bad. We were surprised how fast we were seated at the restaurant at noon.
Being that we were soaking, we started to exit the park. As we were walking towards the exit, a quick scattered shower came through and everyone ran for cover, except for us, I mean we were already soaked so didn't really matter.
That rain quickly passed and we got our Uber ride. We got back around 3. I ate a snack, went on my computer a bit and then sat outside on the patio while Brian napped. It was nice to spend half of Thursday in the room, but I did head out to a 6pm Vinyasa yoga class near by as well which was so challenging and fun.
On Friday (Feb 5), we were slow moving. We arrived at Universal at about 9:45am and being that it was a Friday and bus loads of people were dropped off, it took FOREVER to get into the park. You have to have your bags checked first and Brian didn't have any so he went into the park and it took me about 30 minutes to get in. While Brian waited for me he ended up getting a meal plan for the day for signing up for a credit card so our meals and snacks were free (kinda funny how lunch started out pricey and slowly got cheaper throughout our stay).
We decided to start in the Islands of Adventure park since we didn't spend as much time there the day before. We headed straight to the Harry Potter part and rode the little rollar coaster that was about a 10 second ride. Then Brian went on the large roller coaster and I waited. I was worried I missed him coming off as it must have been a longer wait but luckily he found me eventually. I had his phone and everything so couldn't call him to see where he was.
Then it was out of Harry Potter world, we headed to Seuss land for another short coaster ride. Then made our way back around. We decided to eat lunch in comic book land (marvel land?). After lunch we were going to go on a ride in Jurassic park but the wait time was like 45 min so instead we walked through the tree house obstacle area for a while and enjoyed some time by the pond.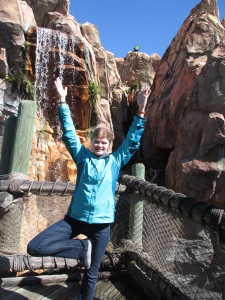 Eventually it was time to head over on the Hogwarts Express to the other park. It was cool riding from the other side as it had a different story line going back which was fun.
Brian went to go ride some roller coasters and I went into Diagon Alley to check out the behind the scenes Olivander wands tour. Then I purchased some chocolate peppermint toads and a pretzel wand.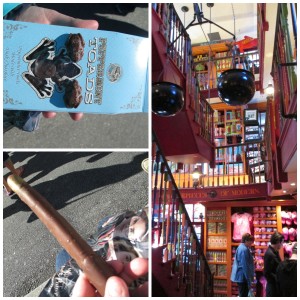 I continued to walk around the park as I waited for Brian and I got a picture with Scooby Doo and his gang. They said Daphne was out shopping lol.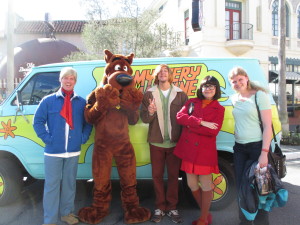 Then I met up with Brian for the Horror Make up show. After that show we headed to Fear Factor which was disgusting and I could never do some of those things but fun to watch.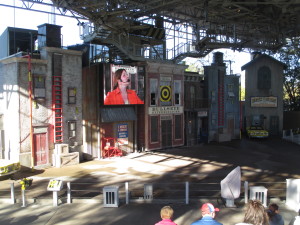 The show was done at 4:30 and we were grabbing snacks and planning to leave when the parade started at 5. So we stayed for the short parade and made our way out with a bunch of other people and unfortunately got caught in rush hour traffic back to the hotel.
A quick check in at the hotel and laying our things down, we headed to dinner at Joes a Crab shack. We planned to go to the Orlando Eye but after we got there we realized it was closed for a private event. We did get there the next morning before spending the day in Daytona Beach with my grandma. I didn't take any pictures in Daytona as it was rainy, but the morning was nice for the Orlando Eye.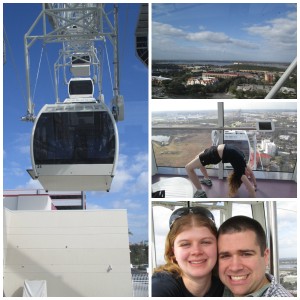 That concludes our vacation. It was definitely a busy one and it would have been nice to have a day or two of relaxing after but it was back to work for me. I am glad I was finally able to go to Disney world and Universal as an adult though. We think we will go back in another 10 years, maybe with some little ones ;).




Sharing is Caring: