Sharing is Caring:



Today is Monday and the temperatures are supposed to be back to 30 degrees and it was above 60 yesterday!! I mean it felt like summer again after our cold (normal temps) week. After the rain passed, the sun finally came out in the afternoon and I was soaking it up from inside at my desk. I love it when the sun is shining and lights up my apartment. I hope everyone had a good weekend.
On Saturday I attended my second ice hockey game of my life (first was in Jan 2014 Blackhawks in Chicago). I know, I know. 25 years and 2 ice hockey games. I only go when I can enjoy it suite style and am offered some tickets. HA! I got my shopping done Saturday morning and then left shortly after 11am to drive to the subway train line. It was easier since it comes every 15 min on the weekend, otherwise I would have been stuck waiting probably an hour at the other train station waiting. There are a million stops, but besides that, the subway wasn't too bad and worked out well. I didn't quite figure out the free transfer part as I exited and then went through again to the second train, but luckily I have a pass so it doesn't really cost me anything. I figured out the transfer on the way back since there were crowds to follow.
I arrived at the Wells Fargo Center and decided to enter through the VIP door, because I figured suite = VIP. It went fast and then I had to find my way to an escalator. I accidentally took the really tall escalator instead of the one on the right side of the really tall one per the instructions from some staff, so then I took an elevator one floor down and found my way to the suite. About 5-10 minutes later, my boss and his wife arrived and the bank representative came who offered us the tickets. I don't follow sports at all, but it was fun to watch the game, chat, eat and enjoy the suite life. We had another family in our suite and their two boys were having the time of their lives.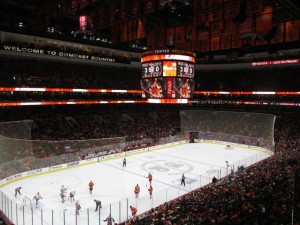 The Philly Flyers won to the New York Islanders 4-0, so that made it exciting that the home team won.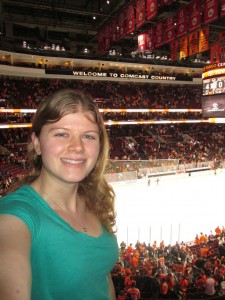 Going home, they had an express train to the city and then I switched to my train to my car. Going home seemed faster and I was back by dinner time, but not hungry after munching on food all afternoon. I have had this urge to bake the last couple days and finally I had some time and made Amanda's soft and chewy banana granola bars. I made the protein version and used agave for the sweetener. If you like banana bread and granola bars, this is a perfect hybrid of the two!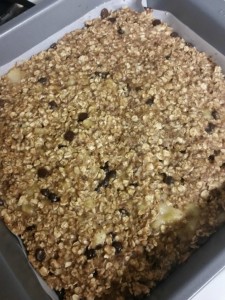 The rest of the evening, I relaxed on the couch, reading a magazine, sipping some tea and doing a crossword in the magazine (I'm terrible at crosswords, but I think I only looked up maybe 25% of the questions lol). Relaxing on the couch is always perfect for me to wind down the evening and get me tired.
I slept nearly 10 hours Saturday night. I guess I needed it. Sunday morning I woke up around 8am, made breakfast and decided to head right to the gym. I switched up my routine and did Kasey's workout she posted, except for the resistance band (forgot to bring mine and my gym doesn't have any) and I did my own burnout (or rather attempted one).
After feeling like I wouldn't be able to lift my arms the rest of the day, I came home, had a snack and then decided to go to the mall. I wanted to try to find a yoga CD as I might be teaching soon and I recently got a giftcard for Macy's so I checked out the winter coats on sale. Unfortunately I left empty handed. I wasn't pleased with the coat selection and I didn't find a yoga CD so I went to Amazon for that.
When I came home, I was starving and whipped up some steak fajitas with guacamole on top.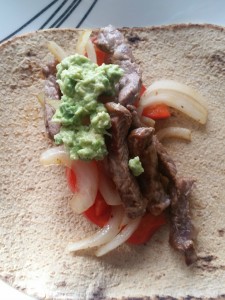 Then it was time to meal prep some turkey meatballs, using Susie's recipe. I haven't made turkey meatballs in a while and they always end up dry, so I tried Susie's method of cooking and I think they came out better.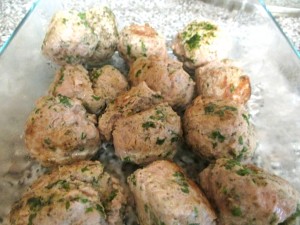 You also may notice some changes around here. I figured out the menu bar and added a contact page. My email address is on my About page, but I am sure the Contact page stands out more. Thanks to Davida and Lee hosting the blogger challenge this month, I am finally working on my blog more and learning new things.

This weekend I also decided to create a separate Instagram just for my blog. I don't want people to be overwhelmed by my yoga challenge photos on my other account. So follow me @bridgesthroughlife over on Instagram and if you do like tons of yoga photos, my first account is @ilabk.
Hope everyone has a great start to their week.




Sharing is Caring: