Sharing is Caring:



Hello everyone! Is it really December 7th already?! I may not have an advent calendar and countdown to Christmas but I am counting down to the week of Christmas since it's a short work week. One more 5 day workweek after this week. I am looking forward to next weekend already as I have some plans on the calendar. This weekend there were no plans besides the usual errands and workouts and of course relaxing, which is absolutely perfect. I definitely found things to do to keep busy.
Friday evening I started putting together some presents and doing some wrapping and taping up boxes to mail. I have a pile of boxes in my living room corner that need to go to the post office this week. Let's just say a Christmas movie and wrapping presents was just what I needed. I didn't even feel like eating dinner but eventually had some chips and hummus. I am kind of addicted to making hummus in my Blendtec, it's so much better fresh. Thursday was a rough day, so the relaxation on Friday was much needed.
Saturday morning I slept in until 8. It is easier to sleep in when 1) you go to bed after 10 and 2) the sun doesn't rise until 7. I like to wake up with the sun. As much as I am a morning person, winter mornings are definitely harder, but I am happy with getting up at 8 as there are still 4 hours left in the morning. I had a quick bowl of cereal and headed to Cherry Hill to do some shopping. I got my groceries and then stopped at the Target there since it was nearby and would have been out of my way if I had gone home and then to the other Target. I discovered that Target was next to Kohls and I had received a 25% off coupon in my email and decided to check out some shoes and was successful. By the time I had hit up 4 stores and drove home it was about lunch time and I was hungry since all I had was a bowl of cereal.
I put together a snack plate of ham, cheese, hummus and chips and drank some rehydrate and lots of water because I was feeling dehydrated. I put on a Christmas movie while I ate and then got ready for the gym. I usually aim to go to the gym around 11am on Saturday to swim, but all my shopping delayed me until about 2pm. Seeing as it was later in the day, I wasn't sure how much energy I would have, but I got in the water and it felt so good. I just kept saying to myself, just keep swimming, just keep swimming…
I pushed a bit father and managed to swim just over a mile for my first set and then I broke it up into smaller sets for the remainder of my swim. Sometimes I like to imagine if a camera were set up while I swam and you could see how many people come and go while I just keep swimming, like in the movies were they speed up the time and I am still doing the same thing, swimming back and forth. Anyway I felt good and I just kept going and listening to my body for when I would change strokes. [Due to my shoulder bursitis I usually only swim 10 laps freestyle before switching to breaststroke for 2 laps just to break up the laps better. I have found that way I can last longer, otherwise my shoulder will start to ache and I will have to stop.] In the end, for fun, I added in some backstroke and kicking on my back. Overall I managed to swim 170 laps plus 10 laps kicking in 1 hour 35 minutes. My distance was 4500 yds total or 2.5 miles, the most I have ever swam in one session. I have been working on my 2 mile swims for over a month now and I thought it was time to push farther and I didn't have anywhere to go anyway so it was perfect. My arms felt stronger and I wasn't sore this time around which I think helped a lot. I did yoga on Friday morning instead of weights and it felt good. Even though there were a few 30 second breaks during the last mile and a bit between sets, I reached my goal of swimming 2.4 miles in one swim session at the pool that I have had set for years and I was really excited!!
Based on my title for today's post, you might notice I can swim, but running for more than 2 minutes is still a challenge for me. I have realized with swimming, I am good at pacing and just swimming, because you have to breathe during a stroke and lift your head out of the water, as you can't breathe in the water, but running, the breathing is still a challenge for me and it's also harder on my knees, but I am working on it slowly.
By the time I got home, the sun was about to set…I am not a fan of these 4:30 sun sets. Anyway it was time to make some dinner and then relax on the couch for the evening, watching more Christmas movies, my favorite Dear Santa was on Lifetime and then the new Lifetime Christmas movie, The Flight Before Christmas. Not sure if you can tell, but I love Christmas movies!
Sunday morning I slept until 8 again, but this time I didn't have to run errands. I attempted making some pancakes that kind of failed but were still tasty and then I went to the gym to get my squat day in. My legs have to be getting stronger, because they were not feeling as jello like this time. That just means next week I will have to increase the weights a bit more. I am sure I will still be sore tomorrow but fitting in some foam rolling to hopefully help with recovery.
Once I got home, I did some meal prep, making some bean salad and then eating some for lunch.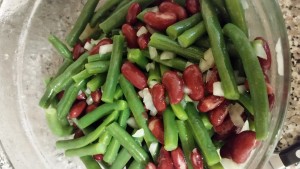 The afternoon was nice and sunny, but a little chilly. I enjoyed working on building some yoga sequences and sitting in the sunlight from inside. The evening included more meal prep as I made dinner for myself and then more Christmas movie watching and relaxing on the couch. I also made some homemade almond butter cups, so yummy.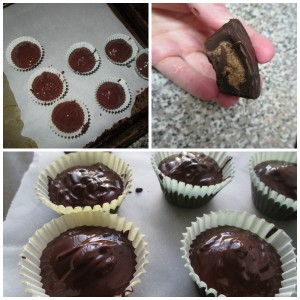 Here's to a new week. Last week things were breaking on me and I am hoping this week goes better. I am also hoping to get a tree next weekend as it just doesn't feel as Christmas-y without one.
What did you do this weekend?




Sharing is Caring: