Sharing is Caring:



We are now in December…wow that came quickly. Before we know it, it will be the New Year. But first, Christmas. I am finding as I get older, Christmas lists are harder. I pretty much buy everything I need. Of course there are things I want throughout the year, but when Christmas rolls around, I kind of forget what those things were and then I realize well if I have lived without them, I probably don't really need them.
Since moving last year to my own apartment and 800 miles from where I grew up, of course there were essentials I had to buy. For me, that meant things for the kitchen. I now have enough to get by, so to speak, but of course there are always more kitchen things I find cool and want. The top of my wish list this year would be a food processor, or it was until my phone broke and then I asked Brian for a new phone which I already got last week, but still need to activate. Really, I was happy with my early gifts from Brian.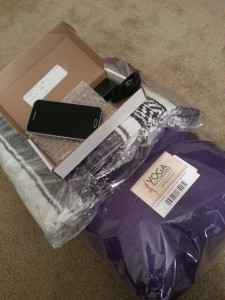 But for the people that still want to give me something, I decided to make a short list. Honestly, I feel like my wish list these days probably looks more like a wedding registry, as I fill it with kitchen gadgets. I just love my own kitchen and cooking my own food so much! Brian and I were also thinking we could use a light comforter for the bed. Right now our bed consists of mismatched blankets of sorts and I always feel like it needs just one more layer or two. Again, I refer to basically a wedding registry. However, the gifts I think of now I think of in a practical way and how much they will be used, that is why kitchen items, bedding and fitness items top the list, knowing I will use them.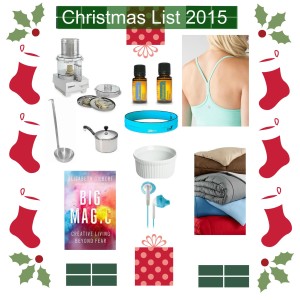 Kitchen Items
As you can see from my list above, I could use a food processor, a ladle – might make my pancake making on the weekends easier, a pot with a lid, as I only have one small one and would like a bigger size. I also want a 16oz little dish to make baked oatmeal or something. Other kitchen items, one day a waffle maker would be good. I also need a set of steak knives and I'm sure there is more I am not thinking of right now.
Fitness
I would love a giftcard for Lululemon as I have admired that Power Y tank for a few years but still haven't bought one. I also am interested in a Flip Belt. Even though I am not a runner, over the summer I was working on running a bit more and only one of my capris has a nice little zipper pocket for keys so I would like something that holds my keys and possibly my phone when I am wearing my other pairs of leggings. I also don't have a pair of earbuds. I know this is hard to imagine in this day and age, but I don't like them in my ears and such, however I want to give these Yurbuds a try as it would be nice to listen to Periscope or something while at work at my desk or during my lunch break.
Bedding
Our bed is kind of a mash of all the blankets I was allowed to take with me when I moved. One day a bedding set would be nice. Our sheets are nice since we bought those after getting the mattress, but I feel the need for a comforter of some sort. I have never been big on them growing up but then again there was no room for one on my bed back when I slept with 50 stuffed animals on my feet (not kidding!)…now my feet feel like they need something and maybe a light comforter would help. Queen sized blankets would also be nice to fit the mattress better.
Other
There are a few books on my Amazon wish list. I still haven't been to the library since my move earlier this year and I really like having books on my kindle because that is light and easy to carry around so I have been buying books lately. Last year for Christmas I received an essential oil diffuser and LOVE it but oils are pricey. I have already replenished my lavender oil, but would love to try new ones as well, Balance and Peppermint are on my list as top ones to try. Hard to pick when there are so many.
There you have a glimpse at my Christmas wish list. Maybe this will give you some gift ideas or items that you might not have considered for yourself.
What is on your Christmas List this year?




Sharing is Caring: