Sharing is Caring:



When we decided to head to Bermuda for vacation this year, all I could think about was the beach. Being that we were headed to an island, I expected food to be pricey and I was definitely right. We had a strange eating schedule while we were there as we slept until 8am most days and eventually got moving to head out the door at 10am. We usually ate 2 big meals and the rest of our food was snack type foods. I brought quick oats with me and made myself oatmeal in a mug each morning. Besides that we snacked on ham, cheese and crackers and fruit that we bought at the grocery store on our second day. We also used the grill we had twice, once with kabobs and another time with sausage (forgot to take pictures as I had to eat quickly before the ants got to my food). Even though the grocery store food was expensive too (think $10 for a box of cereal or $17 for a jar of organic peanut butter), it was cheaper than dining out which usually ran about $100 for one meal for two people. That was with 2 main courses, an appetizer or two and 1 drink. Go big or go home right?! This was our one vacation of the year and we hadn't been on a one week trip together since the Bahamas in October 2013 so it was much needed. Luckily Brian was treating me to these lovely meals, but if you ask him, he was treating himself and I just happened to be along for the ride. Either way, it was delicious food and I even stepped out of my comfort zone a few times.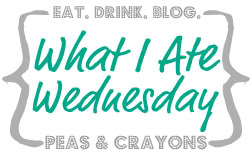 We arrived in Bermuda on Sunday afternoon, though by the time we made it through customs and found our ride it was about dinner time in Bermuda (they are an hour ahead of East coast time). Our host brought us to a gas station where they had a salad bar and chinese food bar. We got that and snacks for our dinner for the first night.
We stayed in a bedroom off of the house of our host. We had a bedroom and bathroom, mini fridge and microwave. It was basically the size of a hotel room, but the bathroom was pretty big which I liked and the rate seemed to be cheaper than a hotel around the island.
On Monday, our first stop for the day was the Fantasy and Crystal Caves. When we got there, we noticed they had a little cafe so we got some brunch. I was actually craving eggs…so I got the Fantasy breakfast which came with toast, eggs and bacon.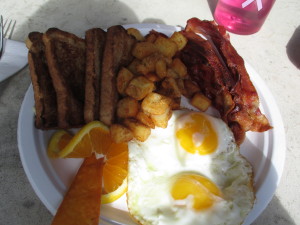 After lots of walking through caves and the zoo, we headed into the city, Hamilton. We walked around looking for a sushi place for Brian, but when we passed The Pickled Onion and I read avocado spring rolls on their menu, I was sold. The first of many $100 meals. We also didn't realize they include a 17% tip in the check so the guy was probably really happy when he noticed he got almost a $40 tip…oops.
I ordered the avocado spring rolls and the super food salad. Both were delicious, even though they also served my meal backwards, giving me the salad then my appetizer of the spring rolls, but didn't matter to me.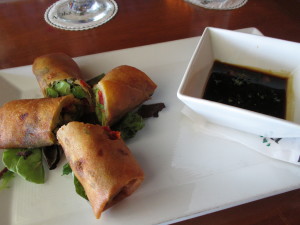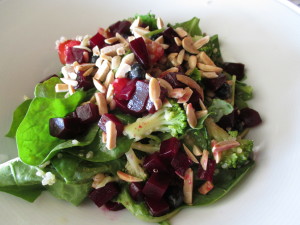 Since we had a late lunch, that was like our dinner too. We did decide to head out later in the evening to walk down the street to the Henry VIII restaurant for dessert and drinks, or rather 2 desserts and 1 drink. I stuck with water, but throughout the week tasted all of the drinks Brian ordered at different meals. He loves the faces I make…
Brian ordered creme brulee and I got the flourless chocolate cake. Brian ate the ice cream since I can't have ice cream, but I did have a taste of it. The flourless chocolate cake was good, but not as good as the one I had at Glow Retreat.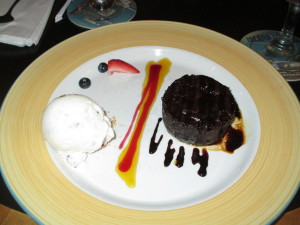 Tuesday we headed to the grocery store in the morning and snacked throughout the morning before heading out to a restaurant at Elbow Beach, Mickey's for lunch. It was a beautiful day sitting at a table right on the beach. After trying a bite of Brian's fish he ordered at the Pickled Onion the previous day, I was thinking I should order fish, maybe it wouldn't kill me. I usually don't eat any seafood except for fish and chips, but I went a bit out of my comfort zone and saw a fish sandwich with avocado on the menu. Add avocado to almost anything and you have me! So I ordered the fish sandwich with a side salad.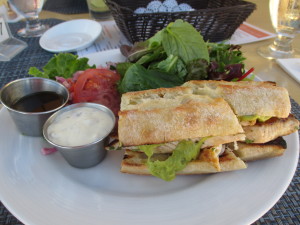 Brian also ordered a classic mojito and I think we have decided if I were to order a drink a mojito would probably be the winner because it isn't overly sweet and I love mint, so I had a few sips of that. I still did not like the drink enough to order my own. We also shared an orange mousse dessert which I forgot to get a photo of. It was gone in .25 seconds anyway.
That evening we made kabobs on the grill that we got from the grocery store and then enjoyed reading on the patio overlooking the ocean until it got too dark to read. If you ever eat outside in Bermuda, I advise eating as fast as you can and bringing plates inside right away to wash because I then had a plate full of ants to wash…the ants were EVERYWHERE.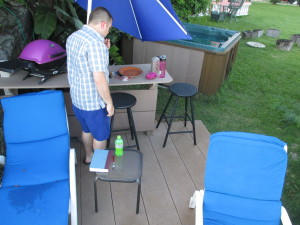 Wednesday we mostly snacked in the morning and then we stopped by a farm and Brian picked up some chicken sausage to grill for a late lunch when we returned from our outing. I had a taste, but also ate some ham and cheese and pistachios. For dinner, we went out to dine at the lighthouse down the road, highly recommended to us from our host. We definitely went big here! Brian got two appetizers, soup and tomato mozzarella caprese. I got the thai spring rolls.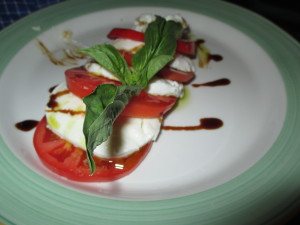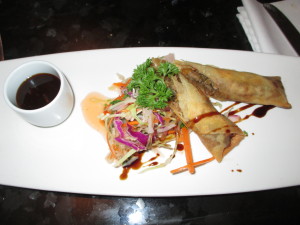 For the main course, Brian ordered a lamb dish and I got a steak over arugula with veggies. I wasn't even that hungry, but that steak was soo good. I felt so full that evening!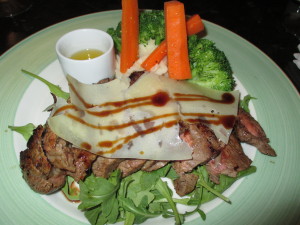 Thursday I wasn't feeling that great but I still ate my oatmeal in the morning and then I just ordered a light salad for lunch. We spent the morning at the Bermuda Underwater Exploration Institute which had a restaurant attached so after walking the exhibits, we ate there. When they say iceburg lettuce salad on the menu, they aren't kidding, a head of iceburg lettuce, but it was perfectly light for me.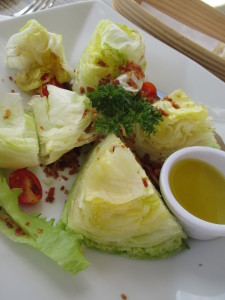 Brian finally got his sushi at this restaurant and I even tried some fish eggs and a bit of crab and salmon, but still not really a fan of it.
We laid around in the afternoon, literally, we napped for a bit and then headed to Elbow Beach around dinner time. We needed to fill up our scooter to return it Friday so we stopped at the gas station on the way back and I got some snacks and Brian got more chinese food for dinner.
Friday, our last day! We only had the morning so I had the last bit of my oatmeal and some cereal I brought and then we spent our last morning on the beach for an hour before freshening up and packing. We snacked on the rest of our fruit and cheese and then we ate at the airport before our flight. I had a light chicken ceasar salad, while Brian enjoyed a club wrap and the smaller version of the swizzle drink. I wasn't all that hungry and I actually came home with a stomach bug which I guess I started to feel on Thursday, but it really hit me on Friday. I was happy we were heading home and I still had the weekend to recover, sleep and not think about work yet.




Sharing is Caring: