Sharing is Caring:



Happy Labor day to my American friends!! It is so nice to have an extra day to sleep in. Even better, my gym is open today, so I will be heading there this morning. Maybe I will do more barbell squats. There is only one cage to use so I am hoping it isn't crowded since it is a holiday. Other plans for today, maybe one last pool day (the pool is open next weekend but I am heading on vacation Sunday, I may or may not go to the pool Saturday), reading and maybe some coloring and some baking and cooking. Sounds like a perfect day to me!
Now to recap the first two days of the long weekend.
Friday I got out of work a half hour early. It was nice to catch an earlier train out of the city and get home a little bit earlier. The traffic in the city was insane because the parkway was closed for the Made in America concert for the weekend. Again I had no plans for the weekend. Friday I was invited to a yoga class at 6pm but because it was more than 20 miles from my apartment and considering the time I got home, it wasn't going to be possible to make it there in time. Instead, I ate some dinner and then headed to the mall to check out the labor day sales. There is a mall with some outlet stores near me. I had received a coupon for Loft Outlet but didn't really find anything I loved, so just walked through the mall. I ended up getting two shirts at another store for 50% off and then headed home to watch a movie. Nothing too exciting for Friday, but was nice to get out of the apartment for a bit.
Saturday mornings are my time to get all my shopping in, beginning with Wegmans. After that I came home to change and eat a snack before heading to the gym for zumba. The gym happens to be next to Target and I needed a few items there for traveling. On my way home from Target, I was passing by another grocery store, Giant, and got the last few items on my list from there. I don't really like having to go to multiple stores, but Wegmans is usually stocking their produce Saturday morning and sometimes they are out of items I need because I go so early. I took my time browsing the aisles at Giant and I was excited to find some black bean noodles. Kasey mentioned these on one of her recent Periscopes (follow @powercakes) and they sounded so good, so when I saw them, I had to try them. Plus I think they will fit into a clean eating diet. The ingredients are just black beans and water! No idea what I am going to top it with yet, but I think I have some pasta sauce in the fridge.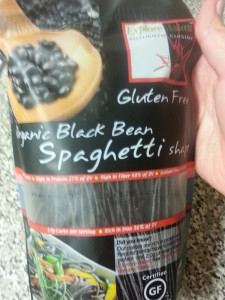 By the time all that was done it was already 2pm!! Weekends go by way too quickly!! Then it was time to get sunscreened up and head to the pool for a bit. Of course I got distracted somewhere along the way and eventually made it to the pool by 4pm. Usually by 5 people are packing up and heading home so going at 4 is perfect. However the pool was surprisingly empty Saturday so I basically had the pool to myself. The only thing was the wind decided to pick up so I was perfectly happy with my one time in the pool and then just reading with the nice breeze for a couple hours.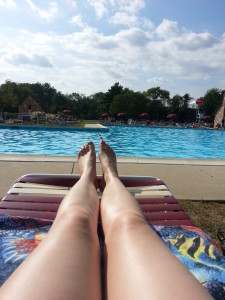 When I got back, I showered and then made some dinner. I love cooking on the weekends when you don't have to feel rushed. I had some zucchini to use up before it went bad so of course that meant zoodle time. It's basically the only way I eat zucchini. Actually I never ate zucchini (maybe once in a restaurant or by mistake lol) until I got my spiralizer last April. Sometimes I wonder why I never ate zucchini before then.
Wanting to do something new, I typed in "zoodles" into Pinterest and was led to a Pad Thai Zoodle recipe. Can I just say that is genius?!? I wish I could say I came up with that. I love Pad Thai (especially Noodles and Company Pad Thai, if you have Noodles and Company by you, try it with tofu!). Zoodles, tofu, fresh grated ginger, an egg, onion, carrots, garlic and some pad thai sauce is pretty much all you need. It took some time to prep but was well worth it and tons of Pad Thai Zoodle leftovers. Next time, I think I am actually going to marinate the tofu, because I tried their instructions and it just doesn't really get much flavor in the tofu or maybe smaller chunks would help. I also made my own pad thai sauce from this recipe.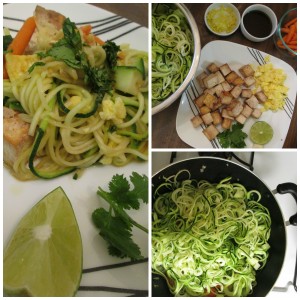 While eating, I found a movie to watch and then it was 9:30pm. I talked with Brian online for a while because I wanted to stay up to watch Beyonce perform at the Made in America concert at 10:30. Thank you live streaming online!! Even if it was pausing a bit for the first 20-30 minutes, I then lowered the pixels and it worked better. Beyonce does not disappoint!! Great show for an hour and a half and enjoyed all her songs. It was also much better being in my own apartment watching it and not standing in the crowded parkway and then watching the time to catch the train. Beyonce performed until midnight (so late for me HA!) and then I finally crawled into bed at 12:30am.
Sunday I slept in past 8am, which hasn't happened in a while, since my body has been adjusting to getting up at 5am. It was so nice to sleep in, though, I still got my usual 7-8 hours of sleep so wasn't really sleeping in. I decided to head to the gym after breakfast, hoping to get in some barbell squats. The gym was fairly empty at 9am and I did get some squats in, but the weight room is a mess and I could not find any 10lb plates, so I stuck with a couple 5 lb plates on each end and had trouble increasing weight after that since I really needed a 10, but I made due with what I had and was happy to squat. Then I did some barbell rows and some dumbbell lunges. Short weight session and then came home and decided to bring my yoga mat over to the basketball court in the sunlight. I love having a patio, but I also love doing yoga in the sun too. It was very peaceful and I created a sequence with some hip opening and did what felt good.
Then I spent some time journaling. I bought a notebook to write in. I used to journal towards the end of high school. In college, I switched to typing because I can type faster than I can write, but the computer can also be distracting, so I thought I would write again. It was so nice to sit there in the sun, reflecting on some thoughts. I felt so much more free afterwards.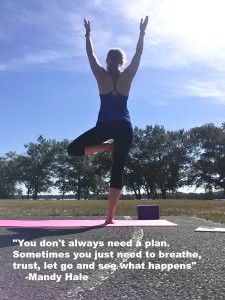 When I walked back to my apartment, I noticed the people 2 floors above me (whom I actually reported for the multiple times glass bottles were dropped on my patio in April and May) where finally moving their stuff out. They had their windows covered in foil and part of me thinks they wallpapered their apartment in it because suddenly it was raining foil outside my patio as I sat at my computer…at least they cleaned it up, but it probably filled half the dumpster. Good thing I did yoga at the basketball court…my patio is clearly a danger zone. They also threw some random branches down…happy they are gone now!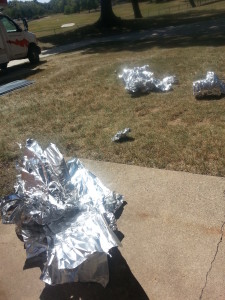 I roasted chicken breasts for the first time and they came out great for dinner later. Forgot to take a picture afterwards, so here is the before pic.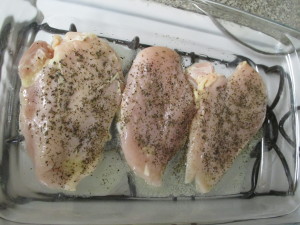 I spent some more time at the pool and ended the night catching up with my parents, eating dinner and watching Guy's Groceries Games.
The weekend is clearly for pool time and cooking for me. I have no idea what I am going to do when the pool closes next weekend, maybe go for more walks until it gets too cold.
The perks of living next to the river was that I also got to watch some fireworks from my bedroom window in the evening.
Do you like to cook on weekends?




Sharing is Caring: