Sharing is Caring:



Hello again friends!! Wow I feel like I have been gone for a while. After getting back from Glow Retreat last Monday, somehow the evenings flew by and I didn't get any recaps up. I finally finished writing up a recap for myself on Saturday morning so blog posts about Glow Retreat will be coming soon, because it was AMAZING! I seriously can't say that enough!!
But first a recap on this weekend. This was the weekend my dad and sister were going to visit but obviously things changed which you can read about here.
Update on my sister: her ankle was a minor break and she will be in a boot for about 2-3 months. She is now mobile (on crutches for now) as her right leg is walkable now, but she still can't step on her left leg with the broken ankle for another couple weeks. At least by the time she gets back to school she has a good chance she will be able to ditch the crutches and walk around with the boot for another month or two depending on how quickly it heals.
Since my dad and sister were unavailable this weekend, Brian was still off work and came down Thursday evening. Get ready for lots of food pictures because apparently all Brian and I do is eat and lots of shopping for this weekend.
Friday he met me for lunch in the city. I was attending a seminar for the day right near Reading Terminal Market so we headed there and Brian decided on Mexican food, which was so good! I also got some chocolates for later.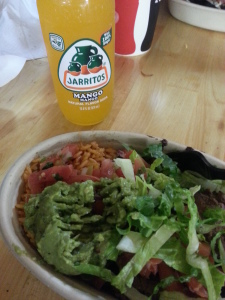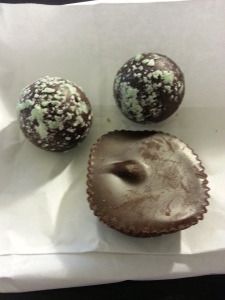 Friday night we enjoyed the pool for a bit after work. I was still afraid to put my head under with my ear still feeling off, but still enjoyed it. Then we made some chicken sausages for dinner to pair with an eggplant, zucchini, tomato bake I made Thursday night.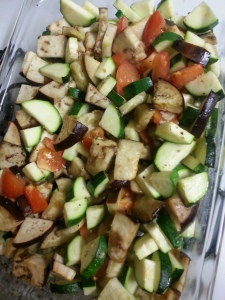 Saturday morning started off lazy, but we eventually got moving by 10am and turned into a pretty busy day. I had to drop my car off after the tire light came on last Monday on the last leg of my road trip. I have the worst luck with tires and freak out when the light comes on, because it is ALWAYS right (as in something is wrong).
Brian and I then headed on a shopping spree. Literally we were out for about 6 hours shopping at stores…
We started with the snorkel store nearby to get some snorkel gear for our upcoming trip to Bermuda. Then we headed to King of Prussia for the day. We got lunch at the mall, Brian had a shopping spree at JC Penny (YAY 60% off sales and new clothes for Brian), we then headed to Target, Michael's, Bed, Bath and Beyond and Wegmans for groceries to end it all. I think we covered enough stores and spent enough money.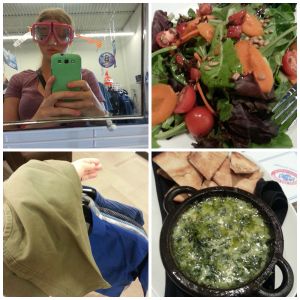 It was about 5pm when we finally picked up my car. Where did the day go?!? Luckily the only thing wrong with my tire was the valve started to leak somehow due to corrosion. A whole $8 to fix. That is probably the least I have spent on fixing a tire, so I am OK with that, especially after the shopping spree day.
We got home and had steak for dinner with more of the eggplant, zucchini bake and some homemade cilantro hummus, because I got a new blender accessory to make smaller portions 🙂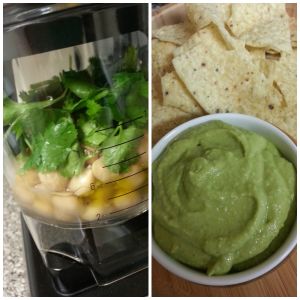 Also, funny story, I was so set on making hummus and thought I had chickpeas but then I look in the cabinet and I don't. I almost didn't make any, but then I was really craving it as I kept thinking about it, so while Brian was cooking the steak, I headed to the store to buy chickpeas, which of course resulted in buying a few other things, like chips, because I didn't want to run out and those were on sale. It worked out though since by the time I got home from the store the steak was done and the hummus was quick to throw together and delicious!!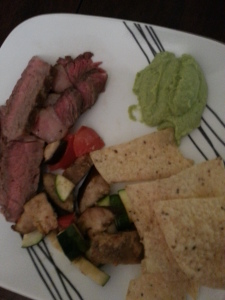 Sunday morning I got up around 7:30 and made some pancakes because Sunday = pancakes!!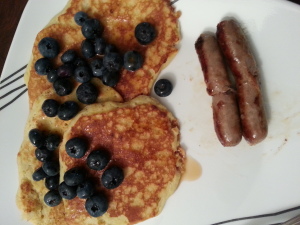 Then for a random reason we had headed to Michael's yesterday to get stuff to make candles after I mentioned to Brian about this one candle I loved from Glow Retreat that we got. He said, you know you could make candles. I mean I knew it was possible but never got all the supplies for it. This was also why we had to head to Bed, Bath and Beyond (next door to Michael's) and get a small pot to melt the wax since I have few pots and none that I want to mess up. We found the perfect size pot and bought all the supplies. It was a simple process but I think I made it difficult not getting very friendly wicks, but I poured the wax in layers and eventually straightened the wicks and hopefully they work well. I am not sure if I added enough lavender either, but trial and error and they turned out pretty at least. I had just enough wax for the 3 jars I got. I also spilled a lot of wax on paper and salvaged some. Like I said, not the smoothest process but definitely would like to try again sometime.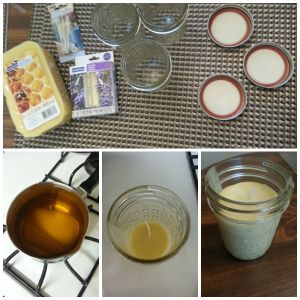 Candles kept my morning busy and before we knew it, it was lunch time. We snacked and then got dressed for the pool. We were instructed to try out our snorkel masks before our trip just to make sure they work. This meant I had to put my head under the water, but my ear was finally feeling better after a not so fun sinus rinse a couple times. The masks worked well. I am not used to only breathing through my mouth when swimming, so I still have to navigate the snorkeling a bit, but it is nice to have a mask that fits for some proper snorkeling.
It was a beautiful afternoon for the pool and we enjoyed it for a few hours before heading home to shower and make dinner.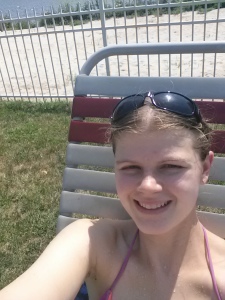 More hummus for an appetizer and then a tofu noodle, chicken sausage and veggie combo for dinner, that turned out to be very delicious.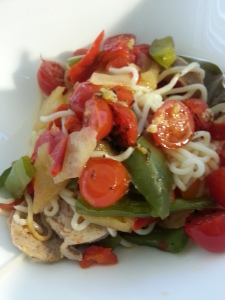 The rest of the evening was spent parked on the couch, watching some Food Network (Hello season finale of Food Network Star!) and teaching yet losing at playing Chess with Brian. He never played the game until I taught him and yet he always wins. I fail at Chess.
Woo that was a bit of a long recap and a lot of food. I love cooking for two and brainstorming meals together when Brian is around. Hope you all had a fabulous weekend and I hope to get some Glow Retreat recaps up in the next day or two. It might have to be 2-3 parts.
Have you ever made candles?
Do you like DIY projects?
Have you ever played Chess?