Sharing is Caring:



Ummm can we talk about how July starts in less than a week?!? Like, when did that happen? June went by so fast as I had plans pretty much every weekend, usually involving yoga. I haven't really had much to write about lately, but I love joining in on Amanda's thinking out loud where I can be random and highlight a few things happening.

So let's begin…
1) Brian was able to come down for a quick 36 hour visit and I had worked a bunch of overtime during the week so I asked to leave early Friday to hang out with Brian. We changed for the pool when I got home, but then it started raining as we walked there…they were still open, but not letting anyone in, so after waiting for a bit, we walked back in the rain. At least we were wearing swimsuits for the rain. After some searching online, we decided on a Japanese restaurant (Japanese seems to be our go to lately). I ordered the chicken hibachi and also an eggplant appetizer (unpictured), which was delicious. After my salad, soup and eggplant appetizer, I only ate a few veggies and the rice from my meal and ended up bringing the rest home. It was perfect for dinner the next day though!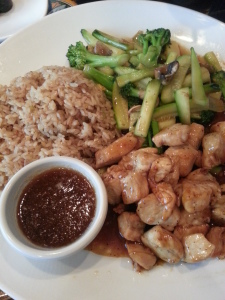 2) Brian and I went to see Inside Out Friday night, which we both enjoyed!
3) Saturday I finally got my winter tires off my car as I have a couple road trips coming up and didn't want to ruin them. My luck and tires is not so good…I carry a full spare tire in my trunk now.
4) I also tried Chick-fil-a for the first time Saturday and I have to say I really enjoyed it. I basically ate the chicken and then enjoyed the waffle fries. I don't eat the buns on burgers unless I am really really hungry.
5) I have been enjoying the pool lately, especially bringing my journal and reading BodyPeace on my kindle.
6) I am on my third week of doing 5am workouts. I go at 5am on Monday, Wednesday and Friday. Tuesday is zumba at night and Thursday is yoga or abs and time for stretching, but sometimes just a rest night. By working out in the morning, I feel better throughout the day and also get to enjoy the pool for a bit in the evening, like I did on Monday.
7) So I was running low on protein powder and I have never really switched brands. I have heard good things about About Time and ordered a couple sample packets, Mocha Mint and Vanilla. Normally I buy vanilla protein for the granola bars I make but I also love anything mint. I tried the Mocha Mint on Tuesday in Lee's (FitFoodieFinds) avocado mint smoothie and it paired perfectly. Now I am wondering if I should order 2 tubes of protein powder…I also want to get the peanut butter Quest protein powder. Decisions…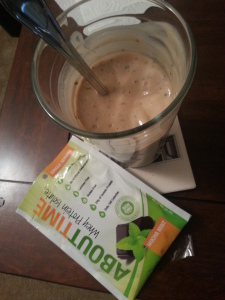 8) one of my new jobs at work is to fold invoices. I call it my origami time, but origami is typically made from square paper. I looked up origami to make with regular sized paper and found out you could make a fish. I don't think our customers would appreciate invoices made into fish though and it would probably take too long…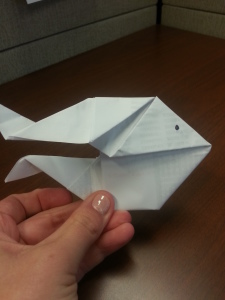 Well that's all for the randomness today. As I finish this post (wednesday night) I need to do some stretching and much needed foam rolling.
Hope you all have a great Thursday!! I am hoping the rain holds off for my weekend plans!




Sharing is Caring: