Sharing is Caring:



So looking back I haven't done a marvelous in my Monday post since March. April was packed with moving and yoga studying and honestly I stressed a lot so I didn't feel like I had marvelous things to write about. But over the past 2 weeks, that has changed. I changed my mood, let out my emotions, began journaling some more and working out more to help me de stress each day. I feel so much freer than I have in the past month so let's get onto my marvelous weekend!!
The weather has been absolutely beautiful!! I love having a little patio now. Friday after work, our new couch got delivered. Brian was here last week and one day he sent me a picture of a couch and said "do you like it?". I honestly couldn't really tell much from the picture on my tiny phone screen, but Brian liked it and he was buying it so I said it was fine lol. I cleared some boxes and the couch fits perfectly along the wall in the living room. It also came with a little side table which fits perfectly in the corner, but I have been hauling it in and outside all weekend to have a foot rest and table outside. Maybe we should call it the traveling table…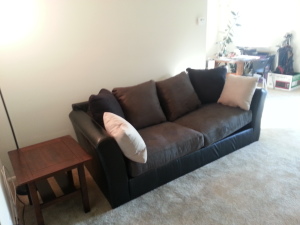 Basically this was my Friday night. I had been craving cookies so I made this little deep dish one. Perfect for a single serving. However probably not the greatest idea to use the oven when it is 80 degrees out. The apartment got warm, but luckily there is AC.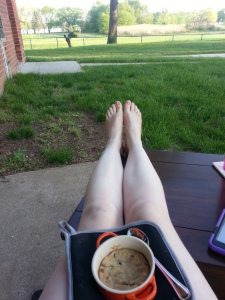 This was my first free Friday night in 3 weeks, as the last 3 weeks involved yoga training and graduation. I felt like I had so much time on my hands and enjoyed the peacefulness outside. I also started to read BODYpeace. I bought it when it was 99 cents, so can't go wrong with that. While I haven't suffered from an eating disorder, I definitely have questioned things about my body at times as most girls do and there are times when I am not comfortable in my own skin. This book and journaling I believe will be very helpful for my mind, body and soul. I also get to meet the two authors during Glow Retreat in August!
Friday night I slept for almost 10 hours, which was soooo wonderful.
Saturday
I had breakfast and then headed to Wegmans, over to NJ. I drive about 15 miles (each way) and pay a $5 toll to go to Wegmans. That is how much I love that store! Their produce, deli and everything is just much better to me than Giant and ACME stores that are much closer. It was nice to just shop around and not be rushed for once. I did have to walk down the Asian aisle about 4 times before I finally found the babycorn and water chestnuts, but again being in no hurry helped.
I got back home around 10am and shortly after the furniture guy stopped by to drill on the legs of the couch. Very nice of them to come back the next day with a drill. Legs or no legs, the couch is great. I would have had Brian bring a drill next time he was down anyway.
I made oatmeal raisin cookies which turned out a little flat but delicious.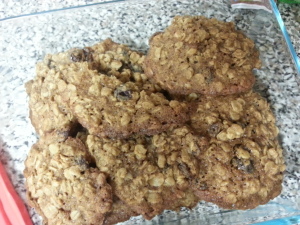 Then I went for a swim for the first time in about 7 months!! It felt great to be back in the pool, but I must say those first 20 laps or so were very difficult. At first I didn't think I would make it to 40 but then as I kept going it got better and better and I made it to 70 laps (a mile and a bit?). Normally I would swim 100-120 laps, but working my way back up.
After my swim, I drove over to a couple other gyms. I haven't really been too happy with my current YMCA. It is just small and the zumba class I went to disappointed me (basically I had the most energy in the room…). I also want to start working out at 5am so I can get my workout done before work, but the Y doesn't open until 5:30. So I got a tour at Retro Fitness and then headed down the road to find LA Fitness as well. Retro Fitness opens at 5am but doesn't have a pool. LA Fitness opens at 6am and has a pool I can use any time! Basically I plan to join both gyms, because I want the flexibility to work out in the morning before work and I need a pool somewhere. Together, the gyms will cost me $1 more a month than I am currently paying for my gym, so it makes sense for me for all the open space and a pool to use whenever I want without worrying about little kid swim lessons.
After that I headed into the mall. I have needed new shorts for a while (aka years) as I only found one pair last year. I headed into JC Penny and found some shorts in the juniors section. I swear juniors sections of stores usually look more colorful than the women's. I had to figure out my size though because they are junior sizes and I guess I am used to adult sizes now. Actually I never have a clue on my size. Every store is different these days which drives me nuts. I left with some tan shorts for a pretty good deal though.
I then headed into the Loft outlet and found some jean shorts. The shorts were over half off and fit nicely, so I had to get them. I continued walking through the mall and ended up getting a couple t-shirts for $6 each which was awesome!! I felt happy with my purchases after that and decided to head home and eat a late lunch/snack of ham and crackers outside while reading.
Then I washed my car windows. They got covered with pollen or tree stuff last week so my silver car was basically a yellow-green and I was tired of the dirty windows. I can finally see through the windows now! Now I just need a car wash so the rest of my car can sparkle.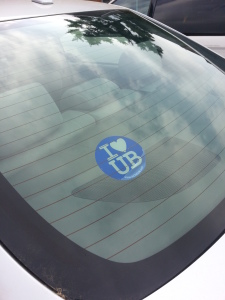 I finally had some time to do some cleaning up and then I made dinner. I had marinated some shirataki noodles in soy and sesame sauce and some fresh ginger. I heated up some frozen stir fry veggies and cooked a chicken breast and then combined all of them together with some baby corn for stir fry.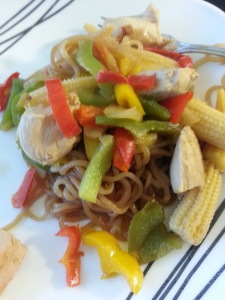 It was so good!! Especially with the fresh grated ginger!! Once that was done, I had time to eat, write and relax.
Sunday
Yesterday wasn't too eventful. I got up at 7:30 again and then made protein pancakes, my typical Sunday breakfast these days. Then I headed out for the train shortly after 9am. I arrived an hour early into the city before I was assisting for Yoga on the Banks, so I walked around the bike path and read for a while. The weather was perfect! Humid, warm and with a breeze. We saw the sun briefly during yoga, but only for a short period. It was fine though as it was plenty warm. The hour flew by while I assisted with the class and it went well. I look forward to many more weekends on the banks with the people that come by. The class is from 11-12 Saturday and Sunday and donation based. I thought that assisting would be a good place for me to start before teaching my own classes, wherever that might be in the future. If you are local to Philadelphia, definitely stop by 🙂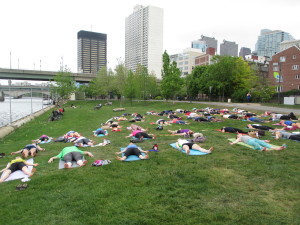 After that, I had some time before my train so I walked around the city, saw a craft fair happening and stopped in a couple stores, leaving empty handed because I didn't want the items badly enough. Really I want to find a new swimsuit, so that is top of my shopping list now.
I got home around 2 and ate a late lunch. Then I enjoyed some reading time outside for a while. I came inside at the perfect time as it just started to rain. We need the rain, so it's good. I prepared dinner and then relaxed the rest of the evening.
This weekend was honestly just so enjoyable. I got over halfway through a book (just reading for fun) and got a lot of walking and time outside enjoying the fresh air. Now just one more full work week before a couple short ones since I am heading home to Chicago for a long Memorial Day weekend. Wow I can't believe how fast this month is going, but I am truly enjoying each day more than I have in the last couple months.
Thank you Katie for hosting!!




Sharing is Caring: