Sharing is Caring:



Back to Monday, but I am feeling quite refreshed today and excited that it is a short week. This weekend was the most fun weekend I have had in a long time. Maybe shopping therapy actually works haha. Beginning Friday night, Brian was here since we are moving tomorrow and so he picked up some food from the Thai place down the street from our apartment. I will miss that place so wanted to eat there one last time. We enjoyed the food at home. I actually wasn't too hungry after going out to lunch with my boss so I ate the spring rolls and a few bites of my pad thai. Then we headed to the movie theater to see Insurgent (Divergent 2). Since I read all the books last year, I didn't exactly remember what happened in the second one, but parts came back as I watched the movie. I am always amazed at the acting in these movies for some reason.
After the movie we just came home and went to bed. Yep we are pretty boring.
Saturday morning I got up around 8am. I don't remember the last time I have slept in so late. I am usually up by 7. I had some breakfast and watched some tv before heading out to the bank and my massage. It has been over a year since I got a massage and I have been wanting one since Christmas time and finally got around to finding a place. It was great to have a one hour massage and I definitely felt lighter afterwards and less stiff.
I got back to the apartment and Brian was finally up. We ate lunch and then I headed out to meet up with some yogis to practice adjustments in poses. I only stayed for an hour and then Brian and I headed to the Philadelphia Outlet mall. The mall was packed when we got there at 3pm. First Brian got something to eat. He decided on a Philly Cheesesteak so I tried a bite. It was my first time trying a cheesesteak. I am not really a fan of cheese and all that oil kind of grossed me out. However it wasn't too bad. I mostly enjoyed the fries though and picking out some of the steak from the sandwich.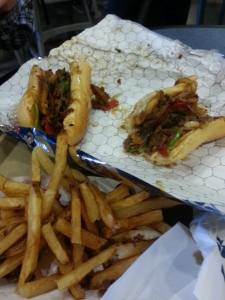 While eating we looked at a map of all the stores. I needed sneakers so I was happy that they had an Asics outlet store and we decided to head that direction first. It took a while before I figured out which shoes I wanted, but I was happy to have a new pair of sneakers to break in for the spring. We continued making our way around the mall, stopping in a few stores that interested us. I will talk more about what I got tomorrow for Treat Yourself Tuesday. Brian also got me a very nice birthday present.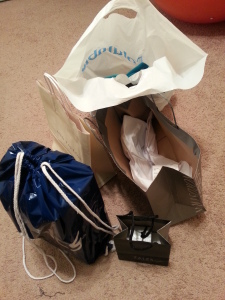 A couple hours later and we started to make our way home, trying to figure out what to have for dinner and what to eat until Tuesday when we move. We got a few items at Wegmans and stopped at the King of Prussia mall. We wanted to eat at this great Mexican restaurant but the wait time was 50 minutes!! Then we tried a few other restaurants, but they all seemed to have an hour wait. Eventually we ended up at Panera which was fine by me. I wanted something light so I got the chicken avocado salad, which was good except for the cheese they added. Luckily it wasn't mixed in too much so I was able to pick it out.
Finally we were on our way home, but then we passed Home Depot and knew we needed boxes and a mattress cover for moving, so we stopped there. Unfortunately they were out of mattress covers but we got a couple boxes and some foam wrap stuff for the kitchenware.
The one thing that was disappointing about the evening is I wasn't able to get a pastry treat at Panera with my rewards because it was so late in the day there were no good ones left so I saved that for another time but I was thinking about cookies, so we made a quick stop at Insomnia Cookies. Their cookies were fresh out of the oven at 8pm which was awesome. They are open until 3am and they deliver too! I got a chocolate chip cookie and oatmeal raisin which were both consumed right when we got home. Brian got a peanut butter cookie and lemon cookie. I loved the cute box they put our cookies in.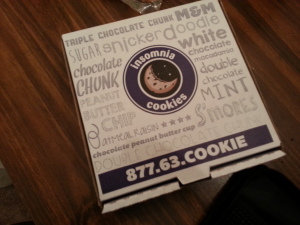 To end the evening, we watched Big Hero 6. This movie was hilarious!! I definitely recommend it. I already want to watch it again.
Sunday morning I again stayed in bed until 8am. We were up pretty late anyway so it was nice to stay in bed and not be in a hurry anywhere. The sun was out and coming through the bedroom window which is my favorite thing. I love waking up to the sunlight. I made some protein pancakes for myself and I made some bacon egg cups for Brian for breakfast (forgot to take a picture but he said they were really good).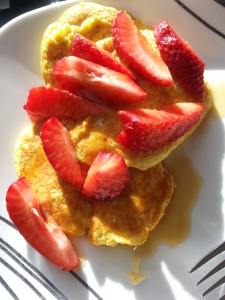 After breakfast, it was time to start packing. In an hour or so I had all my clothes except for what I might be wearing for the next two days packed. Then we got out the boxes we bought Saturday and I started figuring out how to pack up the kitchen. When I moved out of my house last year I didn't have to pack kitchenware because I already had my box of a few random things from college still taped up, so it has been interesting packing up all the kitchenware and pantry and spices that I have. I am glad that most of our things are packed (aka I haven't unpacked the boxes that my dad and sister delivered last August nor some of my own things). My desktop will probably be taken apart today while I am at work and Brian is home. Then it will just be the little things to sort through and stick into boxes or bags. We are hoping that between my car and Brian's truck it will only take two round trips to the new place to get everything there.
In the afternoon I had to head down to the city for a meeting about Yoga on the Banks. I am hoping to assist some teachers for good experience to keep up with my yoga. Then Brian and I got some dinner at a BBQ place around the corner from my meeting. I went with the pork ribs.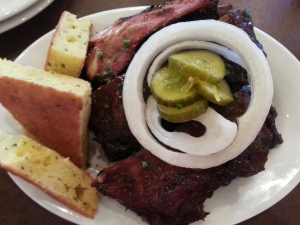 Once we got home, I decided to quickly whip up some rice krispie treats with Easter colored M&M's for work as well. I wanted to bring something for Easter this week but with moving wasn't sure on a good day. Finally decided on Monday. These were quick and delicious. I had to taste one or two of them of course.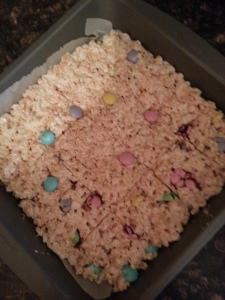 That wraps up my weekend. More packing to do after work today and then moving day tomorrow. I find it so hard to pack up the kitchen when I like to cook/bake daily.
Thanks Katie!




Sharing is Caring: