Sharing is Caring:



Wow, apparently it has been a month since I participated in Marvelous in my Monday. This last month has been so busy and these last two weeks I have been so tired/stressed. This weekend I had a lot to do and I was wondering how I would get it all done, but then I remembered I didn't have to squeeze everything into a 4 hour time slot in the morning before yoga. I had way more time, which was wonderful! Thanks Katie for hosting!!
Friday I left work an hour early and walked over to a bowling center where my work was having a party to celebrate our 1 year as our own company, since we split off of a much larger company last year. I had not been bowling since last year when I was part of a bowling league at my last company so I was super excited! We had tons of food and I got to bowl 4 games in the 2 hours. I was sad I never broke 100 in any games, but it was still fun. I felt like I was finally getting the hang of things by game 4. Oh well. Of course I decided to do some yoga in the lane once we finished.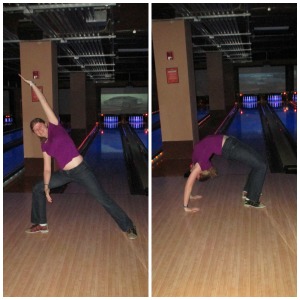 After bowling I ran to the train station because I only had 11 minutes to get there and then I was 1 min early but the train was 12 min late…at least I burned off some of that not so healthy food I ate at the bowling place right?!
So I waited for the train and eventually got home. Once I got home, I knew I had to finish writing out my yoga sequence. Even though I have already taught I had to come up with another sequence to completely write out that is due this Friday. I was happy to finish off a draft of it and knew that Saturday I would be able to check with a few of the other trainees if it looked ok. Now I just have to run through it and make sure it is long enough for a 75 minute class.
Friday night I was excited to turn off my alarm and just wake up when I felt like it on Saturday morning, which was 7:30am, but since I have been waking up at 5 or 5:30 everyday and the time change last weekend, it was a wonderful 9 hours of sleep Friday night.
Saturday morning was rainy as I headed to Wegmans to get food. Then I came home and made another half batch of mini apple pies, because Saturday was Pi day!! The ultimate, once in a century pi day 3/14/15 because pi is 3.14159265359… So after my Pinterest success on Thursday night with a half batch of pies, I made more pies Saturday morning to share with fellow yogis.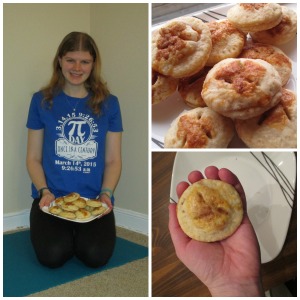 My co-worker got me that awesome Pi day shirt as an early birthday present!! Love it! (note: my birthday is next month) After those were done I ate lunch and relaxed. I had time to make myself cozy and just read for fun which was amazing!!
At 1pm, I headed over to the yoga studio to be in a practice class with a few trainees who are teaching this coming weekend and wanted to run through their class and get feedback. It was a great session. I feel like it is easier when you are bouncing ideas off of one another for a sequence. I also was able to bring my draft in for my written sequence which they said looked good but also gave some great suggestions for some other poses I might try to weave in.
By the time I got home, it was dinner time. I ate earlier than usual, but that was fine. The rest of the evening I watched some tv and then snuggled in bed reading for a while, finally finishing a book I have been reading for 2 months. Then I went online to pick out a new book for my kindle. I am trying to read 15 books in 2015. So far I am only at 2 and I feel like April is so close, but I know once yoga teacher training is done, I should have some more time to read.
Sunday morning I got up and made some protein pancakes topped with strawberries. No picture because my pancakes were not very photogenic yesterday (as in slightly burnt…oops). I knew I needed to start my day off with a bunch of protein as I then headed to 2 back to back yoga classes. The all levels vinyasa class was so great!! I felt like my body got a great workout and stretch. Then I stayed for the gentle yoga, always a nice follow up after a challenging class.
On my way home, I treated myself to Panera. I drive by there all the time and I didn't really know what to put together for lunch so Panera it was. My favorite pick 2 combo, Bacon Turkey Bravo and ceaser salad.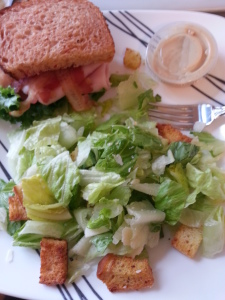 I also now have a reward on my MyPanera card for $1 off a pastry that I have to use within 2 months. That shouldn't be too hard. I think there is a Panera near my new apartment, otherwise I will be sure to track one down.
Sunday afternoon I was able to continue my laid back weekend, got some laundry done, but also had time for writing, tv and baking. Some of my favorite things. Now I should finally feel refreshed for the work week and hopefully much less stressed. Catching up on sleep definitely helps! Plus last week I finally booked a massage for the last weekend in March right before I move. I have been wanting one for months and finally booked it! It gives me something to look forward to and I hope they can work out the knots in my neck and shoulders.
Hope you guys have a happy Monday!!




Sharing is Caring: