Sharing is Caring:



Hey guys! I thought I would do a different type of post this Monday. I always love reading what people do in their day, so I thought I would give you an idea of what my Friday (every other week) before yoga looks like. I recapped a bit at the end of this post about my yoga teacher training weekend. Since it was mostly workshops, there was not too much to recap. Anyway here was Friday.
5:30am – Alarm goes off, check phone and roll out of bed
5:35-5:45 – browse stuff online, trying to find a new pair of pj pants lol. Then realize I should make some breakfast
5:45-6 – put together my breakfast: oatmeal, bacon, grapefruit
6-6:20 – eat breakfast while watching Netflix (my go to show is Gilmore Girls these days even though I have seen every episode countless times, I just love it and that's what you do when you don't have cable right?!). Then clean up my dishes. Today I also took out the trash quickly.
6:20-6:35 – distracted by Facebook but also trying to look over my notes for my test in yoga later today
6:35-6:47- brush teeth, hair and get dressed
6:47-7 – study for yoga test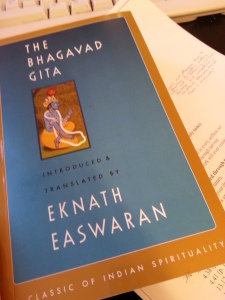 7-7:07 – pack up my things for the day and make sure I have all my bags: food, purse, yoga things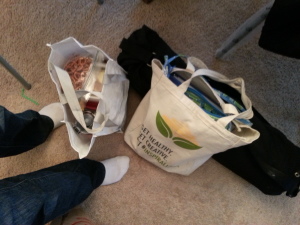 7:07-7:15 – walk to train station, wow was it cold this morning, my toes were so numb I half ran to the station
7:15-7:25 – wait for train to come. Luckily with these cold days, I have the ability to wait inside where the ticket office is
7:25 – 7:40 – express train to work, normally I get off at the first stop but decided to wait until the second as there is more shelter from the wind for walking to my office.
7:40-7:50 – walk to office from train station and head up the elevator
7:50 – 8 – settle in at my desk (today I really had to warm my toes up so I did a little chair yoga) and put my food in the fridge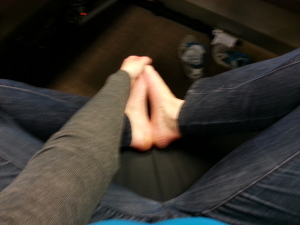 8 – 11 – work, work, work
11-11:15 – eat peanut butter and apple snack
11:15-12:30 – work some more
12:30-1:15 – lunch and study yoga
1:15-4:30 – more work, work, work
4:30 – 4:40 – head outside and walk a couple blocks to catch a bus
4:40-4:55 – walk to coffee shop near yoga studio to meet up with a couple trainees
4:55 – 5:40 – drink some tea, eat my dinner I brought and chat about the test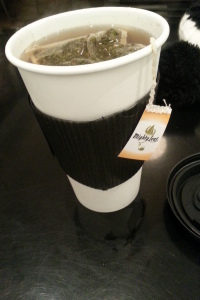 5:40-5:45 – walk over to yoga studio
5:45 – 6 – change into yoga clothes and get settled in the studio
6-6:15 – talk about our homework
6:15-7:40 – take test
7:40-8:15 – short relaxing yoga practice guided by our teacher
8:15-8:55 – chanting and Sanskrit and discussion of next assignment then pack up
8:55-9:13 – walk to train station with my train buddies, my toes were kind of numb again by the time we got there (probably not the best idea to wear sneakers when it is below 0 but they work for walking fast)
9:13-9:21 – wait for train
9:21-9:48 – train ride home
9:48-10 – walk home from train station
10-10:30 – should be getting in bed, but instead read blogs for a bit as I brush my teeth and change into my pjs
10:30 – 10:45 – in bed but can't sleep yet, set alarm for 7am, more reading until lights out
As far as my weekend goes, I had teacher training all weekend and on Saturday we did a Sanskrit workshop and then got dismissed early due to the snow. The roads were sooo bad. Luckily I got my grocery shopping done in the morning and I walk to the train station. Here is a glimpse of what it looked like though and I pulled a piece of a bumper out of the street.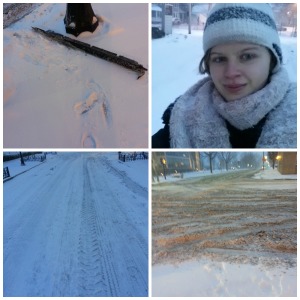 Since I was home earlier on Saturday than expected I whipped up some muffins and granola bars quickly.
On Sunday, yoga training included inversions and more meditation.
And that wraps up my weekend.




Sharing is Caring: