Sharing is Caring:



Happy Thursday!! This week is going by faster than last week, thank goodness!! I am super excited that I have a 3 day weekend too, even though I scheduled all my doctor appointments over the weekend and I have a lot of yoga practicing and studying to do. It will be nice to have that extra day though and we are supposed to hit the single digits for temperatures outside so more reason to stay inside and study.
It has been a few weeks since I have linked up with Amanda for some thinking out loud so I thought I would join in today. Thanks Amanda!!

1. I try to spend one weeknight at home, no workout, just catching up on some chores or relaxing and making a nice dinner. Last night I got home, made dinner and then spent the next hour and a half to two hours in the kitchen making muffins, chocolate truffles, my lunch for work and cleaning up. Time sure does fly when you are in the kitchen!
2. while in the kitchen, I cut my first pomegranate. Since I live on my own now, I have to count my own fruit…darn. My dad probably cuts it up better, but I think it was pretty successful for the cutting, just not the de seeding since there was some on the floor, counter and later I noticed some pomegranate juice on the wall…oops (this is also why I was wearing a pink shirt in case the juice got on me)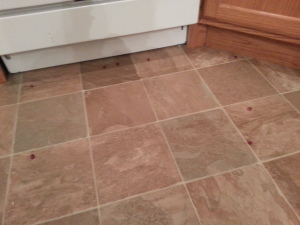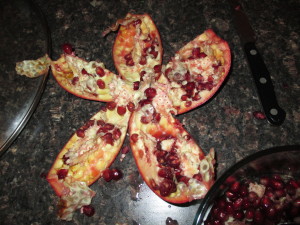 3. So I bought the pomegranate to make pomegranate chocolates, an idea I saw on Pinterest, done in a heart shape mold for Valentine's day. Well I didn't have a heart shaped mold, I decided to make them like truffles. They are tasty and bite size!!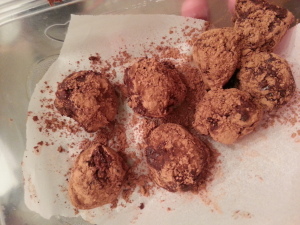 4. I also mentioned I made muffins. I actually made one of Amanda's muffin recipes for flourless almond butter chocolate chip muffins. For so long I couldn't make the recipe because I didn't have a blender, but my boyfriend finally gave me his after I kept begging 😉 The muffins turned out delicious and I added a frosting heart for Valentine's day to bring to work. I should have made a double batch but I didn't have enough almond butter. Oh well, next time for sure. They are sooo easy!!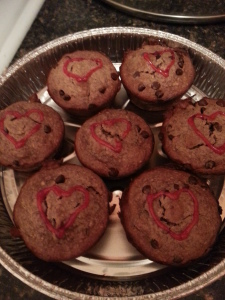 5. The best part of destroying that pomegranate was getting to add pomegranate to my salad for my lunch today.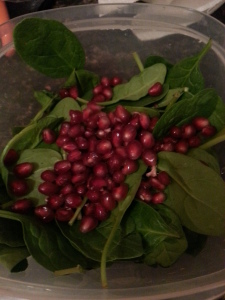 6. last night I had all intentions to study for yoga and practice my sequence but that definitely didn't happen since the night was nearly over when I finished in the kitchen. It was worth it though and this weekend for sure I will work on yoga stuff.
7. on a different topic, I just booked my flight to Chicago for Memorial day weekend. My parents just told me they are planning to list the house for sale in May, but knowing how many things they have to sort through and projects that need completed so the house looks good, this could be delayed until June. I will already be sharing a bed with my sister since my parents sold my bed when I moved. It will be my first time home since leaving last April.
8. I don't know about you guys but I constantly have beaches and pools on my mind lately. Spring and Summer can't come soon enough!! Once I finish yoga teacher training May 1, I can't wait to get back to a gym and swim a mile or two again 🙂 I also miss my weight lifting routines…
Well it is getting late, writing this post Wednesday night and need my sleep to make it through crunch time at work tomorrow since our accounting system will be down Friday…that should be interesting…hope everyone has a great day today!! One more day closer to Spring right??!? 😉




Sharing is Caring: