Sharing is Caring:



Hello everyone!! I haven't done one of these posts in a while, maybe because I am always eating similar things so I don't want to bore you. Well after eating many of the same things and not doing as much meal prepping lately, last week I had many days where I just didn't really want to eat. I just wasn't excited about my food. I ate because I have to eat. Over the weekend I tried to break out of my food rut by spending some time in the kitchen and that really helped.
At work during my lunch hour, I sometimes watch The Chew in the kitchen with other co workers. It is great (or maybe distracting and bad) having a TV in the kitchen at our new space. The Chew had a fiesta party on Friday and I was really craving some tacos. Saturday morning I headed to the grocery store picking up some chicken, limes, avocado, cilantro and onion to make some chicken tacos. I got some thin sliced chicken breasts so that they would cook fast and sliced the onion and sauteed it in some olive oil, then I chopped up the cilantro and avocado and squeezed some lime juice on top. It was so much fun spending some time cooking and putting together a pretty plate of food. Finally I was excited to eat something! I actually packed these in a container to bring with me to yoga training, so they kind of fell apart in the container but I was so hungry by the time we got our food break and they really hit the spot!!
Sunday morning is my pancake morning usually, unless I am heading out early. I made Becky's protein pancake recipe again. Last time I forgot to add the water so it didn't come out right, but this time was good. I added in some Enjoy Life chocolate chips and topped with banana and syrup with a couple clementines on the side. I love clementine season!!
I also enjoyed an Honest tea on the side that I treated myself to when I went to Whole Foods Saturday.
For an early lunch before I headed out to yoga I had half a can of minestrone soup. I have found that soup is enough to keep me full and light enough that I won't feel sick when I practice yoga after eating it. So on my yoga weekends it is my go to for an early lunch before I take the train to the city.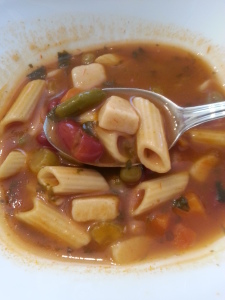 For my late lunch/early dinner on Sunday during yoga, I made some pasta salad with the ingredients I used for the tacos Saturday. I squeezed some lime juice on top to keep the avocados from browning too much while they were in my bag.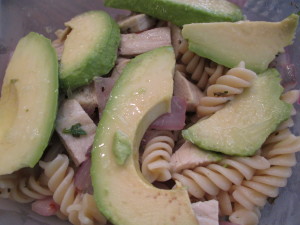 It was nice to spend a couple hours on Saturday and Sunday in the kitchen, putting together a colorful and delicious plate of food. It really helped me get out of my food rut I had been in and enjoy what I was eating. Oh yeah and there were a few of these…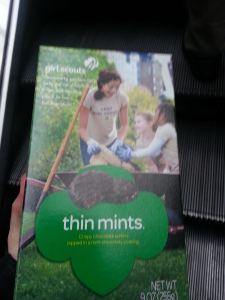 …the Girl Scouts caught me at the train station Saturday and I had to get my annual box of Thin Mints. I figure it's a once a year treat 🙂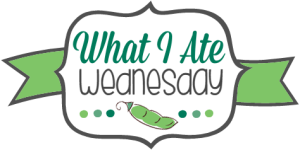 Thank you Jenn for hosting!!
Do you ever get into a food rut? What helps you get out?




Sharing is Caring: