Sharing is Caring:



I didn't really know what to name this post other than "What to do" seeing as that is how I felt this weekend. Thursday and Friday I worked 10 hour days instead of 8 to make up for my half day I had to take on Tuesday and we are down one person at the office so I had a bunch of work to do anyway. It kept me busy, jumping from one task to another, which I actually don't mind. I find sometimes jumping between tasks keeps me more focused sometimes. Due to the long days, that meant I didn't go to yoga those days, so Friday night I felt like I had "extra time". I made dinner and caught up on some tv shows online. Then I showered and headed to bed at 9pm. I was really tired for some reason. Maybe due to getting up earlier to get into work earlier. It was so nice to turn off my alarm and "sleep in." Since I went to bed so early I was up by 7am, but it was a wonderful 9-10 hours of sleep.
Saturday morning I made Becky's Cinnamon Raisin oatmeal muffins and protein pancakes mentioned in this post. The muffins turned out well and I subbed peanut butter for almond butter and used craisins instead of raisins since that is what I had. The protein pancake was too dense. I think if I added another egg it would have turned out better. I still ate it though while drinking lots of water with it. I love trying new breakfast recipes on the weekend since I have more time that I can spend in the kitchen. Plus Becky's menus lately have looked sooo good. I know it takes a lot to plan out each meal and snack for 7 whole days and I appreciate the ideas for new recipes.
I didn't have to be anywhere until 10am, so I enjoyed the sunshine coming in and did some yoga.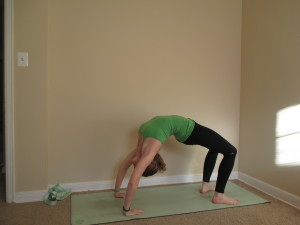 At 10am I had an appointment to see an apartment since I have to move at the end of March. Parking around that apartment was not too great as I circled the block a few times. That already isn't good for me. Then I was shown a one bedroom apartment. My thoughts…it was small. Major problem, I could stand in the kitchen, spread my arms out and touch the fridge and counter on the other side and you could NOT fit 2 people in that kitchen. I may mostly cook alone, but when Brian is here, I love cooking with him too. So basically that apartment is not going to work for us…back to searching. It is stressful finding an apartment that I know we will both like and have plenty of space and be able to walk to the train. We have a really good deal at our current place. Only problem is parking for a second car and they are tearing down the building in May soooo everyone has to move at the end of March or April. Hoping I will find something in the area soon. I emailed two other apartments after getting back from that one and then had a quick snack before heading to the mall. Shopping is the perfect de-stresser, right?! There are tons of sales going on now. I really didn't buy much at all, just a couple gifts for a little girl's birthday coming up.
I stopped in Lululemon to browse too and there were 2 guys doing some acro yoga at the entrance.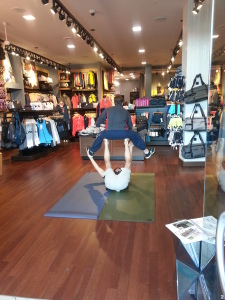 It was nice to walk around the mall though so I could hit my 10K steps without a problem 🙂
I also enjoyed a delicious pizza for lunch at the mall before heading to Target and Wegmans.
By the time I got home, I was ready to rest. I made some dinner and then I spent some time catching up on blog reading, watching some tv and foam rolling. Before I knew it, time flew by and it was 9pm already. It was another early night as I crashed at 9:30 but also knew I had to be up at 6:30am Sunday.
Sunday morning I got up early, had breakfast and quickly headed out to catch the train to yoga. I have mentioned before how we have to go to 50 yoga classes and 20 of them have to be with each of our teachers (10 each). The only class I can make for the one teacher is the 9am Sunday class in the city which means I need to take the 7:50am train. I don't want to have to go to the class before a teacher training day so I am trying to go on all the off weekends. Well it turned out that there was a sub yesterday too. I didn't look at the schedule online before leaving. I actually did enjoy the class as we spent longer in some of the poses and got good stretching and obviously the class still counts towards my 50, but there is no way I am going to make 10 classes for this one teacher unless I start coming at that time on teacher training days and then hang out at Starbucks for 3 hours…hopefully I will have a laptop again soon [as it was sent in for a second time to get repaired under warranty]. Then maybe I could spend that 3 hours blogging or reviewing my yoga notes and making sequences. I just don't want my time wasted as on yoga weekends I try to do my food prep and shopping in the mornings.
While Saturday was nice and sunny. Sunday was the complete opposite. It was warmer (about 40 degrees) but it was raining all day. Due to the temperature change, it was really icy on the sidewalks. I almost fell 3 times on my way to yoga, but luckily caught myself each time and took little baby steps walking (which is sooo hard for me!!).It started out as drizzling and I didn't bring an umbrella, just wore my usual winter coat, scarf and hat to keep me dry, but I have to say I was soaked by the time I got to the train station to go home after yoga. Then the train was delayed due to a fire in the other city station. I assume the fire was on a train. We eventually went through that station but I didn't see anything. I took advantage of the time by reading my yoga book anyway. I try not to get frustrated when there are delays. At least I was waiting on the train and had my kindle.
I finally arrived home and couldn't wait to take off my soaking jacket and clothes. Due to moving soon I realize I should probably dig into the freezer stash of meat. I got some pulled pork started in the crock pot.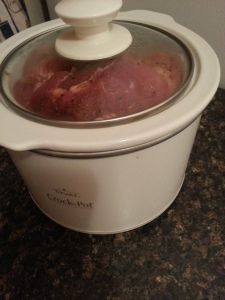 Then I got my laundry going while cleaning the stove. I think there was a dead bug under the stove burner for a few weeks….it is nice to have the stove clean again. White stoves are annoying but at the same time it forces me to wipe it down more often so I think it only took 15 minutes to clean. Looks so much better now. Sorry no before picture.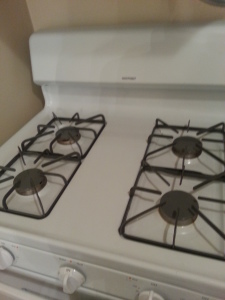 Rainy days are good days to clean. So I spent some time cleaning and picking up around the apartment and then doing some more meal prep for the week. I also finally sat down (actually more like laid down on the floor) and read for a bit, finishing my yoga book. I may have been doing that instead of working on my sequence, but it had to get done anyway. It was a nice quiet afternoon and evening. Always feels good to check things off a to do list and start the week with a clean apartment.
Happy Martin Luther King Day! If you get off work today, I hope you enjoy it. Unfortunately I am working this holiday, but we get President's day off in February instead. So it is a 5 day work week for me. At least it looks like the train schedule is normal. Hope everyone has a good start to their week 🙂
Thank you Katie for hosting!!




Sharing is Caring: