Sharing is Caring:



Hey guys!! Happy Wednesday!!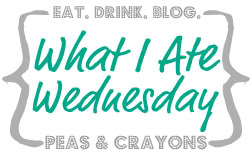 I wanted to share with you some delicious healthy (and Vegan approved) food. [I am not vegan by the way, but a couple other of the trainees are so the recipes were made to accommodate and were delicious].
There were about 20 people at this dinner/cooking party. We were split into 4 groups for the 4 recipes. I got assigned to the Coconut Milk Chai. As soon as I saw the word coconut, I was thinking great I won't like this. I am not a fan of coconut. Sorry. I want to be, but I just am not a fan of the taste and can't stand the smell of coconut oil or flour. I have used coconut sugar though and that's not too bad. This recipe actually called for coconut sugar and there were a couple people in my group who had never heard of such a thing. Thank you healthy living bloggers out there for introducing me to new and healthy ingredients 🙂
So this recipe called for coconut milk creamer. When we added it, I actually didn't smell anything and I gave the chai a taste after it was done. I have to say it was so delicious, I want to make it myself. I especially loved the cinnamon sticks being added for flavor. There was also ginger, cloves, cardamom pods and black peppercorns. It was interesting to me that the recipe mentioned to cut the ginger instead of using a ginger grater (which no one in my group knew what that was, I used it at home all the time making stir fry with my dad). I feel like grating the ginger might have brought out more ginger flavor so I might try it if I make the recipe myself. [All recipes were courtesy of Sally Miller, our teacher for the day. You can join her newsletter for recipes and information about her workshops.]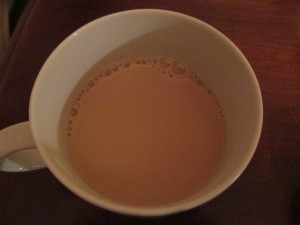 We also enjoyed some homemade lemon dill hummus wraps with cucumber and avocado. The hummus was a little runny looking, but the taste of this wrap was sooo good!!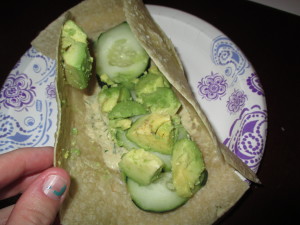 Then we enjoyed a beet and carrot salad with some kitchari (usually used for cleansing the body).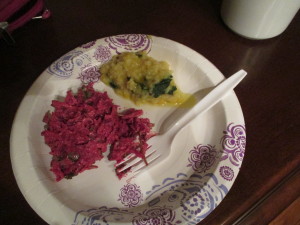 The beet and carrot salad had a really strong flavor in the dressing which I think was due to the amount of tahini, but not sure. Still pretty good though. I was also surprised to find myself enjoying the mushy kitchari, but I could not imagine myself doing a whole week cleanse with eating it for breakfast, lunch and dinner.
Overall it was a very fun evening. I tried new things which I never did as a kid (trying to be more adventurous). I totally forgot that we were in yoga training doing this and that it was a Saturday. We ate and then people talked for a while which made the evening very enjoyable. The recipes are simple enough that I can make them myself, though I currently am without a blender which makes it hard to make hummus or salad dressing but I am hoping Christmas will treat me well. Till then, I need to collect some spices and might make my first order on iherb.com that I have heard so much about from other bloggers and then I can start with making a coconut milk chai once in a while.
Thank you Jenn for hosting!!
Are you a picky eater?
Do you like coconut milk?