Sharing is Caring:



Hello everyone!! I am back! I didn't post at all last week because my internet was out from Friday Nov 7 until last Thursday. Yeah…that was no fun! Comcast did some sort of update to their cable (and I don't even have cable!) on the 7th and my internet was out when I got home from yoga. Then I was at yoga all weekend so I didn't have time to really worry about it. Plus I tried to call 4 Comcast numbers and 2 hung up on me before I could reach a person, 1 was a fax number and 1 was temporarily unavailable…really Comcast?!? It wasn't until my boyfriend arrived Wednesday night that he noticed our internet was completely disconnected in the basement and the apartment below us was using our slot…so it actually turned out it wasn't related to Comcast's update and my boyfriend had to go in person to the Comcast service center on Thursday to get someone to come over and fix it and write down what happened. Now I just have to get through to Comcast to get a credit for a week and guess what…their phone numbers still don't work but luckily they are opening a new location today (they just happen to be closing the one my boyfriend stopped at last week on Friday…again that is weird) and their hours are until 7pm so I will have to try to make it there one day after work…oh the joys of being an adult…
OK now I will stop talking about that and move onto my marvelous weekend with my boyfriend, Brian. I headed to yoga after work on Friday and then Brian met up with me to grab some dinner. It was so nice just to talk to him in person. I feel like he pays more attention then and we reconnect better. I was honestly so tired when we got home that it wasn't long before we went to bed.
Saturday morning we slept in and Brian slept in longer while I did some cleaning up around the apartment. Then we headed to brunch and the Philadelphia Zoo. It was 45 degrees and sunny on Saturday so it wasn't too bad of a day for the zoo. Some of the animals were already inside behind the scenes for the winter, but we were able to see quite a few. I think my favorites were all the big cats like the Snow Leopard and Tiger. The zoo has a 360 walkway around the zoo that the animals can roam around in so the lions were just taking a nap and you could walk right under them. It was really cool and I think it makes the animals happier to have more freedom.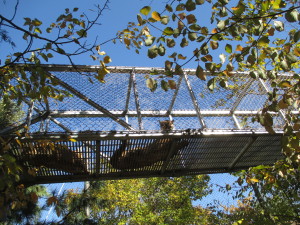 However the polar bear seemed very sad at the zoo. He was trying to dig his way out (that's what we were all guessing).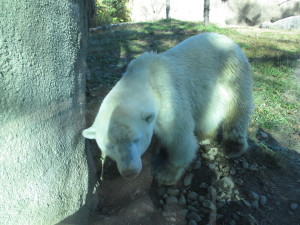 We also saw the largest pigeon in the world.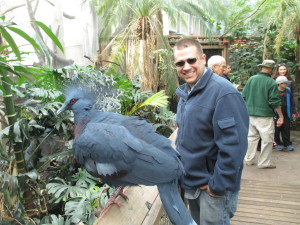 And I tried to get a picture with a peacock roaming around, but that failed. He is blending in, in the picture and wouldn't turn around.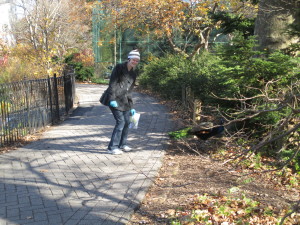 After covering the zoo in 2 hours, we headed to the mall to shop and grab a snack before grocery shopping and making dinner at home. Then we watched How to Train Your Dragon 2. Brian had already seen it but I hadn't. I think Brian relates a lot to Hiccup sometimes except that he doesn't fly a dragon LOL. I seriously cried so much during some parts, but the movie is really good. I always cry watching movies, happy and sad parts.
Then we headed to bed because I had to get up early. I kept thinking the weekend was over after Saturday night, but then I remembered I had a whole other day which was good. I had to wake up early to take the train to the city for 9am yoga. We have 2 teachers for our training and have to take at least 10 classes with each of the teachers as part of our 50 and the one teacher mostly teaches during the day except for Sundays at 9am, so I am going on every off week from training and taking her class. I really enjoyed her class Sunday morning. It is good to try out different teachers as well.
By the time I got home, Brian had left and it was nearly lunch time. I had a snack and then got some more shopping done at Target and another grocery store. I finally bought an EZ Pass for my car, but of course the website to register was down so I will be calling them while at work today. I had to get an EZ Pass before my drive on Thanksgiving. I'm sure my IPASS will work, but I don't want to get in trouble for having PA plates and an IPASS so mailing that back home to my dad later this week. I also found out that in some states you have to return your old license plates when you move. Turns out in Illinois, you don't have to, it's optional, so I can keep my Illinois plates which I think is cool. I don't know what to do with them yet, but they are my first plates so it's cool to have them for a memory and maybe if I do ever move back I can use them again? Not sure but that would be cool. I just realized how many times I wrote "cool" which is probably uncool…
Anyway the rest of my afternoon and evening was just preparing food for the week, writing, reading, watching tv online, relaxing. I also rediscovered Pandora.com while reviewing my yoga notes. I used to use it all the time in college. I found piano music was calming for a bit of background noise and some songs that I used to play on the piano came on which definitely made me miss having a piano around to play. My dream for when I have a house is to have a grand piano in the living room or at least a baby grand. The evening was perfect for relaxing and winding down.
As always thank you Katie for hosting!!




Sharing is Caring: