Sharing is Caring:



Yesterday I had a great break from the office as I attended a seminar Finance and Accounting for Non Finance people. I majored in math and found myself working in accounting, but really my goal is to do more financial analysis. Well I considered an MBA and even applied to a program last year, but did not get in. However, I was ok with that, because by the time I finished the whole application process, I was not really into it anymore. I find with graduate school, your goals on what you want to do with your life have to be really clear and I did not feel like mine were, so why invest all the money in school.
One thing I did know last year when I was applying was that I needed a different job, something where I had to think more and use my math skills that I learned throughout school. That is why I believed I would be good at being a Financial Analyst, but there is still so much more I need to learn before really landing that role. I can say that one of the best things that has happened to me was being laid off from my last job. I knew it was only a temporary job anyway and it was the right push I needed to move and find a new better fitting role for me in the business world. I am much happier with where I am at right now, knowing all the potential that lies ahead for the future to grow within my company and learn more about accounting and finance.
Well that was a bit longer of an introduction than I planned, but that leads me into yesterday's seminar that my boss wanted me to go to for some outside training. This seminar is through Fred Pryor seminars and training.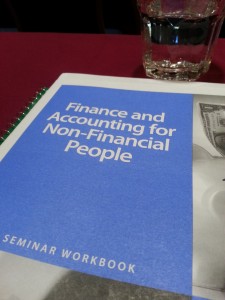 At first I thought this seminar was going to be too low of a level for me being that I have done accounting work for the last 2 years and I took 2 accounting classes in college. However, I realized that 2 classes of accounting barely scratches the surface when it comes to this topic. It was also nice for the refresher of some accounting terms and to get my debits and credits straight. I feel like as a math person that shouldn't be too difficult to grasp but sometimes I think we should debit when it is actually a credit and that could cause problems.
Enter #DebitandCreditNinja
That's what the seminar leader called it (I felt like it was a good hashtag) and I feel like I can understand the debits and credits a bit better now.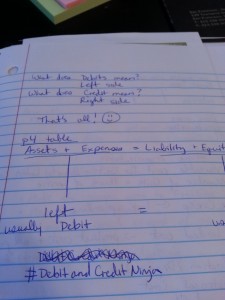 The morning went by quickly and then we had an hour break for lunch for which we were on our own. There were some nice girls at the table in front of me and they were heading to Chipotle for lunch. I kind of invited myself along with them. Actually 3 of us (including me) pretty much invited ourselves along with the one girl Laura. Their names were Laura, Kate and Sue (hopefully I got that right, in case they ever discover my blog, HI!). I had brought a salad for lunch in case, but knew it would be more fun to go out and get to know some people. I think I covered my life story of my move to PA during lunch. Always fun to chat with new people. I used to be so shy, but I am getting better at talking to new people and enjoying myself. We talked all through lunch and the time flew by. Lunch was so good. I had not been to Chipotle in months, so it was time to visit. Their mild salsa and steak was a bit spicy for me, but I drank tons of water afterwards and still enjoyed it.
After lunch it was back to learning about financial statements and budgeting. Luckily we got a 7 minute break ever hour. So even though that afternoon tiredness hit me a bit after eating so much at lunch, the afternoon still went by pretty fast. For a while in the morning, I was staring at our workbook and seeing how little we covered in an hour and I thought the class might run late, but he actually ended a bit before 4 which gave us time to fill out our surveys for the seminar and leave before 4. Then we each got certificates for completing the class 🙂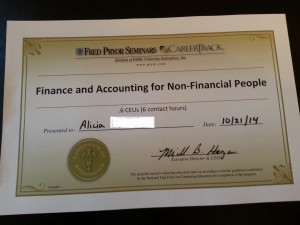 Being in this seminar reminded me of how much I miss school sometimes. I mean I don't miss the tests and all the homework, but I miss being in a classroom, learning and meeting new people. I am still not sure if I will ever go back to school, but for now, I am fine with getting out of the office for the day and not having to worry about a test at the end of the seminar. I definitely learned some new things and the seminar leader was so enthusiastic, had tons of stories, very knowledgeable and answered questions very well. It makes all the difference in the world to have a presenter like that, especially when you are in a 6 hour training seminar.
Today it's back to the office and then meeting with a new dentist after work. Hope that goes well, then I have to schedule an actual appointment for a routine cleaning.
Disclaimer: This post is not sponsored, just wanted to share my experience about the seminar.




Sharing is Caring: