Sharing is Caring:



Yay it's Wednesday!! That means it is time to talk food, or let's have the food pictures do most of the talking this time around.
First I need to describe the delicious breakfast we were served on Saturday morning at our bed and breakfast. Brian would not let me take photos, so you only get a description. Anyway we were served some eggs, rye bread toast with butter and razzleberry jam, bacon, pumpkin bread and grapes from the vineyards. I ate everything except for the grapes. I tasted them, but they tasted too much like wine, which of course is what the wine is made from, but I'm not a wine person. Really I'm not an alcohol person, but anyway we are getting off the food topic here.
The breakfast was delicious. I even ate the eggs and I didn't die (according to Brian). Basically I don't eat eggs. I think I have this fear of eggs now, because my mom is highly allergic and became allergic because she used to eat them everyday for breakfast. Once I became lactose intolerant from drinking like 6 glasses of milk a day and eating a bowl of ice cream every night, I decided I shouldn't have eggs either. No, it doesn't really make sense since I never really ate eggs, but that is the egg story here. So point being, I ate the eggs and survived. I also am not a fan of jam or jelly, yet I ate the bread with jam. I can tell you the jam was delicious, but I was not a fan of the rye bread.
All the people who were staying at the bed and breakfast with us were so kind and breakfast time seemed too short as we could have just kept socializing. I watched as some of the guests were full and couldn't even finish the amazing pumpkin bread. I may have eaten my 2 pieces of pumpkin bread and both of Brian's and still felt like I needed more food…
However I survived till lunch! See…the eggs didn't kill me…
We got a lunch recommendation from the distillery that we stopped at and it did not disappoint. In fact, I had quite a fun time taking photos of everything we had. It's a good thing we were the first people to arrive at the cafe since they had just opened, so there weren't too many people around to see that I was taking pictures of everything. It was just so pretty.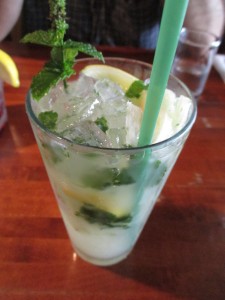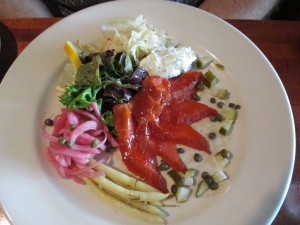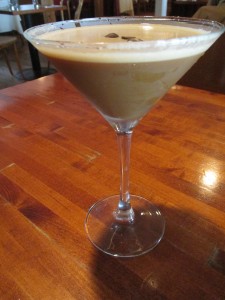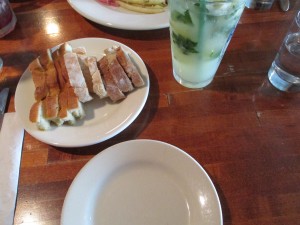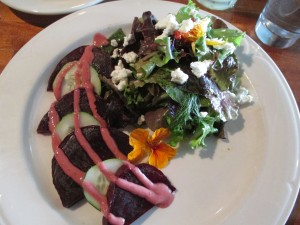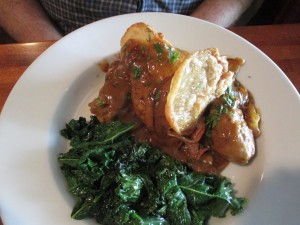 That fresh mint lemonade was AMAZING!! The next dish was an appetizer Brain ordered that was salmon and some veggies. Then a chocolate espresso martini. It tasted like coffee. I don't like coffee, but if I did, I would probably say it was delicious. We enjoyed bread before our main dishes came. We each ordered one of the specials on the menu. I enjoyed an organic beet salad (I am slowly beginning to like beets) while Brian enjoyed chicken with peaches and sauteed kale. The kale tasted just like the sauteed kale I make at home. Everything was so good!! Brian treated us to the meal and left a huge tip for the amazing food. If anyone is ever in the finger lakes area, I would highly recommend Stonecat Cafe.
For dinner Saturday, we were at the wedding which again had some delicious food. Despite being the last table called up, there was still some food left for us to enjoy.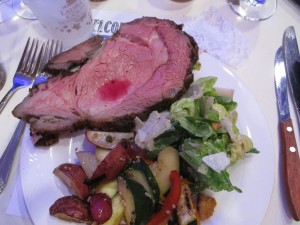 Then you can't forget the wedding cake. I had a piece of the marble cake. There was also a strawberry filling cake that I had tasted at the bridal shower in August.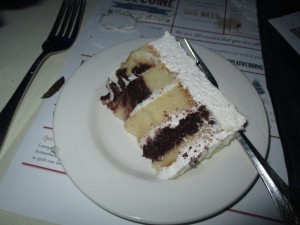 Sunday's breakfast was another amazing meal at the bed and breakfast. Again I don't have a picture so you will just have to visualize. We had a quiche like dish, which was a potato, ham and egg bake. Potatoes were used to make the crust on the bottom. I enjoyed this more than just plain eggs as the ham and potatoes added some good flavor. The owner was also very considerate of my being lactose intolerant and used lactose free milk for this quiche like dish. I will have to try that some time. On the side we had sausage, an english muffin with butter and razzleberry jam along with a raspberry apple crepe. All of it was delicious and the table was silent as we were all eating. We also learned that the potato bake was a new recipe and since we were all so quiet and practically licking our plates clean, you could say it was a success.
This weekend was my first bed and breakfast stay and I have to say it certainly set the standards high for the future. I think if we can make the time, Brian and I will definitely be returning to this one again. Maybe when the weather is warmer and we can enjoy a swim or something on the lake.
Thank you Jenn for hosting!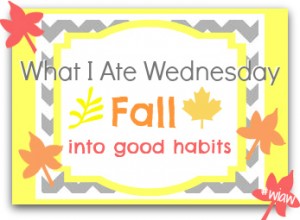 Have you ever stayed at a bed and breakfast? Did you enjoy it?




Sharing is Caring: