Sharing is Caring:



This weekend was absolutely beautiful!! It was 80 degrees and sunny and the trees are all changing colors. Yep, summer temps, fall colors all around. Perfect for me! I have found more of an appreciation for fall as I have gotten older, but I also soak up the sun in summer a lot more as well and enjoy the warmth. As Fall comes around, I just try to push the thoughts of winter being too soon out of my head. This weekend I got to enjoy a fall activity. I got all my errands done on Saturday and then Sunday meant apple picking and enjoying some time with new friends. I think one of the greatest things about going to a huge university for college is reconnecting or connecting with other people who went there. When I moved to Philadelphia, I didn't know anyone but have found a couple people that went to Buffalo that moved to the area recently which has been awesome to do something together and chat for an afternoon once in a while.
Sunday we drove up to Frecon Farms which was about an hour drive, but it went by pretty fast with all our talking. We arrived at the apple orchard and learned about which apples were currently picking. There were also some pears to pick as well, but I stuck with apples. It was nice because it wasn't too crowded and it was so warm outside. What wasn't nice was all the bugs. I kept my sunglasses on to make sure bugs didn't fly into my eyes as they were already trying to fly up my nose and it was gross.
We picked some apples and then got some apple cider donuts and apple cider in the cutest little containers!
As you can see below, I only got a few apples, because it will just be me eating them and I might be getting more next weekend so I didn't want too many.
Then I got a quick picture doing a bridge in front of the apple orchard just as we were leaving before we headed back. It was a quick trip but nice to enjoy a fall activity on this beautiful weekend.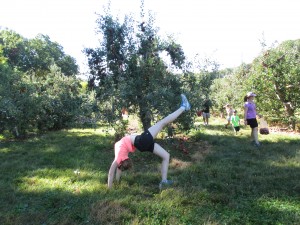 What wasn't so marvelous was getting a sore throat Saturday evening, but at least I had half of the day on Sunday to relax in my apartment and get some yoga reading done. I was surprised that I actually sat down and read for almost 3 hours! Almost done with my yoga book then have to start reading another one before training starts in less than 4 weeks!! Coming up quickly and I think October will be pretty busy but hopefully fun!!
Thank you Katie for hosting!




Sharing is Caring: