Sharing is Caring:



(first published on blogspot on August 13, 2014)
Happy Wednesday!! I'm doing my weekend recap today because I didn't have time to write it for Monday and also sharing some of my eats from the weekend.
    This past weekend my dad and sister took a road trip to visit me (but really it was to get all of my things out of the house). They arrived late on Thursday night. I still worked until 3pm on Friday as I had quite a few meetings, but managed to get everything that needed to be done finished before the weekend. Then it was time to hang out with my dad and sis all weekend. Friday we just walked around in the city for a bit and had a nice photoshoot at Love Park. My sister is such a model! I finally got some yoga photos by the fountain!! I even had some people clapping for me as I did the poses 🙂





       Friday night we went out to dinner at a Thai Restaurant near my apartment. I think I have mentioned before my lack of furniture. I only own a mattress and a desk (both thanks to my wonderful boyfriend for purchasing). Well this arrangement is fine since it's mostly just me and I sit (on an exercise ball) at my desk while eating, typing, watching netflix, etc. However, when I have guests, they don't have a chair or anywhere to sit but the floor. This is why I always eat out when guests come. Of course after our meal, we always come back to my furnitureless apartment with no where but the floor to sit.
      My dad and sis didn't really like how there weren't any chairs and such. After dinner, we were walking back to my apartment and saw a sign for a huge moving sale just over a mile away from my apartment. Saturday morning we drove over to the sale before heading out for our other plans. I got a pretty decent wooden table for only $5!! It fit perfectly in the dining room area of my apartment. We later shopped at Walmart to buy 4 chairs to fit around it. I know those chairs were cheap but considering they were 12 times the cost of what I spent on the table, it seemed expensive. However they fit so perfectly and now I can really entertain people. Now I just need some friends out here to invite over. The place mats also added a nice touch.



        Alright back to the weekend. Saturday after getting the table, we drove into the city. We got tickets for Independence Hall and walked around until it was time for our tour.

              After the tour it was nearly lunch time and we decided to get on the road and drive to Atlantic City, NJ. Without traffic the shore would only be about an hour and a half drive, which isn't too bad. Our drive there took nearly 3 hours though between traffic and people pulled over from accidents, etc, it was a LONG drive. We also stopped at Panera for lunch along the way. I enjoyed their sesame chicken salad and my sister and I split a flip flop cookie for dessert.
        Finally we arrived at the shore, decided where to park and I was able to get my beach fix. My sister forgot to pack her swimsuit for the vacation as we didn't know we would be going to a beach, so we just laid on our towels and walked into the water a bit.

         It was quite hot outside though, even though I was in a t-shirt and shorts. I had fun though and it was nice to feel the sand between my toes again. I definitely miss Lake Michigan and only being 3 miles away from the beach. Now I have to drive to another state just to go to the beach!! Oh well, besides that, Philadelphia is treating me pretty well.
         After a few hours there, we were pretty much spent and it was time to start our drive back. We were traveling over 60mph for most of the way and then decided to stop at a diner in NJ for some dinner (I believe it was called Peter's Diner, in case anyone lives near by). I think this place was the best value for our money over the weekend. I ordered a salad and when I told them I didn't want mushrooms in it (because I don't like mushrooms) and asked for other vegetables, they wouldn't do that but instead said they could do extra spinach which was fine by me.
        All of our meals started with a small bowl of soup (which I forgot to get a picture of) and that was delicious! Then our plates came. My sister's meal was probably the closest to what a restaurant meal portion usually is since she got a hamburger. However if you ask my sister to review the diner, she would not give a high review because they didn't have any pickles for her hamburger, but they did give her some hot peppers which made it slightly better. My salad came out and it was HUGE. Actually I don't think even the word huge can describe it. Let's just look at the picture…

   I don't even know if the picture does it justice, but really the plate was like my hands stacked on top of one another in size. It was one of those plates were you ate and then you felt stuffed, but it hardly looked like you ate anything once you felt stuffed. I took my leftovers home and it lasted for 2 more salads!! All I had to do was add a bit more meat.
     We were all stuffed after eating at this diner, but when we had walked in, we immediately saw the dessert case and had to try some. I got a piece of chocolate mousse cake to go and my sister got the oreo cheesecake. We enjoyed these for dessert at home on Sunday night. This was my cake.

         It was late when we got home on Saturday night as we had to take a detour and being that we are not from the area, it was a LONG detour and a few trips in circles. I don't know what was up on Saturday, but people kept getting into car accidents along the highway we were on. There was a pretty massive one with a mini van that multiple people (on both sides of the highway) pulled over to see if the family was ok. It looked like everyone had gotten out of the car and was safe and the police were just arriving as we passed that scene. Then there was a sign alerting everyone that the Benjamin Franklin Bridge was closed due to an accident. That must have been a major accident to close the entire bridge! So we had to find another way to cross the river. We eventually detoured to the Betsy Ross bridge, but it took a while to navigate the roads to get there and finally we made it back.
         Sunday morning we headed out to the suburbs, around the Valley Forge and King of Prussia area. My dad has always wanted to see the covered bridges I guess and while he was here, we could actually go see some of them. I did not know about them until he told me. He told me he read online there used to be over 1,000 covered bridges in the US, but only about 900 are left. Of those 900, 197 of them or something are in Pennsylvania. I had no idea! There is definitely so much history around Philadelphia and even though I always hated history class in school, I do enjoy museums and traveling and learning the history sometimes.
         Our first stop to a covered bridge was Rapp's bridge. Unfortunately we discovered this one was closed for repairs, but we were still able to walk around it and see the structure. An older couple that lived near by drove down to the bridge and was walking around and my dad started talking to the woman about the bridge. We thought maybe a storm had damaged it, but learned that a semi truck went over it. We learned they had just spent 3 years restoring the bridge before this semi truck went over it. Luckily the bridge didn't collapse, but the semi truck was clearly too tall for the clearance and the driver was not paying attention.

         Now the funny/scary thing that happened is my sister and I were walking along the creek and a path when we found….

    …yep, there was a furby left in the woods to watch us. My sister is a bit afraid of furbies. They were certainly weird toys. I finally got rid of mine in my closet recently.

          We then went on to another covered bridge. This one wasn't closed and quite a few cars kept passing over it, so it was hard to get pictures inside before we had to run to the side of the road again as the car drove by. I am sure we looked like weird tourists taking a picture of this bridge.


             Our final bridge stop was right in Valley Forge National Park which I had not been to yet. I definitely need to drive out that way more, seeing as it is not too far. We saw a covered bridge there and enjoyed a dip in the creek.

            That concludes the covered bridges we saw. The afternoon was spent shopping at Wegmans and going to the King of Prussia mall since my sister brought me some Victoria Secret and Bath and Body Works coupons.
            We then had some time at my apartment to clean up a bit. My dad took my big cardboard boxes to drop off at the recycling center and we made dinner at the apartment because we could finally all sit around a table to eat. It was a perfect way to end the weekend, eating together at the table!!


              

                Since there are some eats shared in this post, I am also linking up with Jenn.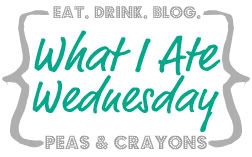 Sharing is Caring: