Sharing is Caring:



(first published on blogspot on July 9, 2014)
You know what I love? When someone else treats you to lunch or dinner! Especially when you are meeting some new people, even if it is for a work meeting. It makes me feel so grown up to say I went out for lunch/dinner for work. I know my new job is going to start getting busier and may be stressful at times, but I am loving the opportunity to learn so many new things and meet some great people. Monday night I went out for my first business dinner and then Tuesday we all went out for lunch after our meeting. Great people, great food and great conversations! Now let's get to the eats lately.
   
Breakfast: oatmeal with chia seeds and strawberries with some bacon. Fruit, protein and oats does a great job of keeping me full throughout the morning.
Anyway I got the marathon burger without cheese (I'm not a cheese person and also try to stay away from dairy products) and some fries with an iced tea. Doesn't it look delicious?!? [Also no clue if the business people noticed as I snapped a quick picture of my food. If they did, I must seem so weird to them]
When I got home from work, I had some soy milk with vanilla protein powder and a handful of these almonds before zumba.
After zumba, I came home and had a small salad. I ate so much at lunch, I didn't feel that hungry in the evening and I like having a salad a day.
However if you want to see a great dinner, here was Monday nights when I went out. [Again I hope no one noticed that quick bringing out my phone to take a picture of my food]
I ended my night with a delicious homemade chocolate chip cookie.
Those were my delicious eats from Tuesday (and Monday). It's nice to go out for food once in a while. As much as I love my salad bowls and simple meals, they can get boring, especially to photograph, so I enjoyed having some different meals in the last two days.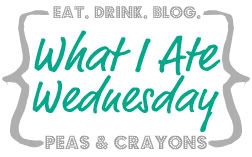 Sharing is Caring: