Sharing is Caring:



(first published on blogspot on July 16, 2014)
So I got home from work yesterday, was caught in the rain for the first time walking from the train station, but it wasn't that bad. Then I got inside my apartment and first thing I do is walk into the kitchen and turn on the light and out went the light 🙁 I spend a good portion of my time at home in the kitchen between meal prepping, cooking, cleaning up, eating, snacking…and now there is no light in there. Good thing there is the dining room light or I'd have to manage cooking with a flashlight because I don't own any lamps or anything. Hopefully maintenance will come by and fix that soon.
   Meanwhile let's get to the eats that come out of my kitchen. For breakfast this week, I have been enjoying a half a grapefruit, sausage and my usual oatmeal with a few fresh blueberries I got from the farmers market Saturday.

     Around 11am, I snacked on some multigrain crackers and cashews.


   For lunch, I have a salad, the usual for me, spinach base and then whatever other veggies I feel like throwing in, such as spiralized cucumber, sweet potato, brussel sprouts, tomato and then a protein, which today was honey ham.



I also donated a dollar and got a lemonade to enjoy with my lunch, because summer means lemonade, right?
I also snacked on some pretzels in the afternoon and a cookie that was leftover from a lunch catering at the office.

     Before Zumba, I had a quick dinner of turkey meatballs (yay for meal prepping so I just have to heat them up) and brussel sprouts and sweet potato and half an avocado.



   After Zumba, I had a delicious Larabar and some tea to settle down for the night.


    Delicious day of eats!! Thank you Jenn for hosting!!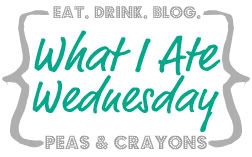 Happy humpday everyone!!




Sharing is Caring: