These turkey lettuce boats, as I like to call them, have been a hit lately with me. I tend to stick to the same foods each week and the other week I realized it had been a while since I had had ground turkey. Now what to do with ground turkey… I could make meatballs or turkey burgers or lettuce wraps! Yep the idea hit me while I was at the grocery store. At first I found the turkey and baby romaine lettuce. I love the baby romaine as the leaves are the perfect size for little boats.
When I was getting ready to cook up the turkey, I added in a few other ingredients. To make this recipe even quicker, I chopped the bell pepper and onion up in advance and then I was just ready to dump everything in a pan and cook it up.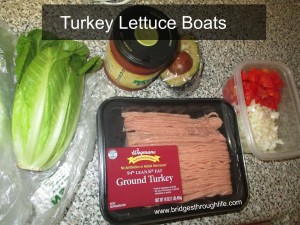 I even made these for Brian this weekend and he loved them. I amazingly didn't overcook the turkey, but in case you do, salsa and avocado to the rescue! Some other suggestions I would make, would maybe be adding some spices into the ground turkey before cooking, but the toppings add great flavor.
These lettuce boats are quick and easy to make which makes them perfect for a weeknight dinner when you just want to eat and not worry about cooking for hours. They are also great as leftovers, just store the extra turkey and veggies together in the fridge and then quickly heat them up before you are ready to eat. This makes the recipe perfect for a single person but also makes enough for a family to enjoy for a dinner one night.
All you need are a few simple ingredients: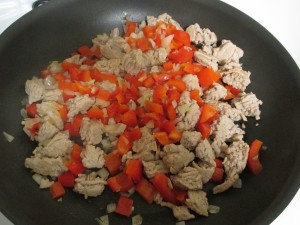 I hope you enjoy this simple recipe. You can tag #bridgesthroughlife on Instagram and also follow me @bridgesthroughlife on Instagram or @bridgesthrulife on Twitter .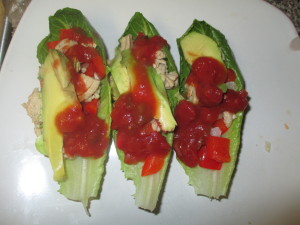 Turkey Lettuce Boats
2016-03-14 23:53:39
Ingredients
1 lb ground turkey*
1-2 baby romaine heads
1 jar salsa**
1 avocado
1 bell pepper, diced
1/2 medium onion, diced
2 tbsp grape seed or olive oil
Instructions
1) begin by heating up a skillet with 1 tbsp of grape seed or olive oil, then place the ground turkey in the pan
2) using a spatula, chop up the turkey in the pan so that it is is approximately in bite size pieces, place lid over the pan and let cook for 3-5 minutes
3) while the meat is cooking, take another pan and place the other tbsp of grape seed or olive oil in the pan. Add the chopped bell pepper and onion
4) check on the meat and flip the pieces over and chop more if needed. Continue cooking for 2-3 minutes.
5) once the onion starts to brown a bit in the other pan, turn that pan off and combine the veggies with the meat, stir everything together until well combined and everything looks done
6) wash your lettuce leaves and pat dry with a paper towel and line 3 up on a plate
7) fill each "boat" (lettuce leaf) with turkey and veggies, spoonful of salsa and a slice or 2 of avocado and enjoy!
Notes
* you could easily sub a different ground meat, such as ground beef or ground chicken if you prefer
**you won't need the whole jar, but I probably used a tbsp for each boat
Bridges Through Life https://www.bridgesthroughlife.com/
Thanks for reading.