This weekend was a jammed packed one, beginning with my first Warrior Dash on Saturday morning. I was super excited that Brian was able to come down with me to watch and support me. It means a lot since he is usually out of town when I do events. The Warrior Dash was held at the Poconos Raceway, about an hour and a half drive from where we live. I am not much of a runner, so about 5 weeks before the race I started doing a few runs around my neighborhood with the Couch to 5k app. Now that app you usually need 9 weeks to train and also I will say I didn't run for 2 weeks before the race…oops. I was away at school for a week and also I had noticed my knees and ankles getting more and more sore, so I just opted not to run much as I didn't want to be sore on race day. Obviously I wouldn't recommend my lack of training, but I am happy to say race day went well and yes I walked a lot of the 5k.
I already have so much respect for runners. I mean, how do you run for 20 minutes or an hour or even more for races?! Now I have even greater respect for trail runners. Regardless of my running ability, I think I would have walked a good portion of this race anyway due to the rocky patches where walking felt way safer than running and risking a twisted ankle. So hats off to those awesome trail runners out there.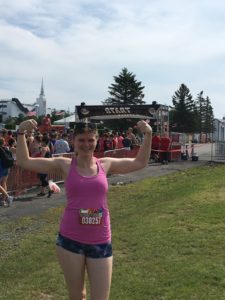 Leading up to the Warrior Dash I have never done an obstacle course race. I have never trained for any of the obstacles either. I just looked them up online a bit and winged it. However, overall, I would say the obstacles were the easiest part of the race for me, because running is harder LOL. I was also in this alone. It was motivating to watch families with their older children join in the fun and that pushed me to keep going. I saw plenty of people walking. I never looked behind me. I just kept moving forward and watched the person ahead of me do the obstacle so I would know how to approach it. Overall, I would say the most challenging obstacle was the No Man's Land because you did have to get a bit of a running start and leap to get footing and them climb over the wall. This was the second obstacle in the race just after the 1 mile mark so I was getting a bit nervous on how the others would be. When I got up on my second try, I heard a woman yell "great job" to me and that encouraged me to keep going.
I lost count on the number of obstacles I had done after about the 4th one. I had crawled through a tunnel of mud at that point and for the people who duck and don't get their hands covered in mud, I'm not sure how they do that. I just went all in and my knees got a bit beat up crawling on all fours through the mud. I was happy when around the corner was the super soaker, which was a short balance beam with jets spraying water (great for rinsing my muddy hands at least) and then a wall to climb over.
Then we hit the mud mounds to climb over and then ran for a while. We had passed the halfway and the mile two and I looked at my watch to see I was making great time. I risked breaking my $30 sports watch for this race. I knew it was water resistant, but not sure how the mud would do with it. Thankfully it still worked in the end and it helped me push forward knowing how much time had passed. I don't know my mile split times, but I would say I was in the 12-15min per mile range.
After passing mile 2 and a water station, I knew I just had another mile to push through. This one had the most obstacles in it. We had the warrior summit followed quickly by the rock slide. I got off easy on the rock slide, because no one was on the other side of me rocking me back and forth. Then we had probably the toughest of the obstacles, pallet jacked, where you had to move from swinging pallets while getting sprayed with water. This one had a line to wait in because you had to wait for the person to get to the third pallet to start. I honestly didn't have a rough time at all with it. It was definitely challenging for balance and you could see the finish line by this point. I mostly got slowed down by the person ahead of me.
Finally that jumping fire, warrior roast, came up. I was worried about how large the fire would be, but it felt like a little campfire jumping over. I can't wait to see the pictures though as they started to take them on the course at this point. Then we ended with The Filth Element where I definitely misjudged the depth of water before the rope climb on the back, but oh well, I was soaked and muddy already. Then we slide down and had the muddiest, Muddy Mayhem obstacle. The easiest way to get through was swimming honestly. I got through and saw Brian at the end and he snapped some photos as I crossed the finish line. I started my watch a little late but I think I finished in just under 50 minutes which honestly isn't bad considering it takes me about 40 minutes to run/walk a 5k.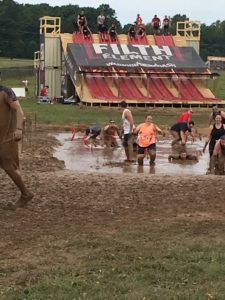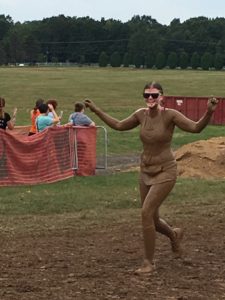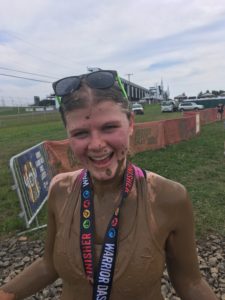 Then it was time to take some mud shots and do a bridge.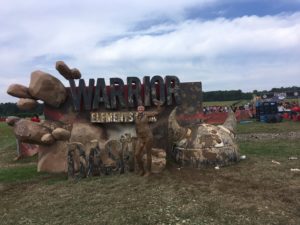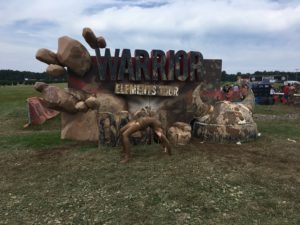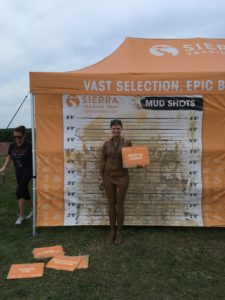 Then I got hosed off by the fire hose and rinsed off some more with the other hoses they had laying around. It helped to have Brian hose me off. Also apparently my boobs were retaining mud…so that was fun haha.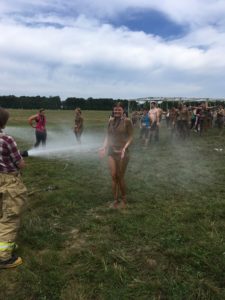 We had arrived early to the race, about 2 hours before my 11:15am running time so we got a close spot in the parking area and we walked back to the car and I changed and then we walked back to get my free shirt. I was definitely super hot and needed water and food, but the only food that sounded good to me was a bagel. They had BBQ there, but I was tired hungry.
We found a Dunkin Donuts and I got an iced tea and bagel toasted with butter. You guys, this was the BEST BAGEL EVER. You know when you are craving something and you get it and it's the most satisfying thing? Yep that's what this bagel was. Now Brian needed food and I was feeling a bit better. We found a brewery down the road from Dunkin and got wings and white basil pizza. I had a couple wings and some pizza to continue refueling.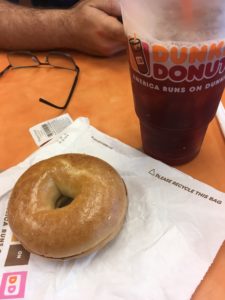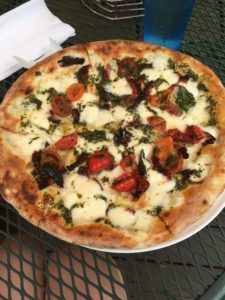 Since we were down in the Poconos area and there was an outlet mall nearby, we decided to stop. OMG that area was a madhouse, but I did find some new work pants and sweaters and it was nice to walk and stretch my legs. On the way home we stopped at a farmers market that was luckily still open. I got some donut peaches and fresh green beans. I slept for about half the way home. It felt nice to sit and relax. The drive was only a little over an hour so not bad.
When we got home it was time for dinner. We had leftover steak from Friday night and I cooked up the green beans and put together bean salad quickly.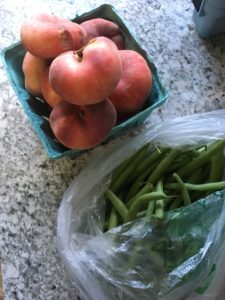 We ate while watching the first half of The Lord of the Rings: The Two Towers. Ummm how is this movie 4 hours?!? I got my muddy clothes washed after two cycles in the washer and took a bath before heading to bed and crashing hard.
Overall the race went well. It was fun and I finished with just a few scratches. Brian is thinking about doing it together next year which would be tons of fun.
Have you ever done a Warrior Dash or an obstacle race?