Whether you are looking for a light and healthy snack or a side dish for your meal, I've got you covered with this Thai spiralized cucumber zucchini salad. Perfect for a summer night with dinner.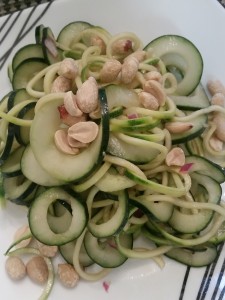 Can you believe I never ate zucchini until I owned a spiralizer?! I got my first spiralizer in April 2014 and ever since it has been one of my favorite kitchen gadgets. My first one was actually used so much that the plastic on my favorite blade and the handle started to crack. I recently upgraded and bought myself The Inspiralizer this April. I love the sleek design of it and how changing the blade just requires turning the knob instead of taking out a blade and changing it.
Now that cucumbers are in season, I was inspired to make a cucumber salad. I also had some baby zucchinis from the market that I purchased over the weekend, so why not make a cucumber zucchini salad. The best part was, I could spiralize them both!! Food is definitely more fun when spiralized, at least in my opinion. Though I usually prefer my zucchini cooked, the thai flavors in the dressing make the zucchini taste great. Plus I love the crunch of the cucumber and zucchini.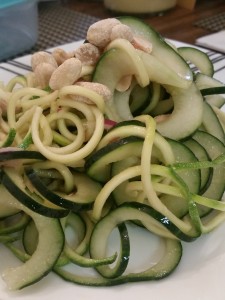 After a hot day and a couple hours at the pool, I was ready for a cold salad. This salad is also great to prepare ahead of time, because then the flavors in the dressing have more time to soak in. Along with that, it is great leftover the next day, if it lasts that long.
The first night, we served the salad with some sausage. The next night, we ate it by itself since we were looking for a light meal. We topped it with some peanuts for a bit of protein though. It makes a great snack or side dish.
Now it's time for the recipe. Let me know if you make it and what you think. Tag @bridgesthroughlife or #bridgesthroughlife on Instagram.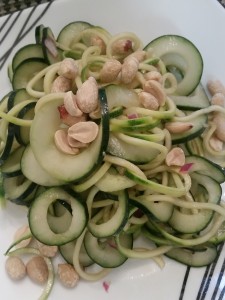 Thai Spiralized Cucumber Zucchini Salad
2016-05-30 22:57:39
Ingredients
• 2 cucumbers
• 2 baby zucchini or 1 large zucchini
• ½ c diced red onion
• Optional: lightly salted peanuts for topping
For the dressing
• 2 tablespoons sesame oil
• 2 tablespoons soy sauce
• ¼ c rice vinegar
• ½ tsp agave sweetener
• 1 tablespoon grapeseed or olive oil
• Juice from 1 lime
Instructions
1. Cut the cucumber ends off and then cut the cucumbers in half. Spiralize each of the halves of cucumbers to a thick noodle setting on your spiralizer (I have the inspiralizer and use blade A or B for example)
2. Cut the zucchini ends off and cut in half if using one large zucchini. Spiralize the zucchini to the thinnest noodle setting (Blade D on the inspiralizer)
3. Add the spiralized cucumber and zucchini to a bowl (preferably a bowl with a lid) along with the diced onion
4. Mix the sesame oil, soy sauce, vinegar, agave, grapeseed or olive oil and juice from 1 lime into a bowl
5. Pour the dressing over the veggies
6. Cover the bowl and shake it so that the dressing covers the veggies
7. Serve your salad on a small plate or in a large bowl.*
Optional, top with lightly salted peanuts.
Notes
*Tip: Before serving I like to use some kitchen scissors to cut the long strings of zucchini and cucumber so that serving and eating the salad is easier.
Bridges Through Life https://www.bridgesthroughlife.com/