Hey guys!! Happy Thanksgiving week to my American friends. The grocery stores this weekend were CRAZY!! Luckily my list of groceries was shorter because I am headed to Brian's family's house for Thanksgiving and I have 2 lunches this week out of my 3 day work week. One from last week got moved which was fine by me. I am happy I only have to get through 3 days of work and then can enjoy a 4 day weekend. No crazy Black Friday shopping for me either. I actually don't even know what I am getting people yet, still in the brainstorming phase. But anyway this weekend was nice as it included a lot of relaxing.
Friday evening I got home and Brian arrived about a half hour after me, bringing some Chick-Fil-A for dinner. I enjoy their chicken strips. Their salads look good too. I haven't tried them but Brian got one last time and I almost stole it from him 😉 . I also had picked up some cookies for us for dessert from
Insomnia Cookies
. I highly recommend the smores cookie they have as long as it is warm. I stuck with some classics, chocolate chip and peanut butter for us.
We started watching 30 Rock on Netflix from episode 1. I have seen a few episodes of it when it was on but not sure what season it was and I enjoyed it. Nice that all the seasons are on Netflix so we probably got half way through season 1 this weekend…
Brian already treated me to some Christmas gifts, a couple yoga props and a new phone as my current one is breaking. Apparently my smart phones can't last more than a year…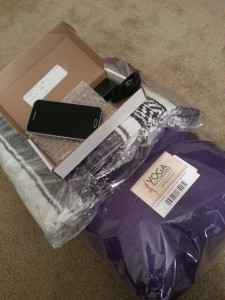 We also got a full length mirror which I was excited about!! (It's the little things…) Brian got it put together on Saturday.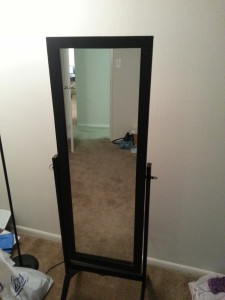 Moving onto Saturday, we went to see The Hunger Games: Mockingjay Part 2 in IMAX for the 9:30am showing.
With it being opening weekend, we knew it would be crowded in the evening and this got us out of the apartment early. It was perfect since the theater was pretty much empty and it ended around noon so we could head out to lunch. I actually never finished the third book of The Hunger Games. I tried to read it twice. I think I got to around page 100 each time and then put it down. I guess I was tired of all the killing, but I do think they did a great job on this movie and IMAX was worth it, especially since it's $3 cheaper in the morning :).
We ended up eating lunch in Cherry Hill at Bobby's Burger Palace. We have eaten here one time before and loved it. I got the topless burger salad with the LA style burger. We split a side of sweet potato fries as well.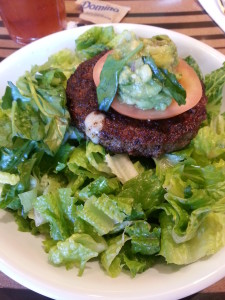 We then briefly walked through the mall before heading to Wegmans which was crazy crowded. This is why I usually go around 8am, but we made it through the cart traffic in the store getting the few items on my list and picking up some pork for dinner.
Then we had a couple other places to go and finally made it home at 4pm. We were basically gone for a whole work day, 9-4! We cleaned up a little and then made dinner.
Brian made the pork tenderlion in the oven and I heated up some veggies and made fresh guacamole. We then finished off these peppermint pretzels for dessert and continued our 30 Rock marathon.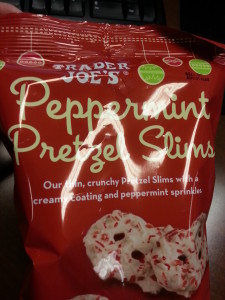 Sunday morning, we both took a while to get out of bed. It's just so nice to sleep in past 8am on the weekend. I made us some pancakes and bacon, though my pancakes got a little dark. Maybe I should not have been multi tasking making granola bars at the same time, but oh well, still tasty.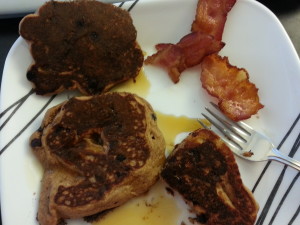 Around noon, Brian headed out on the road to head back to work and I headed to the gym to get my weekly swim in. I love having my weekly swims again and by going at noon I started with the whole pool to myself and then 2-3 people showed up towards the middle/end of my swim. I again swam a mile straight and then did 2 sets to equal another mile. I also cut almost 3 minutes off my swim time so that was cool. I am not really aiming for speed, I simply love to swim but I like to time my whole swim time just to get an average speed and how I am doing and improving. I think having my massage last Thursday and also 2 rest days really helped.
After a quick stop at the store for a couple things, I came home and made Davida's chocolate gingerbread muffins.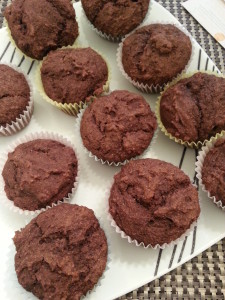 I ate 2 because post swim hunger…
The remainder of Sunday included some cleaning up, blog reading and relaxing on the couch.
Hope you guys had a great weekend and enjoy your day!!
Did you read The Hunger Games series?
What's your favorite food around the holidays?
As you can see I am into Peppermint and Gingerbread flavors right now.