Monday we had a packed day. We started around 8am and headed to Pancakes on the Rocks. I had heard great reviews on this place when I was last here and again never got there. I think the best part was we went on Monday morning when everyone was at work so the restaurant wasn't too busy. I got pancakes with sausage, an egg and grilled tomato and an iced green tea. It is amazing when I find iced tea here as the first few days when I wanted it, everyone who had it on their menu was out somehow.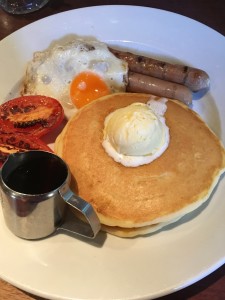 This was the perfect breakfast fuel for my swim. We walked from The Rocks and across the Sydney Harbour Bridge and then to the North Sydney Olympic Pool. It's only $7.80 to go for a swim and for Brian who was just observing, it was $2.50.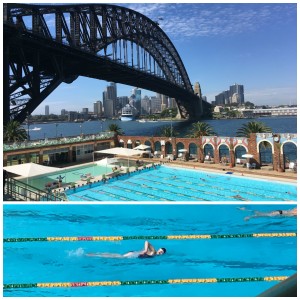 The pool is Olympic size at 50m and outdoor of course because we are in Australia. I remember the last time I was here and spoiled by the gym pool at Macquarie Uni that was 50m but sometimes they would put in a plastic barrier to cut it into 25m and have people swimming on each side of the lane. The first time I swam in the 50m length, it was sooo hard. I got to the midpoint and was wondering how much farther before a wall. I have been trying to keep up with swimming and other exercises since and I was pleasantly surprised to find that 50m was not so hard this time. I thought I might only last 30 minutes but ended up going for an hour and 20 minutes or so. I made it 70 laps of 50m which puts me at just over 2 miles. Brian kept himself busy with calling family and friends. I was glad he didn't mind watching as this was something I wanted to do.
After I was done, I drank a couple bottles of water. The pool is salty and chlorine so my mouth got pretty dry and it was hot out.
We caught the ferry after to go by Darling Harbour and then catch the train to the Fish market. Brian loves all the fresh fish here. I honestly wasn't that hungry, but I knew I should eat something and something of substance. Well I pieced together a random lunch of popcorn and almonds and juice.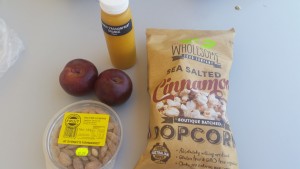 After that we took the train then ferry over by the pool again. We quickly walked through Luna Park (their amusement park) and then caught the train to Macquarie University.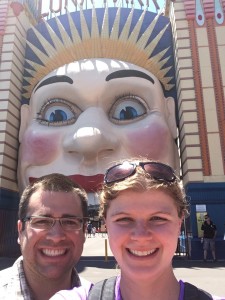 I wanted to show Brian where I lived and the campus. We also took a quick walk through the shopping mall as well.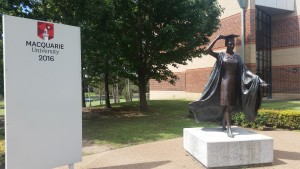 Then it was back on the train to Town Hall. We still had tickets for the Sydney tower eye to use so we quickly headed over there. It was a beautiful day to look out, but I do feel that once you see a couple towers and views, they are pretty much the same. I might be biased but I think the Sears/Willis tower in Chicago wins with the glass floor.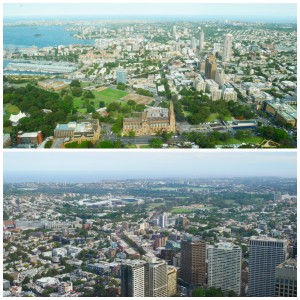 By the time we finished at the tower, it was time to get home. Just 20,000 steps later after my swim, it was time to put together a quick salad for dinner at home and relax for the evening.
Also, love the Opal card that Sydney has for their transportation as it maxes out at $15 for the day, so with the trains and ferry rides we took today we maxed out and a few of them were $0 towards the end of the day. The more you use it, the better it is.
Tuesday was a much lower key day, as was Wednesday with the heat wave bringing temps to 100 degrees. Hopefully a couple more beach days and then we will be off to New Zealand. The heat wave has allowed us to slow down and do some planning at least.