I love Marvelous in my Monday even when my weekends are not so good as it encourages me to look at the positives. This weekend was rough, working until 9pm Friday at the office, hardly sleeping Friday night thinking about all my to dos and then having a cold come on full force Saturday evening so my sleep Saturday night was even worse.
There were a few highlights though so let's try to focus on the positive.
Saturday morning I made some pancakes for breakfast filled with protein and then I was fueled for a swim. I wasn't totally in the mood for swimming and knew I had a lot to do, but I also know it is important for me to make time to workout and de stress.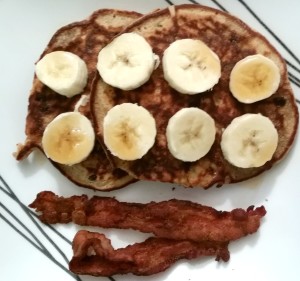 As I started to swim, it was difficult just to get my head into it. While it normally takes me 30 laps or so to get in the groove, Saturday was more like a mile, 70 laps. I was happy that I stuck through it and managed to swim just over 2 miles, which I think is my longest in a month or two.
After that, I was hungry and made some food for an early lunch. For a couple hours I was out and about running errands. I had to stop at the mall to find a new pair of black work pants since mine ripped last Monday. It is so hard to find work pants that aren't slim or skinny fit and actually fit over my thighs and also have front pockets and are machine washable. I know I am so picky! Thankfully after almost giving up (can you tell I don't shop?), I found a pair at Express that happened to be 50% off. I also think they make my butt look pretty good.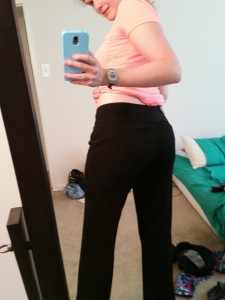 In the afternoon I was home, cooking, cleaning, checking off things on my to do list which felt good. I even was able to have my patio door open and enjoy my Fall candles.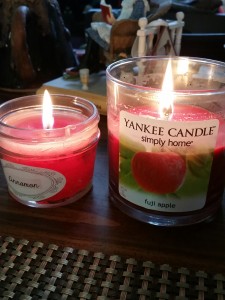 However, the thing I was procrastinating on was doing work for my job. Luckily the tedious task didn't take as long as I thought it was going to but it was most of my evening. As I was working, my throat was feeling worse and I couldn't breathe through my nose either. I sipped on tea through the evening, but nothing was really helping and I realized most of my medicines were expired as I don't get sick often. I made it to bed but at 1:30am I moved to the couch and stayed there the rest of the night. Having my head slightly propped helped, but it was a rough night. I really can't remember the last time I slept so badly.
Sunday morning I was craving a simple bowl of oatmeal to ease my throat. Even though I haven't had much of an appetite, I tend to snack on cereal and crackers a lot with a sore throat because it eases the soreness to have food to munch on. I headed to CVS at 8am and picked up a few things to get me through the day. I still had a few things to get done such as meal prep, laundry, writing, etc. Life doesn't stop when you get sick, you just find a way to push through.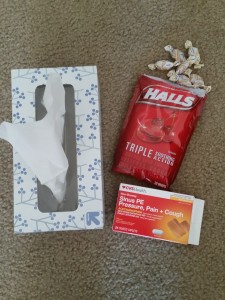 I worked on meal prepping. That actually kept my mind off the sickness even though I lacked an appetite. I relaxed a bit on the couch and then decided to head outside for a few yoga photos. It has definitely felt more like Fall this weekend and was chilly in the shade, but the sun was out and felt amazing. I love getting a little bit of sun time especially in these cooler months ahead. The sun was like a warm hug. I went through a few yoga poses and I am starting to put more weight on my toes again, working on downdog and I can kinda hold plank again, though I still feel my left foot is holding more weight.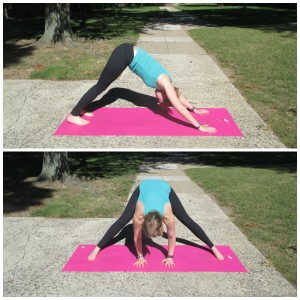 It is marvelous to be able to do downdog again and just have less of an ache in my foot.
I have also been using my diffuser more and just added a few more oils to my collection. It may be a little late to prevent my sickness but I am hoping this On Guard is still helping me get over the sickness faster. I have also been rubbing Breathe on my chest.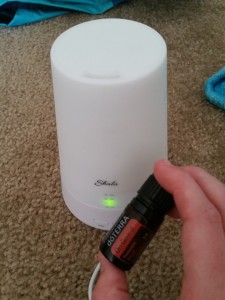 At noon I was off to teach, which I wasn't looking forward to with my burning throat, but I made it through with extra water and was happy to teach. Though it seemed everyone was putting on their shoes before shavasana, maybe rushing to get home for football?
I was happy to just be home for the afternoon and evening after all the running around Saturday. I watched a few tv shows online, worked on some blog posts and did more meal prep (kitchen time is my favorite!).
Hopefully your weekend was smoother than mine. Have a great day!!
Do you use essential oils? If so, what are your favorites?
Have you watched the new show, The Good Place? I'm watching it as I write. My co worker described it to me and seems weird, but I'm curious.