We are having a chill day here in Brisbane. Actually, being truthful, most of our time in Brisbane has been pretty chill. We have found that we need some relaxing time every now and then and it's nice to not spend too much money on activities. We walked through the city of Brisbane the other day after taking the free ferry down the river. It was nice to get out and see the city and window shop at the mall. We were supposed to go on an island tour today and spent nearly an hour chatting and booking it at a local backpackers travel store yesterday and then we got back to our room and got a text that it was cancelled due to the weather and high winds around that island today. So I headed back and used the credit to book another tour for later in the month somewhere else, but for now, we get to relax. Laundry day was yesterday and today I went for a swim and get some time to write and pack up my things again.
Anyway, our big activity while in Brisbane was taking the train up to the Australia Zoo on Monday morning. I got us a one day pass and the zoo is HUGE (100 acres) and so we wanted to get there right when they opened at 9am. The travel time is about 2 hours between the bus and train time from Brisbane as the zoo is located in the Sunshine Coast. That meant we left at 6:45 in the morning and arrived at the zoo around 8:45 and waited for the gates to open. We stayed at the zoo until 4:30 so it was a long day for sure, but I think we saw everything we wanted. I can't say we saw EVERYTHING because that would take multiple visits as they have a lot of extras like different animal encounters and shows, but we covered the basics AND I got to hold a koala (an extra package I purchased).
At 9am the gates opened and we were let into the zoo. We came across tortoises, koalas and kangaroos to start.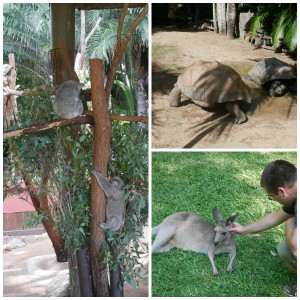 You can actually buy kangaroo food and feed them. We didn't as we have actually fed quite a few kangaroos along our journey, but we were able to get up close to them.
These water dragons were all over the zoo paths, watch your step (though they are pretty smart and move most of the time).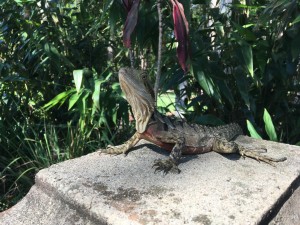 Koalas!! There were 3 separate areas where koalas were in the zoo. Two areas to view them and another area to walk through and see them in the trees and also give them a little pet. Petting the koalas is included in the zoo entrance price, but getting to hold one is extra. The zoo actually has over 60 koalas!! They had 11 baby koalas in the past year. I think they get quite a few koalas from people bringing them in to the hospital after being hit by a car. The Australia zoo has Northern Koalas (slightly different features from a Southern Koala) and they are currently vulnerable, which is above endangered. Habitat removable and being hit by cars are main concerns for the koala.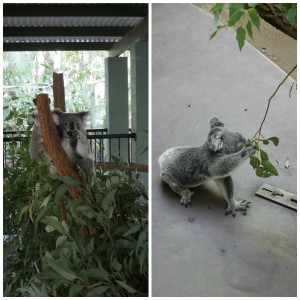 Koalas can have one baby a year. It only takes 35 days for the baby to develop but then they stick with the mom for a year and sit in the pouch for a few months like kangaroos.
So I have talked about wanting to hold a koala since my first visit to Australia back in 2011. Australia is separated into 7 states (including Tasmania) and each state varies a bit in their laws, just like the US. When I studied abroad in Australia, I was in New South Wales. New South Wales doesn't allow you to hold a koala. I think Victoria also has the same law. Queensland is one of the states that does allow you to hold one, which is where Brisbane and the Sunshine Coast are. I was beyond excited not only to be at Australia Zoo Home of the Crocodile Hunter but also to hold a koala.
Meet Peanut, the 2 year old koala I got to hold.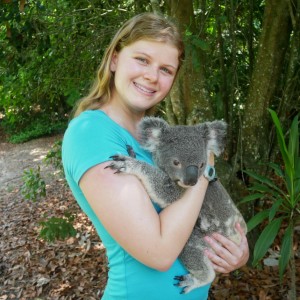 He was very friendly and did not hurt me as the zoo animals are used to people and trained to be held. In the wild though, koalas are known to be territorial and more vicious. The only issue I had was being eaten alive by mosquitos at the zoo. I had no idea I would get bit so much in daylight and apparently one bit my arm and face during my koala hold period. The professional zoo photos actually had one that I could see the black spec on my face of a bug biting my cheek…which is why in our second hold where I got photos on my own camera, I have a slight red bump on my left cheek. I was annoyed by that in the photos, but still I was over the moon to be holding Peanut.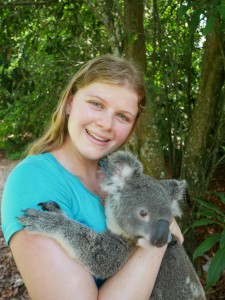 After my koala session, we checked out the bird and crocodile show and some of the crocodiles. There is even a crocodile school area where you can learn more about Steve Irwin's passion for the animals.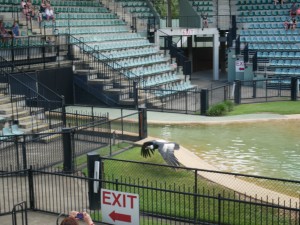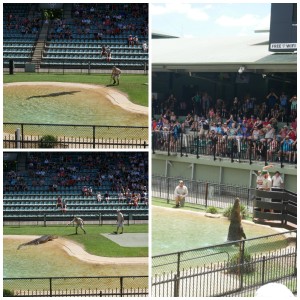 Then it was time to eat lunch and then head over to the Asia part of the zoo, checking out the Tiger show, which is only run certain times of year based on the crowds. Did you know there are less than 4,000 tigers left in the world in the wild and they could be extinct by 2020?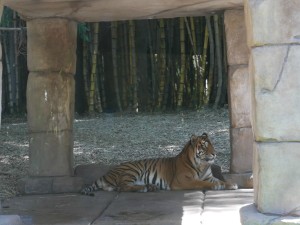 After checking out the tigers, we headed to the far back of the zoo to see the Giraffes and Rhinos in the Africa section.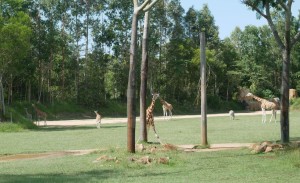 I loved how the Australia zoo has so much land so the animals really all have space. While the zoo is 100 acres, I felt like there were not a ton of animals squeezed into the space as some city zoos have. I think that is part of what makes this zoo special. Following Steve Irwin's passion as well on conservation and education of animals, this is the reason the zoo provides so many animal encounters to teach you about the animals.
Lastly, we checked out the animal hospital. For a small donation, you can get a sneak peak of the animal hospital and see the current animals that are being cared for, as well as read about their animals of the week from previous years, etc. I was impressed watching some of their past animal rescues on the tv inside and seeing that you can give a snack stitches for example.
If you are in Brisbane or along the Sunshine Coast of Australia, I definitely recommend the Australia Zoo. I did feel like it was different than other zoos I have been to. I really enjoyed talking to the friendly staff and seeing all the animals. Of course the koalas were probably my favorite as I got to see some that were so active which is hard when they sleep 20 hours a day, but when you have over 60 in the zoo, there is bound to be 1 active.
What's your favorite animal?