As I look through my Blogfest notes, I am inspired and I smile. I am so glad I headed to San Diego this year for my second Blogfest. As the trip grew closer, I was a bit stressed about going with some of the costs and wondering if I was expecting too much after the high of last year's Idea World and Blogfest. In the end though, I needed to get away and destress.
On my journey to San Diego, the first flight was a tiny plane (as I refer to it) and it was raining which was not a good mix when you think about turbulence. Thankfully I had some podcasts downloaded and I have learned that those are the best distraction for my nerves and anxiety especially on a tiny plane. Luckily my second flight was longer meaning a bigger plane and even movies to watch. I still mostly slept though because it was late at night and my eyes couldn't even stay open to watch The Greatest Showman that I was dying to see. When we landed it was 9:30pm California time, but past midnight for me. I was happy to gain 3 hours to use for sleeping before an early workout Thursday morning to kick off Blogfest.
We began at 7am Thursday morning with a beach theme workout, using coconuts, with Fit Bodies Inc. Coconuts are not perfectly round in case you are wondering so some of the moves, like a push up with the coconut under one hand were a little challenging but it was fun to start.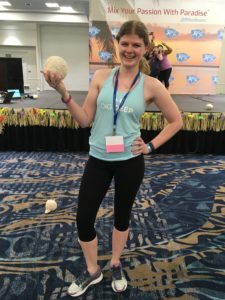 Thursday's first speaker was Petra Kolber with the topic of The Perfection Detox. I actually just pre ordered her book that comes out in August and can't wait.
A few takeaways and good quotes from her were:
Reflection: When you think of striving to be perfect does it add more joy to your life or suck the joy out of you?
FAIL – First attempts in Learning
FEAR – Face Everything and Rise
"Anxiety is excitement without breathing" – Fritz Perls
We have all this anxiety in our lives, especially with social media, because it appears that everyone's life is perfect, BUT IT'S NOT. Sometimes, we have such a fear of starting something new, like making a video for Youtube for example, because our first will not be perfect. Really, nothing is perfect, because when you think about it, things are always changing, especially with technology these days and we strive to be better and better and be a life long learner. You can't grow staying in your comfort zone. You will have some fear, but put that fear aside to try something new.
Our second speaker was Sadie Nardini, talking about creating online courses so you make money while you sleep.
A few takeaways from Sadie:
Courses that are 21 days sell well
Create videos that are 20-30 min max to fit in a busy person's schedule
Sell in an authentic way to your followers
Video is king – Hello…social media, Facebook live, Instagram stories, etc
price the course to sell and you will be more successful with continues pay back
I actually am considering taking Sadie's Yoga Shred Teacher Training since it's for people who are already certified as a yoga teacher and you can get credits with Yoga Alliance through it.
Our last speaker on Thursday was Kristine Beatty, whom I met at Blogfest last year. She talked about Google Analytics. This was a presentation that could go on for days to learn the ins and outs of Google Analytics, but I learned you can actually create custom reports in Goggle Analytics. I still need to explore how, but I didn't even think to do that and I love the data.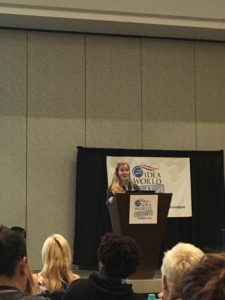 On Friday we began at 7am again with a workout sponsored by Frog Fitness. This workout was HARD you guys!! It's basically this machine with 4 wheels and you have foot pads for your feet and then grab the top bar with your hands and you can move your arms and legs. I am probably describing it horribly, but when you do a "squat", it's like frog legs. You can also set the wheels to lock in the front or back and the movement becomes a bit different. It's a really interesting concept and definitely was a challenge. I compare it to a pilates reformer a bit because you are laying on it and using different resistance bands to increase or decrease intensity.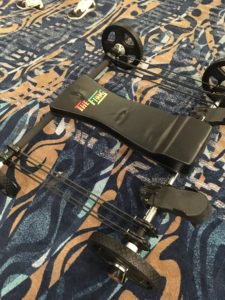 After our workout and breakfast by General Mills (love my cereal!!), we listened to Gigi Ashworth, from Gigi Eats Celebrities, talk about making videos and being comfortable in front of the camera.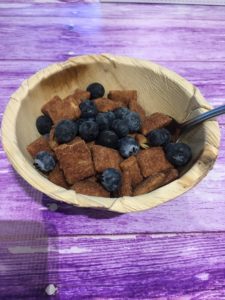 Some of Gigi's tips:
wear comfortable clothing and avoid patterns, plain t-shirt is fine. If you aren't comfortable dressing up, you will be more nervous in front of the camera and it won't seem as authentic
write a list for video ideas and sub categories
create outlines for the videos and practice
need good audio – ex: yeti microphone for laptop
After Gigi's presentation, we did some practice interviews with one another. It was fun to meet someone new and learn about their blog. This was the one place I would have liked more time to connect with other bloggers and learn more about each other.
Next up was our keynote speaker Heidi Powell. I actually looked up her blog a bit before Blogfest, but I didn't really know anything about her until the convention. I have to say though; she is so down to Earth and friendly and just wants to help everyone.
In case you didn't know, Heidi is the co host of Extreme Weight Loss. You know how you always see those TV shows where the people lose tons of weight and you wonder how they did it. Well Heidi talked a bit about how for so long she was behind the scenes, weighting out the meals for people and helping them to make that lifestyle change. Again I think it is important that we remember we see snippets of people's lives and not everything behind the scenes.
It's also important to surround yourself with a good team. How else could Heidi be a mom of 4 and manage an app, tv show and everything else? I don't even know everything she does, but wow, it is certainly inspiring and it can't be done alone.
Heidi was so kind to share some of her top rules. Here are some of my favorites:
They don't care how much you know until they know how much you care
Be unapologetically YOU
Comparison is the thief of joy
Be a life long learner
Don't do anything for the money, do it because of the passion
Heidi had so many good tips and could have continued talking for probably another hour, but we left time for a meet and greet and I was so happy to get a picture with her.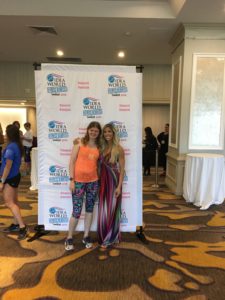 After lunch, we had one more speaker, Chantal Brodrick, but she actually had lost her voice so she sat while someone else gave her presentation on how to start a podcast.
Think about what you are passionate about
Do you want to educate or entertain?
Get a microphone for good audio
Plan out your first 6 shows

Pick a topic and then 6 subtopics and then maybe subtopics of the subtopics so that you have plenty of ideas for shows
I think you can see a theme among all these speakers, consistency and passion. Your followers want to know that you care and know when to expect a post, video or podcast from you, otherwise our lives are busy and we honestly might forget about you if you don't have consistency. I know this is a lesson for me as well, but blogfest continues to be inspirational and get me fired up again.
Thanks to all the sponsors who made Blogfest possible and this lady, Jamie King, one of the Sweat Pink leaders who helps put together Blogfest.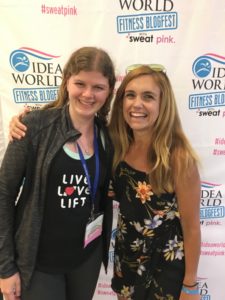 I will have another post about what I did in San Diego during breaks and my Idea World sessions I took Saturday.