The days are going by too fast now. I feel like maybe it is the shorter daylight, but here we are back at Monday.
First I want to say I cannot believe it was the 15th anniversary of 9/11 yesterday. I still remember the day like yesterday and I was back in 6th grade. High school freshman this year will learn about the event and they were born after it, which is crazy to think about. Just want to send love and prayers to everyone, thinking about that day in history.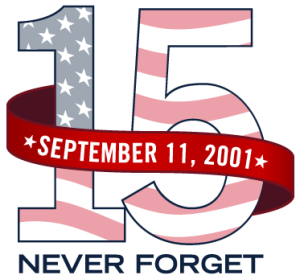 Onto my weekend…
Friday
I mis-set my alarm on Thursday night as I meant to go to the gym Friday morning but set it for normal time instead of gym time…oops. I didn't sweat it though. I would either make the day a rest day or get to the gym in the evening. Work went by and I left the office at 5 catching one of the few express trains these days. I really can't wait for the regular SEPTA schedule to return, but that looks like it will be November at this point…
Making the best of my evening, I got home and changed for the gym. I thought about swimming since I knew I wouldn't have time on Saturday but instead, I did my weight workout (at least the best I could with a lack of kettlebells and kettlebells were the main equipment). It was good to have a light kettlebell available though as I have never actually done figure 8s which was on my workout for the day. I need to practice my coordination and form a bit more before increasing my weight on that exercise. Overall, it was a pretty quick and good workout though. I didn't eat anything beforehand as my stomach was full from a few too many snacks at the office and it actually felt better after my workout.
I decided to run a few errands after working out. First stop was Walmart because I needed those pumpkin cheerios. Yes NEEDED. I nearly cleaned them out of them when I bought 3 boxes (giving 2 away to friends).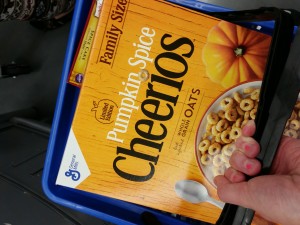 After a couple more stores, I ended up deciding to stop at Chick-Fil-A because I was getting really hungry after running store to store and I knew I didn't have much food at home. I got their diet lemonade (which tastes amazing, super lemony and made with splenda) and the market salad which is my favorite when I go there.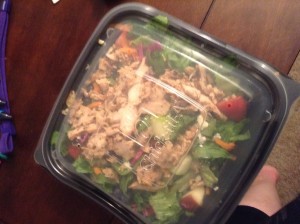 Finally I got home and ate, relaxed on the couch and enjoyed watching Gilmore Girls. Then it was time to head to bed around 10:30.
Saturday
I got up around 7am, had some breakfast, which included pumpkin cheerios (OMG delicious!!). Then I headed to Wegmans early. I kept my list short as I will only be home until Wednesday before heading on a quick work trip and returning Saturday.
Once I got back home, I meant up with a friend and we got ready to go apple picking. I brought her a box of pumpkin cheerios and as I was walking over to her place, I am sure I looked cool (or maybe weird) carrying a giant box of cheerios and had to take a selfie.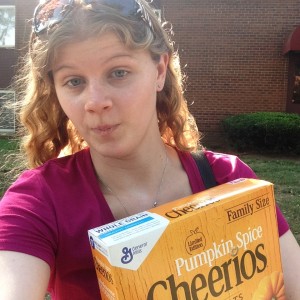 I had this random thought about just how many photos we take these days and how 15 years ago, we were using film and had to limit the pictures we took to like 20 photos a roll. I still remember the one time I used a whole roll of film to take photos of my cat outside. My parents were so mad as film was not cheap. Now I can take like 100 pictures of pets and it doesn't matter, just expand your storage right?!
Anyway back to the weekend… We enjoyed apple picking despite the temps crawling up to the 90s. I was literally dripping sweat and I had showered that morning (I don't know what I was thinking showering in the morning on a 95 degree day). The two kinds of apples we picked were honeycrisp and gala. It seemed that the honeycrisp were quite picked and the bugs were enjoying them. The galas looked much better and I loved how the leaves would come off with the apple. Picture perfect like last year.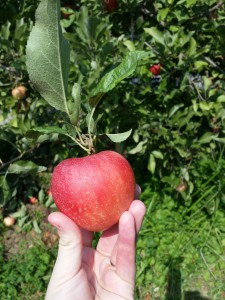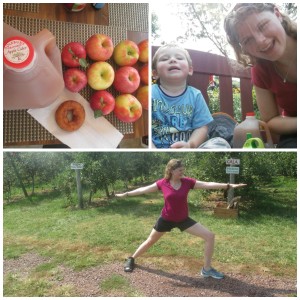 I will definitely be heading back to the orchard at the end of September/beginning of October when the pinata and other variety of apples are ready for picking.
When we got back it was time for me to get some lunch. I had some turkey, cheese and crackers along with my apple cider donut I picked up and a few more snacks. Then I got dressed for the pool as I found out it was open one last day before closing for the season. I have a long to do list at home but the pool won.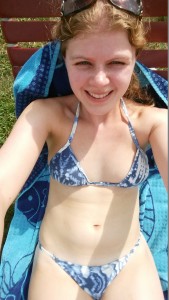 It was so hot, I couldn't even sit and lounge for long before I hopped in the pool. Can I also say it is the best thing to have pool noodles so you can be lazy and float around? Plus I was "biking" while sitting on my noodles so it was good exercise 😉 . After about an hour and a half at the pool, I was bored and spent. It was time to get out of the heat. Back home and did a bit of meal prep, showered and was a bit lazy. I did make this awesome vegetarian dinner though. I'll be sharing part of the recipe on Wednesday.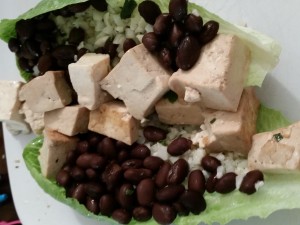 Of course no night is complete without dessert. A random bowl of dessert: strawberries, chocolate chips, peanut butter and granola.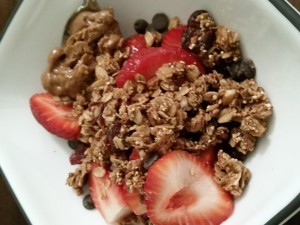 Sunday
Sunday morning I made a delicious bowl of oatmeal and worked on my yoga sequence that I would be teaching at noon. I headed out early to head to Target before teaching. It is great when I actually stick to my list at Target. I then had some time to stretch for a bit before my class.
I taught by mostly talking them through the class and it went pretty well. I did mix up my rights and lefts a time or two, but getting better. I decided to go swimming after teaching. Though being mid day I just wasn't feeling it. By lap 40, I was doing better but stopped at lap 80 which is just over a mile. Then it was time to get home and throw together some lunch, work on blog posts and a couple things for work to be set for Monday.
Not a very exciting day, but it finally cooled off about 10 degrees outside and wasn't as humid so I enjoyed the breeze and aired out the apartment a bit which was nice.
Did you do anything fun this weekend?
Have you been apple picking?