Walking on the beach is so calming and the perfect way to start and end a day. The town of Noosa Heads, just 2 hours North of Brisbane, offered such amazing views and beaches. Like most of our trip so far, I haven't really known what to expect in towns. I think that has been the beauty of traveling. Going somewhere and checking out the town to see what is happening. We happened upon the surf competition week in Noosa Heads which brought with it music, raffles, good food and yoga on the beach.
Not only was Noosa Heads beautiful, but we also stayed in a room through Airbnb that was so inviting. After staying in Brisbane for a week and hopping around different hostels and our campervan, we haven't had a decent bed in a while. It was nice to be a guest in someone's beautiful home with a soft mattress. I would have slept in, but free yoga at 7am was calling so I set my alarm for 6:30am both days we stayed.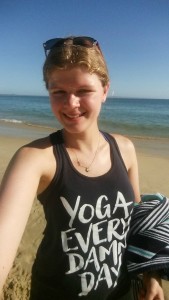 With one full day to explore, we walked around Noosa Heads National Park. The Coast Track is just over 5km and brings you to Sunshine Beach. We couldn't have asked for better weather. The glistening water in the sunlight, the surfers, swimmers and the views from the track were amazing. I really could take photos of the waves for days.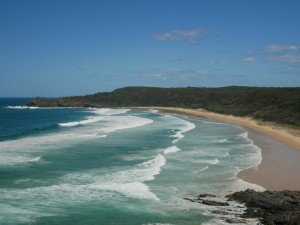 After the walk (took us about 2.5 hours), we hopped onto the bus back to Noosa. It's a short bus ride, but after all that walking and knowing we would have to go more uphill, the $2 bus ride was well worth it.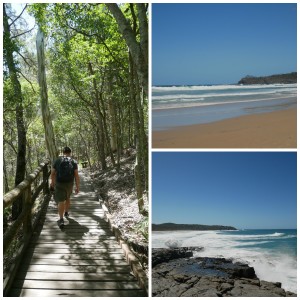 We headed back to our room and then changed into swimsuits to relax by the pool. Brian also enjoyed the steam room. Amazingly, the hot tub was a little too hot and I could only last 5 minutes or so before floating around the pool and then drying off and reading by the pool.
By 5, I was hungry and ready to venture down the hill for some tacos. We had a pulled pork taco from one of the tents for the surf competition the first night and it was good. Well we headed down the hill and came across a Mexican restaurant and actually decided to try their tacos as it was a bit of a better value and more toppings. Chicken and pork belly tacos for the win. They were delicious as was their guacamole (probably the closest I have tasted to my homemade guacamole).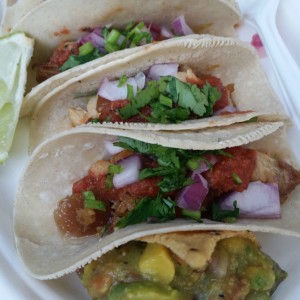 Then it was time to check out the beer garden at the surf competition. We even got raffle tickets (they were free) but didn't win anything. Brian enjoyed his cider and after the raffle drawing we had to head to CocoWhip, which makes coconut soft serve. I enjoyed the coconut soft serve I had in Brisbane so much, I was craving it when I saw the little shop. I went for the chocolate banana sundae and it was delicious!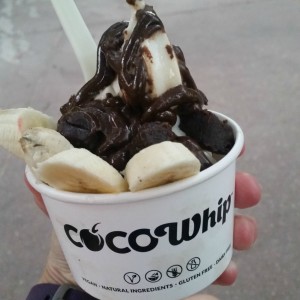 I then seemed to gain some energy as we went for a walk along the beach again. The sunset was pretty but the first night was even better.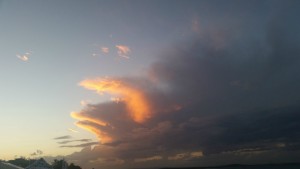 Finally it was time to head back to our room and relax. Our feet needed a break. I got 28,000 steps for the day!! It felt nice to sit on the patio and relax and enjoy the evening. When I say it was the perfect temperature in the evening, I mean it! Not too hot or too cold and not too many bugs (important for me). I am so glad we stopped in this beach town. It was nice to get out of the city feel and walk the beach and enjoy some sun. Now to continue making our way up the coast. Who knows what else we will discover.
Do you like going for walks on the beach?
Where is your favorite beach?