Last weekend my parents came to Philadelphia for a visit. My mom is very into history so I knew she would love the historic district of Philadelphia. We spent 2 full days in the historic district and then our last day was spent doing a City Hall tour and walking more of the city. I think we covered quite a bit of ground even though there were many other places we didn't get time for. Here are some of the museums to visit in Philadelphia.
Philadelphia History Museum
Open Tuesday- Saturday 10:30-4pm
This is a great place to stop to learn about the history of Philadelphia. We started with a video and then that gave us more info about the significant objects we found in each of the rooms. Many people know that Philadelphia was the first settled city but did you know William Penn, the founder of Philadelphia, wanted to name the land sylvania? This land later became known of Pennsylvania. The museum is small but kept my interest which says a lot since I don't usually enjoy history museums. I loved how they had a toy room of some of the original toy companies in Philadelphia. Sometimes I just want to go back to the basics with toys and our imagination. Definitely worth a visit.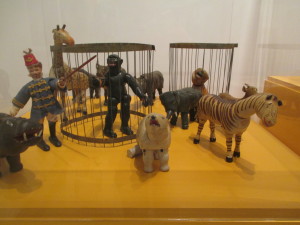 They also have a fun picture frame you can take photos and be featured on the screen next to the frame. We had a little fun.

Fireman's Hall Museum
Open Tuesday-Saturday 10-5pm
I didn't know about this museum until my mom mentioned it. This museum doesn't have an admission but asks for donations to keep it running. From old fire trucks to history of insurances, volunteer firefighters to developing paid firefighters in cities. This museum is a little bit of a walk from the center of the historic area, but great for a quick stop. They even had a room where kids could try on boots and fire jackets.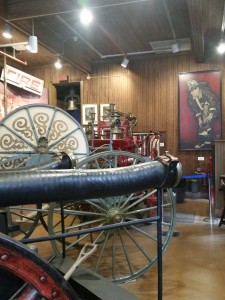 National Museum of American Jewish History
Open Tuesday-Sunday 10-5pm (Sat and Sun until 5:30)
If you have a few hours free, check out the jewish museum. With 5 floors, the 5th floor changes with the special exhibit area, then you make your way through history starting at the 4th floor when the jews first arrived to America and moving your way through the exhibit and down to the 2nd floor of present day jews in America. One thing I learned here was the presence of jews in film making and how they had to hide their identity by changing their name just to be an actor/actress, but yet they were part of some of the most popular movies like Gone with the Wind.
I would say allow a whole afternoon for this museum if you can. There is a LOT to cover but it is laid out in a comprehensive matter. There are a couple tours a day but be prepared to stay longer than an hour on the tour, more like an hour per floor! We decided to go ahead of the tour and just read and watch the videos in the exhibits.
Ben Franklin Museum
Open Everyday 9-5pm
This is a great museum for kids. I found the exhibits pretty interactive. The museum is only $5 and takes under an hour to go through. I loved all the different interactive puzzles. It is amazing to learn about Ben Franklin and what he did for our country.
Also in the same area as the museum, you will find Ben Franklin's printing press room and can catch a demonstration of how newspapers were first printed.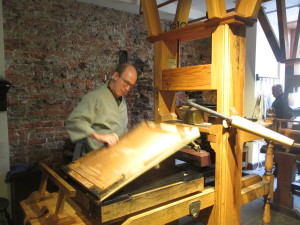 Liberty Bell Museum
Open everyday 9-7pm
Of course the Liberty Bell had to make my list. I think everyone should visit the Liberty bell once if they can. There is so much history behind it and Philadelphia has done a great job putting together the exhibit. Admission is free, but I would suggest getting there early before the line is too long.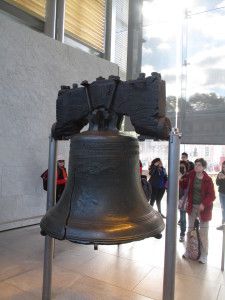 Other Cool Places to visit
Old City Coffee
Looking for a place to sit down after being on your feet for a while? Check out the old city coffee house. This is a cute place with coffee, tea and giant cookies (which I would have tried had I not already had a donut and cookie right before). They have tables to sit at and hang out for a bit. I had their iced tea which I quickly drank as I was so thirsty after walking around.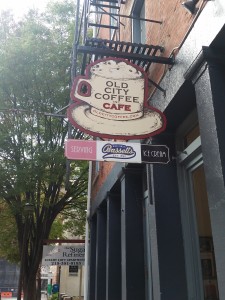 Elfreth's alley
The oldest residential street to walk down. People even still live in these houses! I don't know if I would want my house to be a tourist attraction but it certainly was a cute little street, around the corner from the Firemen's Hall museum and not far from Old City coffee. We also happened to be walking down when one person had her home open with a flash cookie sale. You know I couldn't turn that down and had a ginger orange cookie.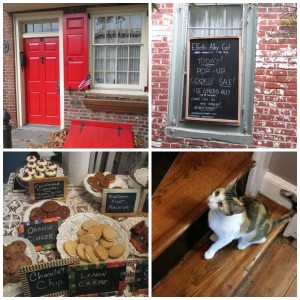 Old City Tavern
Feel like you are going back in history with a dining experience with waitresses in colonial clothing and ordering dishes with recipes that go back to colonial times. After our delicious bread and biscuit basket, I got the special beet salad and the fried tofu. Who knew that tofu was made back in colonial times!? Delicious food and of course there are drinks to try as well.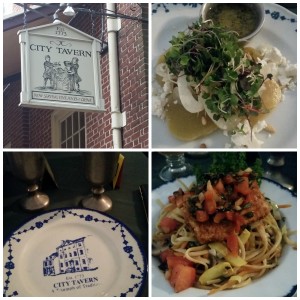 Philadelphia City Hall Tour
The largest municipal building in America, city hall is worth a tour. Tours are only at 12:30 Monday through Friday so plan accordingly. We got our tickets at 9am and then wandered around the city, grabbed an early lunch and returned for the tour. After a tour of the outside learning how each of the 4 sides have a theme and seeing the amazing sculpture work, we headed inside to see the mayor's area and then a hearing room and made our way up to the tower. Be prepared to wait as the tower elevator only holds 4 people at a time. The view is worth the wait looking out towards the Ben Franklin parkway and then the other direction towards the Ben Franklin bridge. You stand right below the large 37 foot tall statue of William Penn. You can't get the best pictures of Penn but it is cool to see.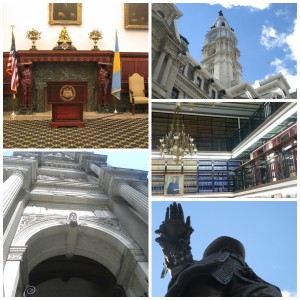 Have you ever been to Philadelphia?
Do you like learning about History?