For the last month I have been receiving a box of fruits and veggies each week from Misfits Market. A Facebook ad totally got me and I tried one week and was pleasantly surprised to see how much I got for $23 so I decided to subscribe. When you subscribe to receive a box each week it's only $19 + shipping. By the way, this post is not sponsored at all, I am simply sharing because I love the service and want to talk about how it has helped me eat more greens.
In the past I have tried a meal delivery service Hello Fresh and while it was nice to have my meals planned out, I was not a fan of the portion sizes and how much rice or grains were in the meal and felt I could make something better myself. This is my personal opinion just because I love to cook and I feel the meal delivery services are catered to people who don't know how to cook very well (as they provide step by step instructions) and maybe go out to eat a lot, which I don't so Hello Fresh was more expensive for me.
Misfit Markets interested me because it is just fruits and veggies delivered to your door. I know there are also CSA boxes that are similar, but I have found those to be pricey. Misfits Market is cheaper because it is fruit and veggies that are either not wanted by the grocery store or in excess. They say you get about a 20% discount on everything. I don't know my fruit and veggie prices totally off hand, but I would definitely agree that it is a good value.
The other part I was worried about was packaging. When I tried Hello Fresh, I felt there was so much packaging wasted. I only took a picture of the box from my first delivery and yes the box is a bit beat up, but everything inside was fine. When you open the box, you usually will see some greens on top and you will notice there is like a box insulator so that the food stays fresh. The cool thing about the insulator material is that it's a starch material. Other than the fact that it's wrapped in plastic, the actual starch material dissolves in water!! It's cool to see it just disappear as I had to give it a try with some. Under the greens there are ice packs and the ice packs are drain safe, so you can either save a couple for your own freezer or cut them open and drain the liquid and toss the bag. Some of the veggies as you will see in the photo are always bagged, but the material seems to be biodegradable and thin, so better than the usual produce bags at the grocery store. I also save the cardboard boxes (when in good condition) for when I may need a box for selling stuff on eBay or something.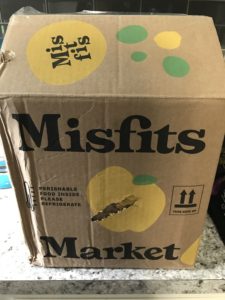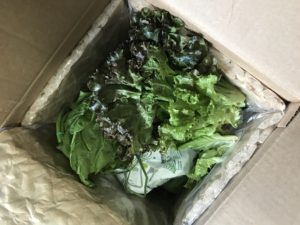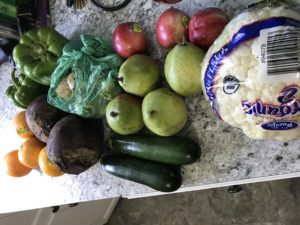 So back to the food part of the box. We have been pretty good about eating most of the food we receive. The only downside I would say to Misfits Market is that you can't choose what you get in your box. Luckily I like most of the veggies in season right now. Our first box came with mushrooms which Brian ate because I don't like mushrooms. We also got some pears that I ended up giving away (not a big pear fan) and nectarines which I ate some of, but typically I would not buy. I also quickly learned that if you get any fresh greens like lettuce or baby spinach, it is best to use those ASAP. This is pretty easy for us as we will just make a salad with our meal on Saturday or something. This is one way in which the boxes have made me eat more veggies. I have veggies daily, but I usually eat salads throughout the week at work and on the weekend don't always feel up to making a salad so instead will just cook broccoli as a side or something simple.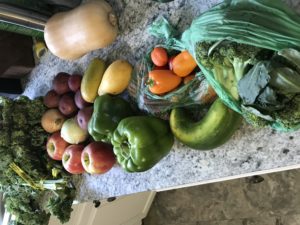 Speaking of broccoli, we have actually received lots of broccoli from our boxes and that is one of my favorite veggies so I have loved that.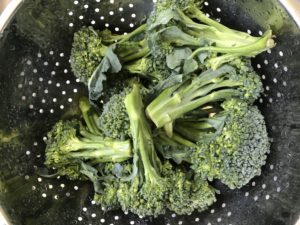 Everything is also organic. Last week we received some lemons in our box and we kept them in the fridge for a week and Brian cut one and said it smelled so fresh still.
We have also received some mangos. The first time we received 2 tiny mangos and they were ready to eat right away. That is one thing about the box is sometimes I feel the fruit and veggies HAVE to be eaten right away or they will go bad quickly. This may be a reason that they can't make it to the grocery stores. You just have to be willing to be flexible.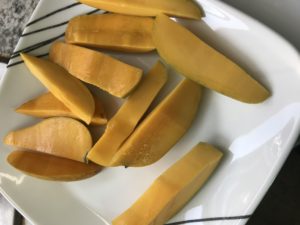 We have gotten some baby potatoes and I slice them up to make some little potato chips to have with a burger. We also have received many baby zucchinis which are a little small to spiralize, so instead I slice and cook them like the potatoes as well.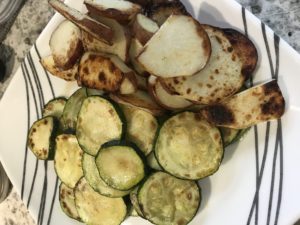 I scheduled our deliveries for Friday so that I can see what we have and then go to the store Saturday morning to get other items on my list. I always pick up a thing of spinach at the grocery store even if I get greens in my box because I use spinach in smoothies throughout the week and my salads when I run out of the greens in the box. Often though, I will get cucumber, bell peppers and one box even came with the sweetest cherry tomatoes I have ever had. These are the typical weekly items on my grocery list for my salads for the week so I do feel I have saved some money on buying groceries as I usually just need to pick up condiments, meat and frozen items, very few produce items now that I receive this box.
The fruits and veggies they provide are the in season ones so I don't know if I will continue this much past the summer. I know that Fall means a lot of squash, which I am not a big fan of. Already we have been getting a small butternut squash each week. We actually grilled it and it turned out quite good, but I don't love it so I would rather get something else if I were in control.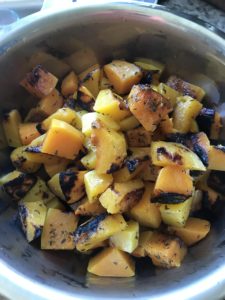 Also I did have an issue with a delivery over July 4th and it's partly my fault because I didn't change my delivery day in time, but my package apparently was damaged and never made it to me. Misfits Market customer service was great though and refunded me for that week. I have a feeling the holiday and extra days in the truck when it was 90+ degrees didn't help. I think next time there is a holiday I may just skip the week as that will be easier than switching my delivery day.
Overall I love getting the surprise of fruits and veggies. It has gotten me out of a rut with food. The packaging is great. The value for your money is great. I went to our local farmer's market the other day and honestly you would spend more money for what we get. So far so good, but I'll probably be a seasonal subscriber since summer just has better in season veggies and fruits for my liking.
Have you ever tried a food delivery service or fresh veggie delivery?