Happy Monday everyone! Hope you all had a great weekend!
My weekend included more Fall activities and enjoying the sunny weather after the rain storm on Friday night.
Brian had 48 hours off of work so he came down Thursday night and caught up on his sleep on Friday since he was working the night shift. After work on Friday, he met up with me in the city for dinner. A rain storm was on its way to the area, but I wanted to quickly walk down to the art museum to check out the new sculpture AMOR (Love in Spanish). It wasn't that crowded like the LOVE sculpture gets, so it was perfect to climb up the steps and take a few photos. Luckily we only stayed for a short while because it started to rain about 5 minutes later and we still had to find our way to the restaurant.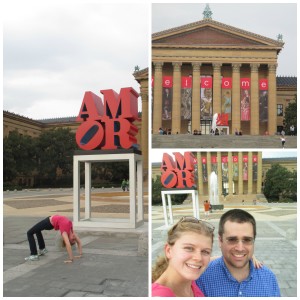 It started to pour just as we were across the street from the restaurant and we actually ran inside a gas station first as we waited for the rain to lighten up enough that we could see again. I chose a mexican restaurant, La Calaca Feliz, for us to try. We started with some guacamole and chips of course. Then we each had tacos. I chose the pulled pork tacos and Brian got the pot belly pig tacos. We ended with some mexican chocolate cake for dessert. Very delicious food!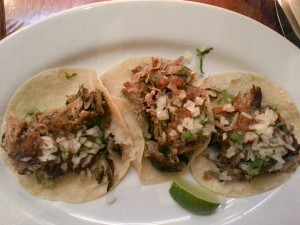 By the time we finished eating the rain was much lighter and we made our way to the train station, barely making the train, but luckily it was 6 minutes late so we didn't have to wait around.
Saturday morning I made some pancakes for breakfast and then we drove to the apple orchard. The golden delicious apples were ready for picking so I was excited! The people at the orchard said the Golden delicious are not like the ones you get in the grocery store, they taste better. After eating one, I can say they definitely are better. Of course apples fresh from the tree are better anyway.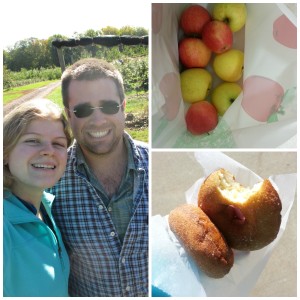 It was such a beautiful Fall day, I really wanted to check out a state park or something around the area since we drove so far for the apple orchard anyway. Brian was navigating and I was driving and following his directions. I had no idea where we were going to end up but eventually we pulled into Nockamixon State Park. There were a ton of sailboats out on the water and we just enjoyed the view for a while. I loved seeing the different colors of the trees. Fall on the east coast is just a different experience than in the suburbs of Chicago.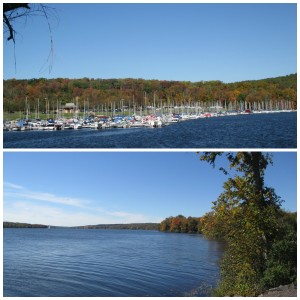 It is also great to know that this state park is just an hour drive away. When driving through the area, I felt like I was in a completely different state or something.
The drive back seemed very long, but eventually we arrived at Dave and Busters near our apartment. We decided to get a late lunch there and play some games. I still hold onto our card that we started when in Buffalo to add to the tickets. As it has already been years…I don't think we will ever go there enough to get one of the worthwhile prizes like an ipod or something, but I also don't want to spend the tickets on candy or little toys.
The rest of the afternoon was pretty laid back. Brian napped because he was driving back later in the evening and I caught up on my daily yoga poses and enjoyed a 30 minute yoga video from OneOEight ( <– check this website out if you haven't, you can get a 10 day free trail and it's only $15 a month for all the yoga classes, meditations and more).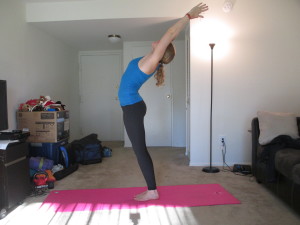 For dinner I picked up some thai food (I ordered from GrubHub for the first time!). My meal consisted of appetizers: chicken saute, egg rolls and rice. I failed to take a picture of the food as I was enjoying it too much. After eating and watching a movie, it was time for Brian to pack up and I got ready for bed, reading a bit before.
Sunday morning, I got up around 7 again. I made it my mission to get to the gym when they open at 8. I got to the gym at 7:57 and there were already a handful of people inside, so I will have to arrive earlier next time. I figure I had to go this early to use the one squat rack. Someone was already using it when I arrived, so I did a few other exercises for 10 minutes while I waited. It felt great to barbell squat again until my legs were shaky. I have to start coming Sunday mornings more often to increase my weights on the squat rack again. The only issue is this gym does not organize the weights ever and finding just a 10lb weight to add on is a challenge. I got up to 85 lbs though. I think the most I was at before was 145 lbs, so I have a bit to go to get that strength back. Weightlifting makes me so happy though, especially those barbell squats 🙂
After my workout I headed to the grocery store where I picked up a pumpkin. I found a decent knife around my kitchen and got to carving. It actually didn't take too long at all, as this pumpkin didn't have too many guts, but a fair amount of seeds that I roasted up.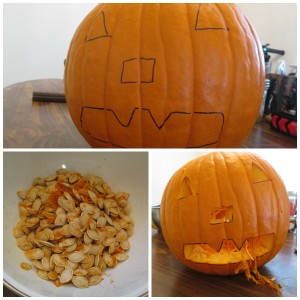 I also did some yoga with my pumpkin that I started last year.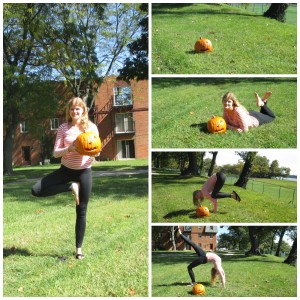 Definitely had a fun weekend with some great Fall activities! I am so happy the weather was beautiful. Now onto another work week. Today is Columbus day but we don't get off. Also Happy Thanksgiving to my Canadian friends today!!
Have you ever ordered with GrubHub?
Do you like carving pumpkins and roasting the seeds? I never roasted the seeds until a few years ago, love doing it now.