Happy Memorial Day everyone!! Hopefully you are enjoying a day off or enjoying some good grilled eats. Unfortunately my apartment complex doesn't allow grilling (though there were a couple people breaking the rules) so no cook outs for me, but I did have a great weekend.
I actually stayed late at work on Friday while most people left around 3 or 4pm. I had some things I was behind on and knew I could not stay late Tuesday so had to get them done. After work, I still headed out to the gym for a swim. It had been about 2 weeks since my last swim and I was a bundle of energy from sitting all day. Some people get tired from sitting all day, I get antsy. I got in a good mile swim, straight through minus clearing my fogging goggles a few times. After that 70th lap (1 mile), I started to feel some foot cramps starting so I took it slow and got to 80 laps before calling it a night.
I arrived home shortly after Brian arrived which was perfect. We watched some 30 Rock while I snacked and called it a night pretty early. I was beat by 9:30 lol.
Saturday morning, the sun had me up early and eventually my growling stomach got me out of bed to make breakfast. In the morning we headed to Penn's landing in the city as Brian had not been there before. Wow it was so different at 10am with not many people around. It was a hot day getting up to 90 degrees but we walked and walked. I realized nothing was really open at Penn's Landing until noon and so we walked a mile past it to check out Federal Donuts. I had read great reviews on them. I got a strawberry lavender donut. It was hot off the fryer which maybe isn't so smart on a hot day, but it was delicious!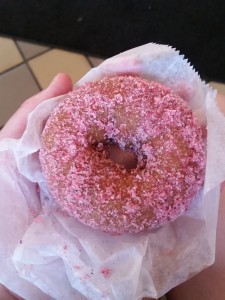 Since it was nearly lunch time and we were no where near the train station, I remembered a friend had recommended a Mexican restaurant, Cantina Los Caballitos, not too far from us so we decided to go there. I filled up on chips and a mojito pretty quickly, but I also got an arugula salad with chicken. The salad was good, but the chicken was overdone, so I could have done without that. Besides the chicken, our meals and drinks were delicious.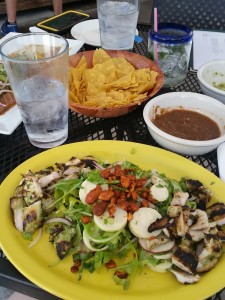 After that, we walked to Reading Terminal Market, about another 2 miles. It was definitely a good thing that we had just eaten. Not a good idea to go in there really hungry. I decided to pick up some fruit since it is cheaper there. The best part of taking the subway downtown is that you can pick it up from a different spot to go home. It worked out well since there was a station next to Reading Terminal.
We got home around 3 and relaxed for a bit deciding what to do.
After a bit of a nap (that sun tires you out), we stopped at Chick-fil-A for dinner and then headed to the movies to see Alice Through the Looking Glass. Despite the reviews online, we both enjoyed the movie, so if you were asking me whether to see the movie or not, I would say see it.
Even though we had definitely eaten enough for the day, we stopped at Rita's Ice on the way home. I have been in Philly for 2 years, but this was my first Rita's ice. I went with lemon flavor and Brian got custard. We enjoyed sitting outside for a bit by the water while we ate them.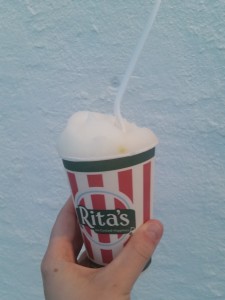 Sunday morning started with some protein pancakes followed by grocery shopping and meal prep before I headed out to teach yoga. Once I got home, I had some lunch and then we got sunscreened up for the pool. We decided to enjoy the weather in the late afternoon at the pool since there are storms for today.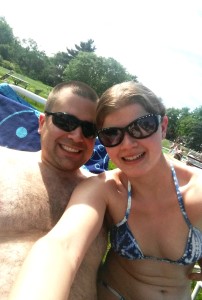 A couple hours at the pool in the sun was perfect. We came back and I had a salad for dinner prepared and cooked up some sausages. I also made a nice grapefruit drink.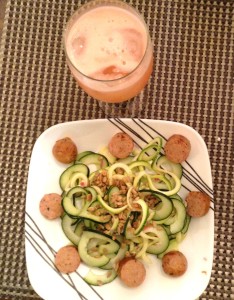 While eating dinner we watching Pirates of the Caribbean: Curse of the Black Pearl and relaxed on the couch for the evening.
It is great to have an extra day to my weekend. I finished all my meal prep yesterday and today is expected to be quite rainy so we plan to head to the mall and walk around, check out sales and possibly enjoy some Mexican food at our favorite place.
Do you have any Memorial Day traditions?