Looking for a low carb substitution for rice? Look no further. Try this cilantro lime cauliflower rice perfect for burritos, lettuce wraps or by itself. All you need are 3 ingredients and a little oil.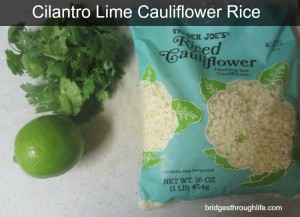 I was never a cauliflower person until I tried cauliflower rice this year. I still don't like regular cauliflower. It either has to be cooked in rice form or pureed in the blender as a sauce. Those are currently the only ways I eat cauliflower. I am sharing this with you because I realize that some people may turn away as soon as they read cauliflower in the title of this post, but if you didn't I hope you will stay to see the recipe and try it out. It's super easy and done in about 20 minutes.
Last weekend when I was away in Virginia with a friend we made a burrito bowl bar set up.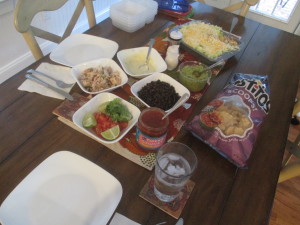 I love doing this for group meals because then people can choose what they want in their bowl to customize it. One thing that is necessary in a burrito bowl for me, is rice. If you have ever been to Chipotle, you may recall their cilantro lime rice. I absolutely LOVE the flavor of this rice!! I know cilantro is a love or hate thing, but for anyone that loves it, you will love this recipe.
Now instead of regular rice, we are using riced cauliflower. I know, how can a vegetable taste the same as rice? Well it doesn't taste exactly the same but once you load up that burrito bowl or lettuce wrap, it tastes pretty darn good. Though I may be biased. I have been trying to keep my carbs lower and it has been working in that I feel satisfied for a longer period of time with more protein and fats and I have lost belly fat. [Please note I am not saying that lower carbs will work for everyone but it is something that has been working for me] I haven't been super strict and calculating my macros daily, but I know I have felt better and so I listen to want my body wants. Some days, I crave a bunch of carbs and I go for it but most days, I stick to a lot of veggies and meat to fill me up.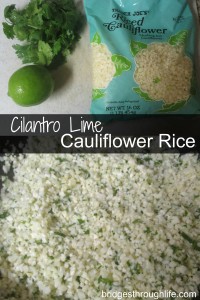 Lately I have noticed that keeping my dinners smaller has helped. You will find that cauliflower doesn't have many calories, so depending on what you top your burrito with, dinner can be low calories if you choose so.
Now onto this simple recipe.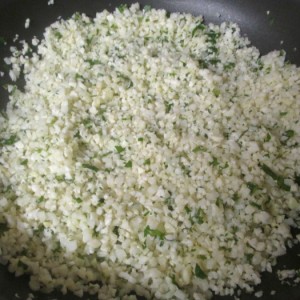 Cilantro Lime Cauliflower Rice
2016-09-11 20:32:26
Ingredients
• 2-3 tbsp olive oil or grapeseed oil
• ½ cup cilantro leaves (before chopped)
• 16 oz riced cauliflower
• Juice from 1 lime
Instructions
1) Heat up a pan on medium heat and add 1 tbsp olive/grapeseed oil
2) Add in the riced cauliflower and stir around for 2-3 minutes
3) Next chop up your cilantro leaves and juice your lime
4) Add in the lime juice, cilantro and additional 1-2 tbsp of oil to the pan and stir until mixed together.
5) Let the cauliflower rice cook for about 10 minutes, stirring occasionally
6) Turn off the pan and serve the rice on a plate or in a bowl with your meal
Bridges Through Life https://www.bridgesthroughlife.com/
I used the "rice" for lettuce wraps which I added black beans and tofu to. It was a delicious vegetarian meal for dinner. It is rare that I eat vegetarian meals so it was a nice change.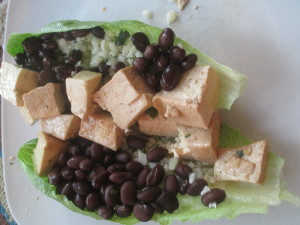 Have you tried Cauliflower rice?