Hey there and happy Monday!! I am out somewhere driving East. My weekend was pretty boring. I spent a few hours Saturday going up and down the stairs in my house to get my stuff in a pile and then loaded my car. I honestly think it was the easiest packing of my car ever. Yay for minimizing my things! Of course I only have a portion of my things since the bulk of my books and boxes were stored in Binghamton while we were traveling. I likely won't be opening many of those boxes until we find our own place and I have no idea when that will be. Basically half my boxes are books now, so I see a book shelf in the future being needed.
My weekend summed up in 5 words: Saturday packing and Sunday driving. I also officially moved from an android phone to an iphone! I love androids as I am just not Apple tech savy but I am tired of my Samsung Galaxies only allowing me to install 10 apps before it gets full storage and then it installs updates where it deletes important items and essentially the phone kills itself within a year. So now let's hope I can keep this iphone for maybe 2 years before needing to upgrade. I have to get used to the smaller screen as it is an iphone 5 SE and smaller than my galaxy s5 was. Besides that, I hope the switch goes smoothly for me.
Now onto today's topic of Iowa and linking up with Katie for MIMM. I had never been to Iowa and yet my sister, Theresa, has been going to school there for the past 3 years. I moved to Philadelphia right before she graduated high school so I never got a chance to visit. With being home for an extended period of time, I was finally able to drive out to see her and get a personal tour of Des Moines and her campus, Drake University.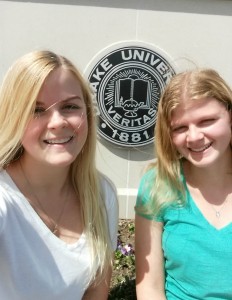 Luckily the weather was more beautiful than Chicago. In fact, it rose 20 degrees during my 6 hour drive there. Oh and it was really fun when I 80 West was closed due to a semi truck catching fire before I was heading on. Thank goodness for GPS and Google Maps for re routing me as I was able to take exit 1. It happened right at the Illinois/Iowa border. My detour wasn't too bad and I got a bit of a scenic drive along part of the Mississippi River before hopping back onto I 80 where it was open again.
Upon arriving, I met my sister's roommate and then my sister made us some pork burritos as she is using up food before coming home in a week herself. We then headed out and walked her campus and then into the city, which is pretty small when you grow up near Chicago.
We did get to walk into the beautiful capitol building for about 20 minutes before they closed for the day.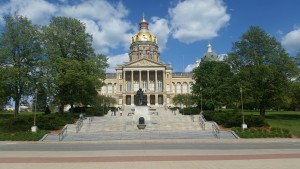 Then for dinner we headed to Smokey D's which was featured on Diners, Drive ins and Dives years ago. We split a meat platter even though after we ordered we found out it was supposed to be for one person. We got extra plates and it was filling enough for us with the addition of fried pickles for an appetizer.
We headed back to her apartment and rented a movie, Christmas Office Party (one of the few available that neither of us saw before). I pulled out my New Zealand mud I brought home and we did face masks while watching the movie. It was great.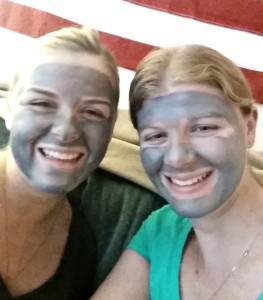 After 9pm, we headed to bowl. Games are only $1 after 9pm so we played 2 rounds. I won both times, but I think if we had gone for a third it would have been close as we both were more warmed up. It was a packed afternoon and evening so we pretty much headed to bed right after.
Friday morning we walked around Grayslake and then headed to the Des Moines Zoo. We weren't sure what to expect in terms of size but it was a nice zoo even though it was crowded with tons of field trips. They even had some Australia animals. Oh and the otters were adorable as were the penguins and we caught the penguin feeding which was funny to watch as the penguins were so picky about which fish to eat.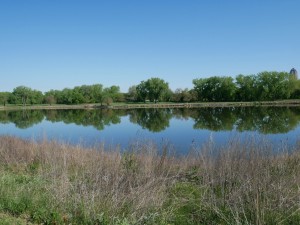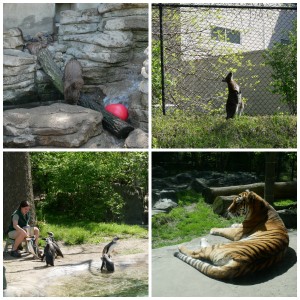 After the zoo we were both getting hungry and stopped at Zombie Burger (apparently this is the place to go in Des Moines for a burger) and then we headed across town and went to Scratch Cupcakes. We each got 2 cupcakes, I got the vegan peanut butter and maple donut cupcakes and Theresa picked the rainbow nerds and cookie cheesecake cupcakes.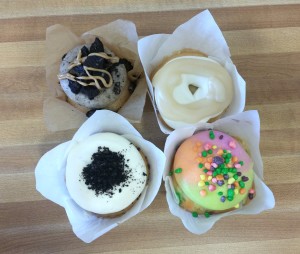 We were so full from lunch we saved the cupcakes for later. I ended up eating a cupcake and a half for dinner and then having a small salad when I returned home. Luckily the drive home was less eventful with all roads being open and not hitting too much traffic. I am finally getting into some podcasts and enjoy switching between music and podcasts while driving.
It was great for me to get a chance to visit Theresa because I probably won't see her again until next year when she graduates.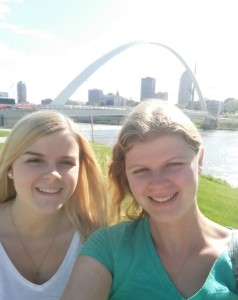 Also it was nice to check off Iowa on my states to visit. That is now (sadly) the farthest West in the US I have been, not counting Hawaii or the California airports. So much more exploring to do in the US and the world, but first time to save money again.
Farthest West you have been in the US besides Hawaii and Alaska?