After a tiring day on Monday in Bermuda, we had a very laid back morning on Tuesday. I actually got up at 7 to get a walk in. It was raining, but I walked anyway and then went down to the beach, which was a workout in itself (125 steps down and then up). While Brian has no trouble laying in bed, I am a go go go person and had to do something in the morning. I got back and we waited for the rain to pass, which didn't take too long and then we headed to the grocery store for some snacks and food. We spent the morning just reading for a while and then headed out to Elbow Beach for lunch.
After lunch, we stopped at the botanic gardens. We kind of just wandered around the gardens for a bit, our own self guided tour.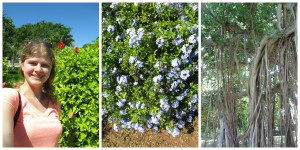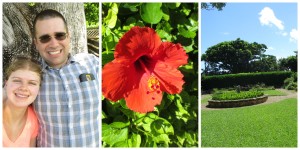 We stopped at the apartment to change into our swimsuits and grab our snorkel gear and headed to Horseshoe Bay Beach down the road. Horseshoe Bay was my favorite beach to swim at. Perfect sandy bottoms. We did go out and snorkel and see some reefs and fish but not many.
I did get my bridge in…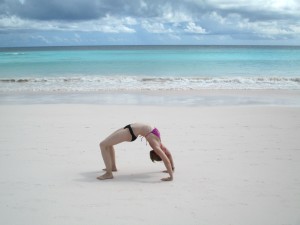 …and bonus, a headstand!! So happy I can do this away from the wall. I think the sand is my most comfy place for my head right now in this pose.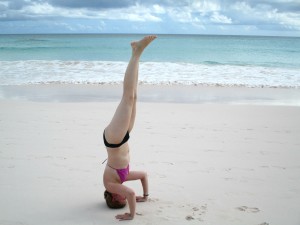 It was a wonderful afternoon at the beach, doing some yoga, sleeping in the sun and just all around relaxing. The beach was so big and even with an event happening at the other end, we had our own peaceful place in the sand.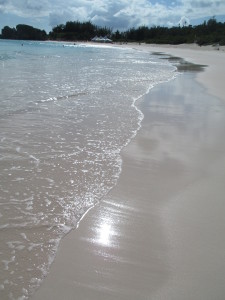 As we left, we got to see the sand sculptures from the event going on.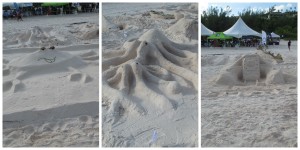 In the evening, we made dinner on the grill and read outside, soaking up more sun before heading in and watching tv before bed.
Wednesday morning I headed out with a towel and headed down to the beach to do some yoga. I love sinking my feet into the sand as I hold downdog. It started off as a bright blue sky morning but quickly the dark clouds came and I made it back to the apartment after getting caught in a short shower.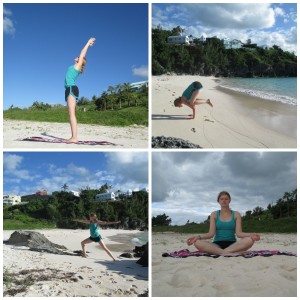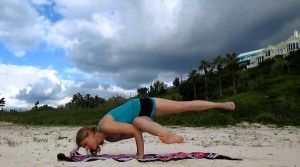 After the shower passed, we headed on the scooter up towards the Dockyard, the opposite end of the island from Monday. I had wanted to do some stand up paddleboard, but when we arrived at the beach for that, it was quite windy and the water was rough so we decided to continue on to the dockyard where the cruise ships come in. I actually found out the Friday before my trip that one of my co workers was headed on the cruise to Bermuda the same week so I happened to know that that cruise ship arrived Wednesday morning and we passed many scooters and buses of people going the opposite way that we were as they were getting off the cruise.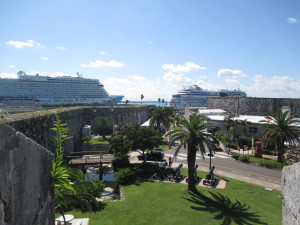 So even though we didn't really know what we would do, it all worked out. We headed to the National Museum of Bermuda which was not very crowded at all. In the first building we walked into, we learned that Bermuda was originally a place that they sent prisoners and that sometimes the people were sentenced to 7 years on the island and then sent to Australia for a second sentencing. I couldn't believe when I had read that after learning about Australia being where all the prisoners were sent, I didn't know that Bermuda was sometimes the first stop for those people. So it was interesting that Bermuda and Australia had that in common. We also learned about the ships that sailed and how Bermuda was a good landing point for them. Bermuda also owns all the shipwrecks that happen around the island. Brian and I discovered that our private beach was near 3 shipwrecks, which explained where the dive boat from the resort often stopped.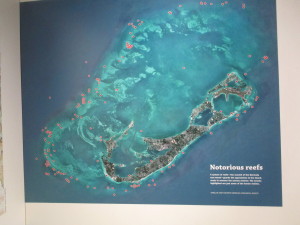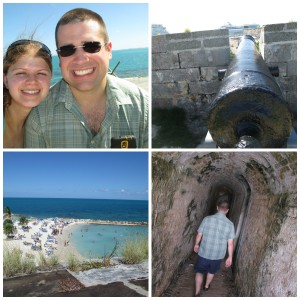 They also had the dolphins there. You could take pictures with them if you wanted to spend $200…but I didn't, so I got pictures of them.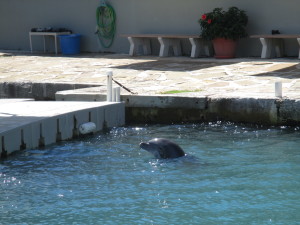 On our way back towards our apartment, we stopped for some fudge quickly. I didn't snap a picture when we bought it so this is what I had left that I ended up bringing home with me. We got mint chocolate and Brian got peanut butter. Both were delicious.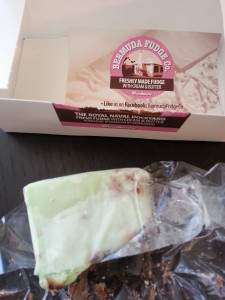 Once we got back to the apartment, we put together some lunch and enjoyed a few hours outside reading and we had a hot tub, though it wasn't heated, so we called it the cold tub. I hopped between reading in the sun and reading in the tub when I got too hot, which was perfect.
After that we grabbed our snorkel gear and took a ride to Church bay beach, which I heard had amazing snorkeling and it did not disappoint. It was AMAZING! I really wish I had had an underwater camera, but I didn't. Instead Brian and I just enjoyed snorkeling around and it felt like you were swimming right in an aquarium. We saw all sizes of fish and amazing reefs and coral. I was just amazed at the beautiful colors and it felt so cool swimming above the fish. I am so glad we purchased our own snorkel gear for the trip that we will now have for future island trips.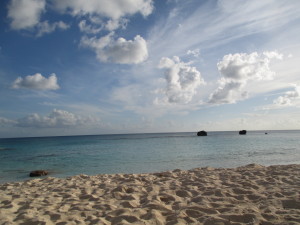 After snorkeling, we showered and got ready for dinner at the Lighthouse. Then the rest of the evening was just relaxed.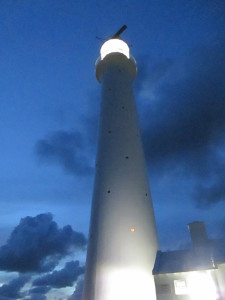 [Stay Tuned for the last part of the trip recapped on Friday]