Happy Wednesday everyone!!
This past weekend, we had winter storm Jonas come through Philadelphia. The weather people were actually fairly accurate this time (shocker!!) with when the storm started, around 7pm Friday night. Within that first hour, outside became increasingly more white.
By Saturday morning when I got up, the cars were all pretty well buried. I heard we had already gotten a foot of snow by 9am Saturday, expecting another 5-8 inches throughout the day.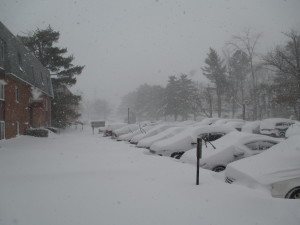 I stayed warm inside most of the day. I started my morning with some lemon water while making some pancakes and cooking some sausage. I tried Nikole's gluten free pancake recipe, though I only made a half batch since it was just me and I used butter instead of coconut oil and a gluten free flour I had on hand. I have to say I did enjoy how fluffy the pancakes came out.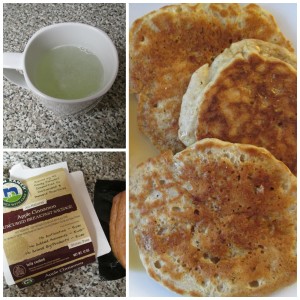 I snacked on a cookie sometime between breakfast and lunch and then turned on the oven and made some fish sticks for lunch. I also prepared broccoli and roasted sweet potato Friday night just in case the power went out and I needed something quick from the fridge.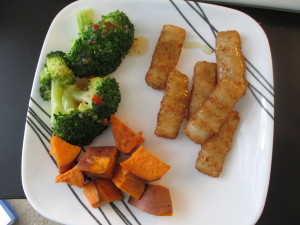 A sweet treat after lunch was the last of the batch of Amanda's banana bread granola bars.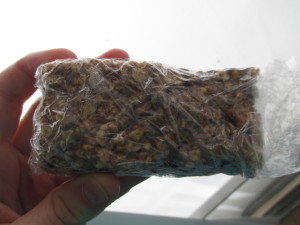 With a full and happy stomach, I ventured outside again and cleaned off my car. Unfortunately that didn't help to get it out and I don't have a shovel (probably should have bought one when I went out to get food…). Since I didn't have to go anywhere until Sunday late morning, I didn't worry about it for now.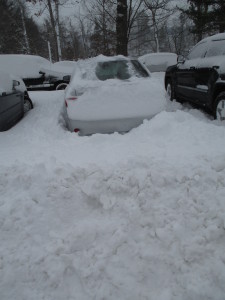 I snacked on some Thin Mints and then a little later, had some Kale Pesto hummus with some chips and a side of Heather Waxman on Periscope! She made my Saturday afternoon so much better until my internet started to fizz in and out around 4pm and for the rest of the evening.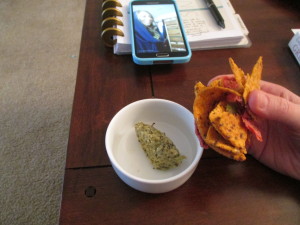 I then headed outside before it got dark and got a shovel to borrow and started to dig and talked to a neighbor. Then the snow started to get heavy again and it was approaching dinner time anyway, so back inside.
I quickly made some chicken stir fry for dinner. I got some frozen veggies from Trader Joes and so I put those in one pan, chicken in another and then once the chicken was cooked, I cut it up and added it to the veggies with some soy sauce and sesame oil for flavoring.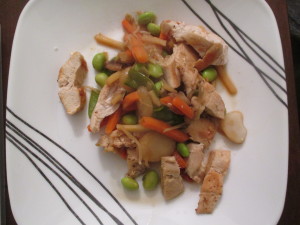 I left room for dessert and decided to whip up some banana ice cream. Last week my boss asked me what I bought to prepare for the storm. When I told him I bought veggies and meat and my usual things, he said I was supposed to buy cookies and ice cream. For any new readers, I actually can't eat ice cream as I believe I am lactose intolerant (never tested but the pain in my stomach is too much). I told my boss I can't eat ice cream and I have everything at home to make cookies. I love making single cookies so I don't eat too many. I also love making banana ice cream. I experimented a bit and added a bit of powered peanut butter to the ice cream so it was a peanut butter flavor and sprinkled with chocolate chips. It was delicious, but before I share the recipe I want to try it a couple more times. I think I need to amp up the peanut butter a bit more.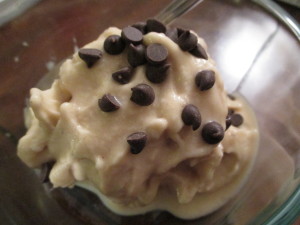 It was so much fun cooking all my meals. After Saturday I had a fridge full of leftovers which was perfect for Sunday and the beginning of the week. Meal prepping and eating along the way. While I missed going to the gym for a swim this Saturday, I felt quite content at home and it wasn't bitterly cold so it was good to get outside a couple times even if it was to work on shoveling. At least being in an apartment I don't have to shovel a driveway.
In the end of the storm, I believe we got about 20 inches of snow, which is quite a lot. However, as long as you don't have to drive anywhere, the more snow, the better right? I mean it gives you plenty for a snowman or snow angel and quite a workout just walking through it. Plus the sun after a snow storm, is just beautiful, lighting up the snow! Add a river to the background, even better!!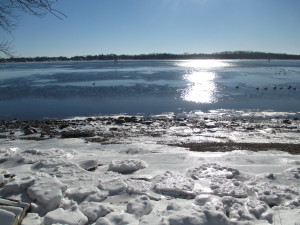 Thanks Jenn!