I mentioned in a post a couple weeks ago that I was trying out Hello Fresh. My friend gave me a coupon for my first meals free and then I purchased one box myself.
I thought I would do a review in case you were looking for a meal service. This is the first meal service I have tried. Since it is just me at home and all meal services seem to have a minimum of 3 meals for 2 people that is actually 6 meals for me. I knew I had a couple 4 day work weeks due to travel so I thought it would be perfect to try out during those weeks as the meals could serve as my lunches and dinners for 3 days.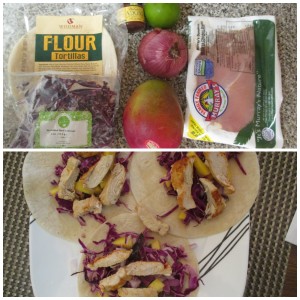 What I liked About Hello Fresh:
Variety of meals

Getting a variety of meals when you cook for 1 can be difficult. I tend to cook things in big batches and have to eat something for 2-4 meals depending on serving sizes so it was really nice to get a variety of meals during the week and switch up my daily lunch salads.

Meal ideas

In addition to cooking the 3 meals, you also get the recipes for all their other meals that week. If you find you like a recipe, that makes it easy to go out and buy the ingredients yourself. They also publish their recipes online and you can access them before you even sign up. Great place to get meal ideas.

Save time from going to the store

With a meal service, you can limit your grocery shopping needs. I mainly just needed to get some food for breakfast and then used up freezer food the other days of the week to try to reduce my grocery bill.

Easy to follow instructions

Each recipe has a level of difficulty, with level 1 being the easiest and level 3 being more time consuming and difficult. For the most part, the instructions were easy to follow but I did need to look up what butterflying a chicken breast meant.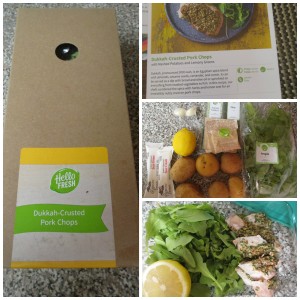 What didn't work for me:
Price

It's $69 for 3 meals for 2 people, so $69 for 6 meals for me. Truth: I don't really budget my groceries but my grocery average is about $80 a week and I don't go out to eat often, so that's 21 meals and snacks for around $80 which is much better in my opinion.

Serving size

Personally, I love to eat a lighter dinner most nights and some of these meals, even when split into 2 were too big. A couple meals I got 3 servings (the potstickers made a lot and the chicken tacos were 3 servings for me). Other meals, like the salad I had the first week, I was wishing was bigger. I added more of my own greens.

Cooking time

I love to cook, but I do most of my cooking on the weekends. Certain meals, like the pork pot stickers, were a 45 min to an hour worth of time. I prepared that one on a Sunday knowing it took a while and it was a level 3 recipe. Most meals were closer to 30 minutes from prep to table which works for most people, but I have been working late so I usually bring dinner with me or come home and grab something out of the fridge to heat up.

Dairy

I try to avoid dairy. Dairy was pretty much in every meal, whether it was cheese, sour cream or yogurt. I am ok with some cheese, but do not like sour cream or yogurt. It was easy to leave the ingredients out, but then it was also a bit wasteful. Obviously this is a personal preference, but it would be nice to see more dairy free options.
Overall, I liked Hello Fresh, but with the cost and the amount of cooking time, it is easier for me to grocery shop and stick to a lower budget even if that means less variety.
I loved how the meals were each packed with its ingredients in boxes, minus the meat which was kept surrounded by ice packs in the bottom of the package. There was very little waste of food, which is nice with things being prepackaged. I also loved having a Saturday delivery as I prep my food on the weekend (I have heard about other services that may only offer a weekday delivery based on where you live). Shipping is always free and the box is delivered by FedEx.
I found the service convenient for my short work weeks and may use again in the future if I know I don't have a long time at home and want something planned for me. If you are interested, you can check out their page www.hellofresh.com.
Have you used a meal service before?