This weekend I headed down to Philadelphia with Brian and my friend Alicia2. We left shortly after 7am on Saturday morning. It was a grey and cloudy morning in upstate NY. Thankfully as we got closer to Philadelphia, the sun came out. You never realize how sunny a place is until you leave it and suffer with clouds all winter.
Despite the sun being out, it wasn't all that warm. It was at least in the 40s. We arrived and managed to get a parking spot in the hotel lot after a bit of a wait. Then we headed to the hotel and put our bags in storage. We arrived around lunch time which was perfect to head into Reading Terminal Market. This was Alicia2's first time to Philadelphia and we wanted to show her some good spots. The market is definitely overwhelming the first time you visit and it doesn't help to be stuck in the lunch/flower show crowd. I settled on Mexican while Brian and Alicia2 enjoyed some seafood. Then we had to wait in the VERY long donut line for the best donuts. The only donuts I will really eat are the amish donuts in this market. I'm a simple person and got vanilla with m&m's.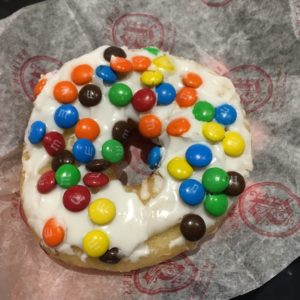 We enjoyed our donuts and then headed into the Flower Show. The entrance is always grand and this year with the theme of "Wonders of Water", it was a rainforest entry.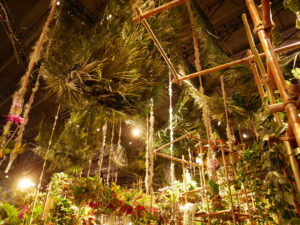 It was the final weekend for the flower show and it was packed. The entrance is always the worst as everyone tends to go the same direction and you move the pace of a snail around the big displays.
Brian immediately pushed his way ahead and we didn't see him again for a good hour or so. Alicia2 and I took many photos along the way as we pushed through the crowds.
Finally we made it to the center area and were able to have a bit of breathing room and watch an interesting demonstration of flower arrangements for a mermaid theme party.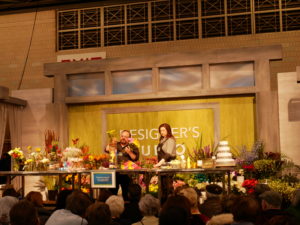 Then Brian found us and we walked around the competition area seeing the flower art displays. From pressed flowers to interpreting a painting and more, there was a lot of talent on display. I loved the pressed flower displays!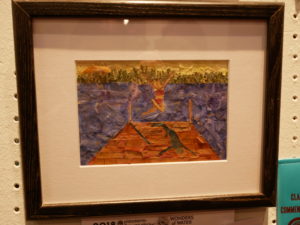 Eventually we made our way into the vendor area where they sell all kinds of stuff, some flower related and some not. Of course you can buy flowers, garden accessories, jewelry and lots of homemade items. I left with a bar of my favorite tea tree soap.
After the main flower show area, we headed over to the wine tasting area. I think I tasted one rum or something and then I decided to shove my way through the crowd and find a seat while Alicia2 and Brian enjoyed the samples. I rested and worked on dinner plans.
By the time we finished up at the flower show, we were able to walk across the street and check into our hotel room for the night. We relaxed a bit. I got some food network tv time and then we decided to take a walk to the Liberty Bell and Ben Franklin's grave per Alicia2's request.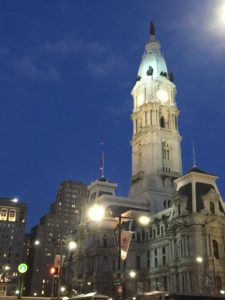 We headed over to City Hall and Love Park and then caught an Uber to the Front Street Cafe near Fishtown Philadelphia to meet up with two of my friends. They are expecting their first baby in April and it was exciting to see them. The food was wonderful and the dining location they picked was great! Something on the menu to please everyone and we admired the decor inside and had a great waiter. We talked and talked. We talked so much, we ended up paying and continuing our conversation for another hour before calling it a night around 10pm.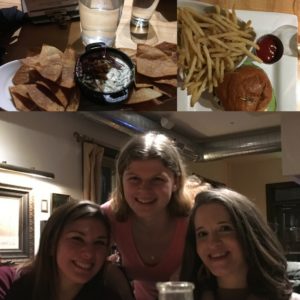 Our Uber was waiting for us as we headed out of the restaurant and it was a short ride back to our hotel. And yes I could have driven my car over, but Uber was way more convenient and worth the $10-12 each way.
As soon as we got back, it was time for bed. I think we all crashed hard after all the walking.
Sunday morning, we all woke up at about 8am with the time change. That was perfect for getting up and heading down to breakfast. Breakfast was ok, but we decided to take a walk to Reading Terminal as well. I wanted a smoothie and Brian wanted some good coffee. We found both and then packed up at the hotel and headed to the zoo.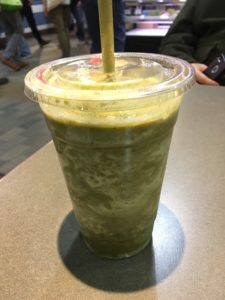 It was a sunny day, still a little chilly, but it was a good zoo trip. We saw the red pandas roaming around the zoo in the 360 experience.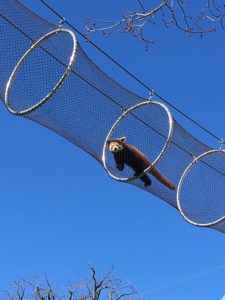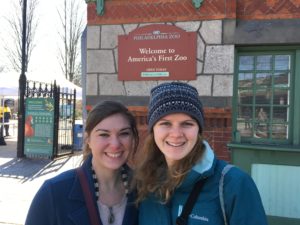 Many of the animals that were out, were just laying in the sun and I don't blame them. The good thing about zoos is that there is always a little house to go in, like the reptile house or bird house to see more animals and get out of the cold.
The flamingos stole the show with their squawking. It also amazes me how they walk in synch. It's like watching synchronized swimming sometimes.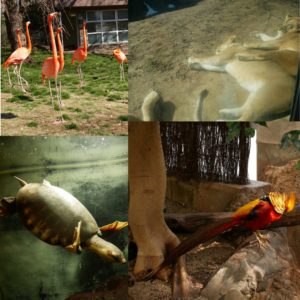 I enjoyed the big cats like the lions and tiger. They were pretty much all sleeping away though.
Before we left, we were able to catch the alligator feeding. They only do it once a week on Sundays at 1pm and we just so happened to be heading back to the entrance at that point and caught it. Of course, at this point, I'm hard to impress since I went to the Australia Zoo, but I did still enjoy it.
It was about 1:30 when we left and we decided to grab a late lunch at the King of Prussia mall at our favorite Mexican place, Cantina Laredo. Alicia2 got to try my favorite mojitos and we filled up on chips and guac and got a restaurant week special of carnitas tacos. All of it was amazing and I was full for the rest of the night and into Monday I swear.
We walked off a bit stopping at DSW, Victoria Secret and a couple other stores. I had some coupons to use and you have to take advantage of shopping in PA with no sales tax on clothes and such.
By 4pm, we headed back to the car for the remaining 3 hours back home. I drove and my passengers both slept. I stopped at a rest stop for gas and was filling my tank and a guy filling his tank on the other side commented "everyone asleep but the driver." Yep that's how it was. On the bright side, I played my CD in the car and it was super sunny outside which really helps make the drive not so bad. Plus I have done the drive so many times now that it's pretty familiar.
Brian had a nice 2 hour nap and then we chatted a bit during the last hour. My tire light decided to give me a scare at a toll stop and then went off again. I was a bit nervous for the remainder of the drive, but tried to put the thoughts aside. I know from experience my tire light is always right. After dropping off Alicia2, we got home and Brian checked all my tires. I now have to keep an eye on the driver front tire but at least it was fine the next morning for the gym and work.
We got home at about 8pm, which was perfect for me to have time to make my food for Monday morning, unpack and get settled into bed. Luckily I planned ahead by grocery shopping on Thursday night and had all my food set.
It was an amazing weekend with Brian and friends. I was glad Brian was able to take off work and have this mini getaway. I think we all needed it. Then it was back to the regular work week and gym time on Monday morning. I also got back to my regular eating. I may have overdone the chips and guac while we were out, but hey, you have to live!