Yes you did read that title correctly. I am engaged!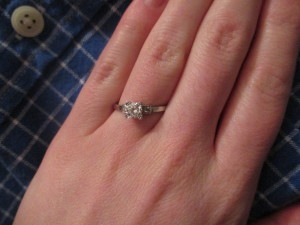 Being that today is the day for thinking out loud, I thought I would tell you a few facts about my relationship, because you know all the questions start as soon as you get engaged…

First things first, we have no idea when we will get married or where. But for the when, sometime in the next 1-2 years.
Now you will probably want to know how he proposed and I'm going to give you a heads up, it is not super romantic or anything.
We got engaged on Monday, Feb 29th, yes leap day! I hear the girl is supposed to propose that day. I actually didn't even know there was some sort of tradition thing around that day but it was in December that I gave Brian the idea, mentioning, hey, 2016 is a leap year, wouldn't it be cool if we got engaged on leap day?!
Since it was a Monday, I had work. Made it through the day and came home to Brian cooking up some steak and roasting Brussel sprouts. OMG the Brussel sprouts he made were so delicious! I ate so many. There were no leftovers. He kept laughing saying how he didn't put much effort into them, cut them in half, mixed them with some ghee (first time I have had that) and salt and popped them in the oven. I think I just need to buy fresh Brussel sprouts more, because they do get a crispier taste to them in the oven.
So we ate dinner and it was a normal evening. We put on 30 Rock on Netflix and enjoyed. I then cleaned up the kitchen (I can't stand a messy kitchen and have to clean it up after dinner so that it is nice for morning). I came back into the living room and Brian was eating a ring pop. Sitting on the couch, he leans over with the ring pop and asks me will you marry me? I was kinda like ummm for this ring pop, I don't know, it's not even a great flavor (which was watermelon). I then took the ring pop from him and told him, that's not how you propose. I got down on one knee with the ring pop and asked him to marry me. Then he pulled out the real ring from his pocket. I made him get down on one knee and he asked me to marry him.
Of course I said yes. It didn't really feel real at first. I mean we have been together for a while and nothing really changes other than the ring on my finger.
After that I made a few phone calls, first to my sister, who insisted that I needed to give the ring back because it was leap day and he needed to propose tomorrow. I was like no, I like that it is leap day and that leap day only happens once every 4 years. Besides that though she was happy that finally we were engaged. Brian then called and told his parents who were very excited and then I called mine. Then I called my best friend Mercedes and she was very excited of course. I wish we lived closer to celebrate together.
Now for some random relationship facts…
We met in 2009, my second year at UB, in a math class
In the Fall 2010, Brian was into weightlifting and we worked out a lot together, my love of weightlifting was born
We were apart for 5 months while I was abroad in Australia in 2011, a true test of our relationship, literally I was on the other side of the world
Brian surprised me at the airport with my family when I returned from Australia
The first vacation I ever paid for with my own money was when Brian and I drove to Myrtle Beach for part of Spring Break in 2012
Brian also took me on basically my first camping experience in summer 2012. Brian laughed at how I could look at the stars forever. It is different growing up in the city…
The second best surprise Brian ever gave me was surprise flowers delivered to work on July 3, 2013 our 3 years 9 months together (not that we always counted…). First flowers from a boy.
I pressed the flowers in my math textbooks (I knew they were useful for something after college) and made this, which now hangs in our dining area
We took our first major vacation on our 4 year anniversary (Oct 2013) to Eleuthera, Bahamas. This was the perfect trip for us to really reconnect as I was living at home in Chicago and he was working in PA and NY so we rarely saw each other and it was hard
When I lost my job Feb 28, 2014, it was time to move closer to Brian. I picked out Philadelphia on the map (having never been there before) and took a one way flight there in March 2014. I set out to see apartments and meet up with recruiters and then Brian met up with me and we enjoyed vacationing in NYC, VA and Washington DC.
I eventually headed home and packed and moved out to the Philly area at the end of April 2014, still jobless, but with Brian's help, got an apartment together and he purchased some furniture for us and we finally "lived" together. I only saw him about once a month.
That about brings us to today "living" together, seeing each other a bit more often now as Brian recently lost his job but we aren't worried. I love what we have right now, we treasure the time we have together since it is not every day, but at the same time, we enjoy doing our own tasks and don't have to be together all the time or doing something together all the time. Brian likes to research things on his laptop while I have time to write up blog posts for instance.
As I said in the beginning, nothing really changes now that we are engaged and that is the way it should be. Almost 6 and a half years later, I think we know each other pretty well. I am definitely not easy to get along with at times. For example, don't ever let me get hungry…it is not pretty. Being tired…same thing, leave me alone and let me sleep.
I will let you know when wedding planning begins. Maybe we will have an idea by summer. We do know one thing, engagement pictures happening probably early summer, when the temps warm up but are not too hot. This gives both me and Brian time at the gym before picture time, plus I have been begging him for professional pictures for a while.