Happy Thursday!! How has your week been? Hopefully it has been good. The temperatures are starting to feel more like fall and I am hoping to fit in another apple picking session on Saturday.
Today, it is time to join Amanda for Thinking Out loud.

Firstly, I love my new Fabletics outfit. I had some credits to use up and finally found an outfit I liked.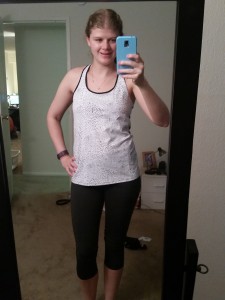 The other item I got in the mail recently was the Modern Essentials book all about how to use essential oils. I just bought a kit from DoTerra and learning how I can use all the different oils. It is amazing how many uses there are, from cleaning products to natural medicine. I love to diffuse an oil in my living room daily to make it smell refreshing inside. If you are interested in learning more about oils, please comment or send me an email at [email protected].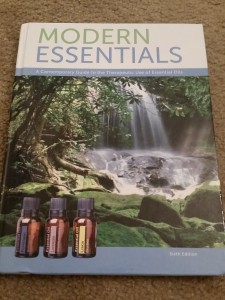 On a random note, have you ever seen such a big bunch of kale? I tried to see if they had smaller ones, but they only had huge ones at the store. I will eat it all, but it couldn't even fit in the little plastic bags at the grocery store. I love to massage the kale leaves with lemon juice and olive oil and then use it as my salad base. I love the lemon flavor and then I don't need to add any salad dressing.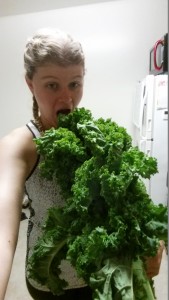 I love that my foot is finally feeling better. I am so glad I took the advice of fellow fitness friends in a facebook group I am in and got a PT. I have learned so many fun ways to strengthen my foot and calfs. Owww the calf, she really worked me hard last week and it took days to recover. I might need to start doing the exercises on my left so that my right doesn't end up stronger haha. But good news is that the strength on my right is getting back to equal the left or as close as equal is. My soreness in my toe has now seemed to move mostly to area of soft tissue which is actually good because that means I am using the areas more and restrengthening them.
Last night I treated myself to a massage. Much needed after all the overtime I have put in, in the last month.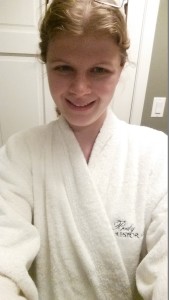 And then I came home and finished off my pumpkin spice cheerios…time to go buy some more pumpkin Os at Trader Joes today.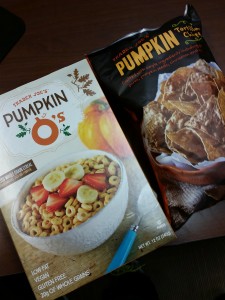 Do you use essential oils?
What's your favorite pumpkin snack in Fall?