Hello and happy Easter Monday! Did you have a good Easter weekend? I was lucky to have Good Friday off from work so I went up to Binghamton and spent time with Brian's family. Friday we had a lot of places to run around to. I spent some time reading in the afternoon, we made a quick coleslaw dinner and then went to see the new Divergent movie. As usual they split up the last book into 2 movies so I have to wait for one more. I enjoyed the Divergent series more than the Hunger Games when I read the books and while no movie follows every detail in the book I am impressed with all the computer graphics and enjoyed the movie.
Saturday morning I was up pretty early despite how long it took me to fall asleep. I had some granola for breakfast while reading for a while and then the dogs took turns waking up Brian. Brian had many projects for the day. After some cleaning, we put my car into the garage and he worked on cleaning my brakes and changing some of the fluids that were due as I am about to hit 100k miles on my car. That only means I have put on 70K since Dec 2009 but still a lot. My car runs so much more smoothly and the brakes work better. They were squeaking last summer but the auto place told me they were fine. It seems they didn't think to adjust them though as that helped.
It was a beautiful day out. Brian's parents arrived around noon and we got some spiedie salads for lunch. Then I went shopping with Brian's mom for some Easter plants. Brian worked on some landscaping.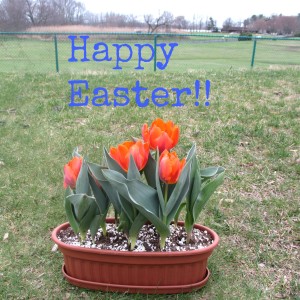 In the evening we all headed out with some other family members and went to a hibachi place for our engagement dinner. I haven't been to a hibachi place since one of my sister's birthdays years ago so it was fun. Though I was sitting dead center in front of the grill and it was so warm I felt like I was getting sunburned, which was funny since I was cold most of the day.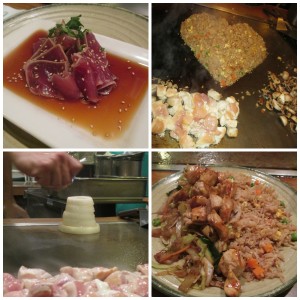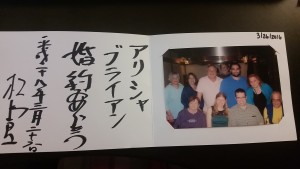 From dinner, Brian, I and his brother headed to Marathon to visit his family friends. One friend was up from Virginia with her new puppy so we had fun passing her around and they were congratulating us on our engagement as well.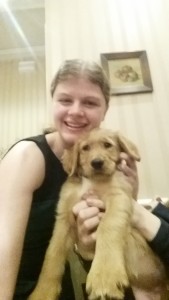 Once we got home it was time to head right to bed.
Sunday morning I was surprised when I slept until 8am. After some breakfast, Brian went to work on his turducken (a chicken in a duck in a turkey stuffed with sausage). Sadly I couldn't stay around to taste the final product because I had to hit the road after lunch. So I mostly hung around, wrote, watched Brian debone the meats and watched Legally Blonde with his mom.
I left after lunch, around 1, stopped at Wegmans on the way home and made it home shortly after 5. Then it was time for laundry, a bit of meal prep and also Skyped with my sister.
The three days definitely went by too quickly, but I am looking forward to my trip next weekend. I just have to make it to Friday lol.
Have you ever had Hibachi?
(if you haven't, I highly recommend the experience 🙂 )